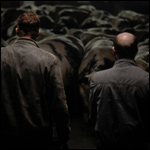 "Bullhead"
Flemish writer-director's debut draws a complex character-driven portrait involving a traumatic past and a murder investigation
Why it'll win: Boosted by a vivid filmmaking style and a lead performance by Matthias Schoenaerts that's as brawny as his character's neck and shoulders, Michael R. Roskam's tough crime drama smartly uses the background of a true-life case of the Belgian mafia engaged in the biz of illegal bovine growth hormones for a telling study of an emotionally damaged farm worker, who's up to his neck in both illicit trafficking activities and a tragic personal history.
Maybe not: While the unsettling violence and themes could be a turn-off to some voters, others might consider the film to be a tale that's too local and specific to its Belgian agriculture/mafia setting to hold its own in the nom field.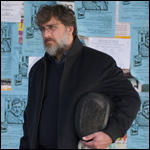 "Footnote"
Israel's reigning standard-bearer on the festival circuit finally lands an Oscar nom with a drama pitting a father and son against each other in the world of academia
Why it'll win: With past bonafides of awards from Cannes and Berlin, along with the marketing clout of Sony Classics, writer-director Joseph Cedar's widely acclaimed film treats the typically dull confines of university scholarship with energy and unexpected character insights. For some Acad members, a film that honestly treats Jewish intellectual activity makes for a notable statement. For adventurous voters, there's a bracing quality to its tale of jealous, back-stabbing Talmudic scholars.
Maybe not: Then again, maybe it's too intellectual. Spending time inside the film's ultra-hermetic world might translate as a less-than-pleasant experience. The textual and thematic concerns, beyond the film's core conflict between a father and son, have the potential to disengage voters who aren't into this rarified environment.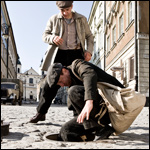 "In Darkness"
Agnieszka Holland flies the flag of Poland for her dark-tinged drama about desperate survival during the Holocaust
Why it'll win: Of the filmmakers represented in this field, Holland is the best-connected to the industry, and she's been nommed in the foreign-language category before for "Europa Europa." Acad voters feel strongly for true-life stories as well as accounts of the Holocaust, and this handsomely mounted and crafted film, about a non-Jew protecting Jews from Nazi terror in the sewers of Lvov, boasts both elements, plus Sony Classics' skills at maximizing awareness.
Maybe not: The title warns viewers, but the idea of being in a nearly lightless, dank sewer with characters will find some voters unwilling to go there. The perception of a downer movie might be hard to combat, and the comparisons to the larger-scaled "Schindler's List" could lend the film also-ran status.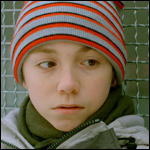 "Monsieur Lazhar"
A Canadian audience-pleaser with storytelling craft combines tragedy with warm, distinctive characters
Why it'll win: Quebec films have enjoyed an excellent track record with the Acad, and writer-director Philippe Falardeau has made a big commercial leap forward with his adaptation of Evelyne de la Cheneliere's play about an Algerian immigrant who ends up teaching a class recovering from the shock of their homeroom teacher's suicide. Probably the best-crafted, wide-appeal film in the field, featuring an exceptionally strong cast and a highly sympathetic lead perf from the galvanizing, single-named actor Fellag. Taking these elements together, pic has the qualities of a winner.
Maybe not: The film's low-key tone, lacking the emotionally fractious fireworks of "A Separation," could leave some voters underwhelmed, and suggest that the film is soft at its core, and not quite punchy enough for an Oscar winner. The titular character's struggles may also be seen as less compelling than those in other competition titles.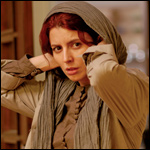 "A Separation"
Iran's Berlin Golden Bear winner is the country's most widely embraced film in years
Why it'll win: Amazingly enough, Iranian writer-director Asghar Farhadi is becoming a household name, from his Berlin victory to his Golden Globe win, with his most critically acclaimed drama about a couple undergoing a physical and psychological separation amidst a legal tussle with a housemaid and her hot-tempered husband. This is the rare foreign-language nom with an additional Oscar nomination in another category (original screenplay), which boosts pic's already significant Acad profile. And that nom could turn gold, as it did in 2002 for Pedro Almodovar with "Talk to Her."
Maybe not: While there appears to be an overwhelming sentiment that this film is the odds-on favorite, the race between "A Separation" and its rivals, especially "Monsieur Lazhar, may be closer than is thought. While Farhadi's drama won the Los Angeles Film Critics screenplay award, some naysayers may find character behavior that stretches credibility.
EYE ON THE OSCARS: BEST PICTURE NOMINEES
Best Picture | Director | Animated Film | Documentary | Foreign Language Film