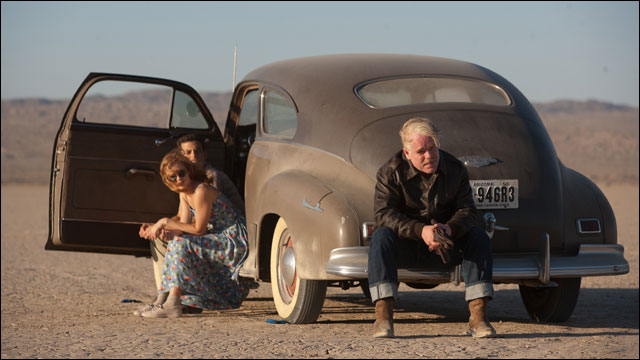 An oddball foursome of new entries plus the Weinstein Co.'s nationwide expansion of "The Master" won't be enough to stop a four-week losing streak at the domestic box office.
Warner Bros.' Clint Eastwood baseball pic "Trouble With the Curve," which leads with 3,212 locations, and Relativity Media's thriller "House at the End of the Street" (at 3,082) will jockey for first place, tracking in the mid-teens. Most observers believe "House" has a slight edge.
The weekend's other pics opening wide include Lionsgate's 3D comic-book actioner "Dredd" and Open Road's cop pic "End of Watch," starring Jake Gyllenhaal and Michael Pena. Both films are expected to land in the high single-digits, though either could potentially reach $10 million.
As the frame's biggest wild card, Paul Thomas Anderson's "The Master" expands to 788 Stateside engagements, including seven more 70mm-equipped theaters. TWC looks to build on the film's record per-screen average last weekend. But the arthouse pic could struggle in theaters outside the top U.S. markets.
In limited release, Summit's "The Perks of Being a Wallflower" bows today at four locations in New York and L.A.
Total box office could land in the high-$90 millions through Sunday, according to some industry estimates. That would be off last year's frame by as much as 20%, but in line with recent years, including 2009 and 2007. Last weekend, domestic B.O. trailed 2011 by 15%, while the weekend before was down 17%. This year's Labor Day B.O. was off by 2%.