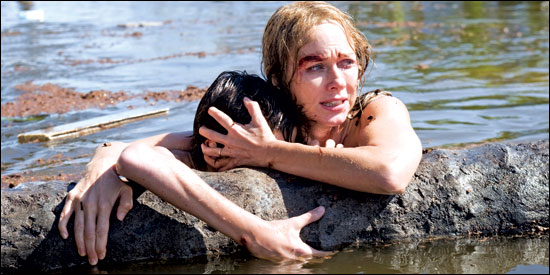 Nearly drowned in a rip tide off the shore of Bali at age 14, Naomi Watts knows how it feels to be threatened by big waves and rushing water.
With that chilling incident firmly ingrained in her mind, she gamely accepted the role of Maria, a mother whose family vacation turned into a nightmare following the southeast Asia tsunami that struck the day after Christmas in 2004.
"You never know quite what it is until you're doing it," she says of the month spent being filmed in a giant water tank for "The Impossible. "Water has that bad reputation and it lived up to it."
Director J.A. Bayona provided lines of dialogue for the sequence in which she was pummeled by debris, thrust forward and pushed backward.
"We had much more dialogue on the page than we were able to say," Watts recalls. "Every time you opened your mouth, you would be swallowing bucket-loads of water."
Preparation for the part was extensive, including time with Maria Belon, who wrote the story about the frantic events immediately after her husband and their three young sons were swept away by a wall of water that took the lives of about 300,000 others.
"The first meeting I had with her, I didn't know what to say," Watts says. "She faced death and the loss of her entire family. I'm just an actor.
"There was a lot of anticipation toward that meeting. When we're in the room together privately, we sat there in front of each other and her eyes welled up and so did mine. The story was told in five minutes, without words."
| HOME | Supporting Actor Contenders >>