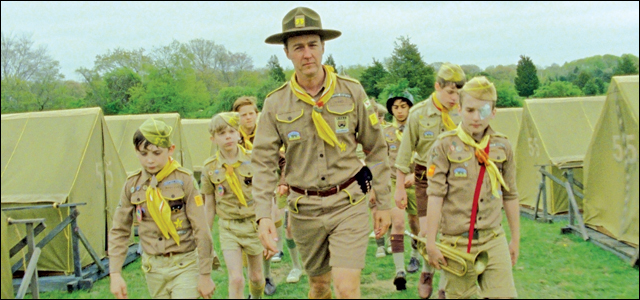 ORIGINS: "All of us, Steven, Scott and myself, had worked with Wes for a long time, and he had this idea he had been talking about," Dawson says. "It was about kids falling in love." Eventually, Dawson says, Anderson brought in Roman Coppola, and together they wrote the script.
FUNDING: Indian Paintbrush has an ongoing relationship with Anderson and financed pre-production and filming.
HIGH HURDLES: "We knew we were going to assemble a great adult cast," Dawson says, but finding the right boy and girl on the cusp of teendom was a bigger challenge. The filmmakers found newcomers Jared Gilman and Kara Hayward after auditioning hundred of actors, even some "who weren't necessarily sure they wanted to be in a movie."
DOMINO EFFECT: After extensive scouting, the filmmakers found a "great" Rhode Island location and set about bringing the fictional town Anderson imagined to life.
| HOME | 'Silver Linings Playbook' >>