By their posters, ye shall know them.
The key art for 2011's nine top Oscar nominees drops hints about the films in contention, and may even seem to offer commentary on the best picture race itself.
A quick scan, let alone a close study of the nine instantly confirms these are class acts — serious, important-looking pix on a mission. Yet these attractions don't want to call too much attention to themselves. They're content to make modest statements through shadowy figures and muted colors, as if going too gaudy might jinx their chances.
The cheeriest of the bunch, "The Help," has the only obvious tag line in "Change begins with a whisper." So, evidently, does movie marketing, because you have to squint to find out that "Hugo" is an "extraordinary adventure" shepherded by a "legendary director," or that a boy and his "War Horse" were "separated by birth, tested by battle, bound by friendship."
It's even a strain to discover "Moneyball" is based on a true story, though they're certainly not shy about announcing Brad Pitt's presence. Yet how lonely the star himself appears, sitting in that big empty stadium! Even though these movies have starpower to spare, most of the folks depicted are pint-sized, distracted, alienated or all of the above.
The "Big Head" approach to advertising has ruled key art for a decade or more, but for "The Descendants," George Clooney sits in shadowy profile as if trying to avoid the paparazzi. The only nominee to fill its space with face is "Extremely Loud & Incredibly Close," and most of that mug is covered up.
(Interestingly, touted Big Head attractions "The Girl With the Dragon Tattoo," "The Ides of March," "J. Edgar" and "Tinker Tailor Soldier Spy" all failed to make the cut. Now there's something for Oscar mavens, or Price Waterhouse or J. Edgar, to investigate.)
If the posters tend to miniaturize their characters' physical presences — a wee row of "Help," dangling little "Hugo," diminutive Owen Wilson — "The Tree of Life" goes practically bonsai. Of course, as the most esoteric work of the bunch, it logically boasts the artiest visuals, all those delicate Emmanuel Lubezki images in a 14×5 grid like so many museum postcards. Actually, it's sort of suggestive of a highfalutin "Hollywood Squares," with teeny Brad Pitt (again), Sean Penn and Jessica Chastain assigned comfortable spots and the title taking Paul Lynde's center seat. (You might find Rose Marie and Charley Weaver in there if you look hard enough.)
When a film is in the running for best picture, its viewers are thereafter always aware of its extra cachet. The poster, too, can start to look different, suggesting new and unintended symbolic content. Is the "Extremely Loud" kid expressing surprise at its mere two nominations? Are Joey and Albert distractedly, wistfully wondering why Steven Spielberg was snubbed for "War Horse"? If the Van Gogh starry sky of "Midnight in Paris" makes you think of Academy Award hoopla, what does it mean to have Woody Allen surrogate Wilson pointedly striding away without giving the spectacle a second thought?
And then, of course, there's the elephant in the room, the most unassuming key art of all. Modestly underselling the Cannes best actor prize, setting one little red blip against a sea of black and white, shimmering Art Deco lettering barely catching your eye, "The Artist" sets its stars gazing at each other in heedless self-absorption, confidently lost in l'amour. This is a picture that's sure of itself. You start to wonder what Clooney is moodily mulling as he looks over at that couple relaxing at the shore. Does he, just for a second, think they might be Jean and Berenice, celebrating in advance of Feb. 26? Peut-etre!
Poster children for a year of reflection, uncertainty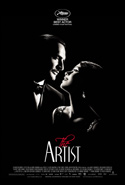 THE ARTIST
Other nominations: Actor, supporting actress, director, original screenplay, cinemato-graphy, original score, editing, art direction, costume design
Why it might win: To put it punnily, its silence has almost been deafening. It's hard to deny movie love when it's wrapped up in an audience-pleasing pastiche of nostalgia, aesthetic imitation and performance pizzazz, most notably from smiling, dancing French star Jean Dujardin.
Maybe not: Despite its desire to enchant and evoke an era of cinematic innocence, it's a movie with a fair share of detractors who aren't swept away by its charms.
Oscar clip: Devastated by the stock market crash, fading silent film star George Valentin (Dujardin) burns personal copies of his films.
— Robert Abele
* * *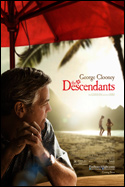 THE DESCENDANTS
Other nominations: Actor, director, adapted screenplay, editing
Why it might win: Supremely adult in theme and feelings, Alexander Payne's bittersweetly funny film about death, family and legacy fits nicely into the Academy's love of heartfelt contemporary stories. It also features George Clooney in what many believe is his best performance.
Maybe not: Though dealing specifically with its characters' emotional limbo, its lack of outsized drama might make it not exciting enough of a choice for voters.
Oscar clip: Finally stripped of any reason to prolong his hope or stave off his grief, Matt King (Clooney) says goodbye to his comatose wife.
— Robert Abele
* * *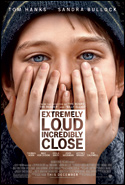 EXTREMELY LOUD AND INCREDIBLY CLOSE
Other nominations: Supporting actor
Why it might win: At heart this is an adventure film, an epic search for unknowable answers by an innocent that uplifts even as it scrapes at Americans' raw memories.
Maybe not: Many consider the film manipulative, exploiting a horrific terrorist attack as peripheral catalyst for a quirky, go-nowhere story. Thus far, 9/11 films have had limited traction on Oscar night.
Oscar clip: Oskar (Thomas Horn) and his mother (Sandra Bullock) reconcile as they reminisce over their loss — or, reflecting the film's other nomination, the explosion of frustration and grief Oskar hurls at the Renter (Max von Sydow) when their search seems ended.
— Randee Dawn
* * *
THE HELP
Other nominations: Actress, two supporting actresses
Why it might win: The combination of a crowdpleaser, a potent ensemble of strong actors led by nominees Viola Davis, Jessica Chastain and Octavia Spencer and a civil-rights fable designed to warm liberal hearts proves too irresistible for Oscar voters.
Maybe not: The fact that "The Help" scored only four noms, with three in the acting category and none in any other, doesn't bode wonderfully for its prospects on Oscar night.
Oscar clip: The movie's turning point, when determined, no-nonsense Minny Jackson (Spencer) changes her mind and sits down in front of fledgling writer Skeeter (Emma Stone) to tell her story.
— Robert Koehler
* * *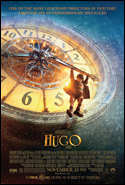 HUGO
Other nominations: Director, adapted screenplay, cinematography, sound mixing, sound editing, original score, costume design, art direction, film editing, visual effects
Why it might win: Hollywood loves a film that references movie history with this brand of stylish panache and nostalgia for George Melies' inventive silent cinema, especially when that style is applied by Martin Scorsese in a broad-appeal mood.
Maybe not: A high number of nominations doesn't always translate to a best picture win — just look at "True Grit" and "Avatar" in the past two years.
Oscar clip: Although it doesn't feature the determined orphan hero Hugo, the clip would surely have to be Ben Kingsley as a young Melies creating fantastic silent films in his busy atelier-studio.
— Robert Koehler
* * *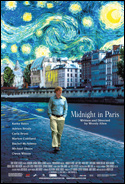 MIDNIGHT IN PARIS
Other nominations: Director, original screenplay, art direction
Why it might win: Woody's back, many feel, offering a fantasy premise that resonated with the old-school romanticism, literate humor and enjoyable performances that were hallmarks of his regularly Oscar-nommed heyday.
Maybe not: Its easygoing lightheartedness may be too airy to warrant the top prize for voters looking to honor something weighty and dramatic. It also may not compare favorably in the Academy's eyes to Woody's previous Oscar nominees.
Oscar clip: Present-day Paris wanderer Gil (Owen Wilson) is escorted to a bar late one night, where he realizes he's meeting F. Scott and Zelda Fitzgerald, Cole Porter and Ernest Hemingway.
— Robert Abele
* * *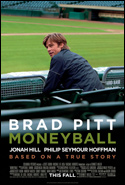 MONEYBALL
Other nominations: Actor, supporting actor, screenplay, sound mixing, film editing
Why it might win: The Oscar pedigree of various nominees (including Brad Pitt, Jonah Hill and year-ago adapted screenplay winner Aaron Sorkin), plus the combination of smart entertainment based on a widely discussed nonfiction source, makes "Moneyball" a talking-point type of entry in the field.
Maybe not: It's also this year's "The Social Network," which came up short on Oscar night. The Academy may perceive the movie as too inside baseball.
Oscar clip: When Pitt, as Oakland A's ace general manager Billy Beane, starts banging the phones to make trades and wowing his assistant, Peter Brand (Hill).
— Robert Koehler
* * *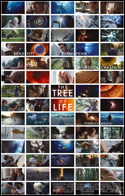 THE TREE OF LIFE
Other nominations: Director, cinematography
Why it might win: The Academy voters may sense that this is the time to finally acknowledge Malick, one of the most legendary and highly respected filmmakers in the art form. They also may consider the film's Palme d'Or win in Cannes a form of permission to go for an acknowledged outside choice.
Maybe not: Very likely, too outside. The film's unconventional narrative structure, dense poetics and lack of dramatic tension have a good chance of boring more voters than they entrance. Instead, as a consolation prize, Emmanuel Lubezki's cinematography may be favored.
Oscar clip: Brad Pitt sternly reprimands his sons, triggering a schism in the family unit.
— Robert Koehler
* * *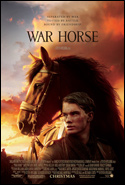 WAR HORSE
Other nominations: Art direction, cinematography, original score, sound editing, sound mixing
Why it might win: In a nostalgia-heavy race, Steven Spielberg's lushly photographed, epic ode to animal tearjerkers of years past and studio system-era pageantry could unite voters who split on the category's quirkier, quieter entries.
Maybe not: Without an Oscar nomination for Spielberg's direction, the screenplay or the acting talent, it sits apart from those nominees that carry more buzzworthy heat and galvanizing performances.
Oscar clip: Fleeing a tank, Joey tears through no-man's-land during the battle of the Somme, narrowly escaping harm until he's agonizingly trapped in barbed wire.
— Robert Abele
Eye on the Oscars: Best Picture Preview
Trippin' to yesteryear | Moody key art set tone for kudo contenders | Poster children for a year of reflection, uncertainty