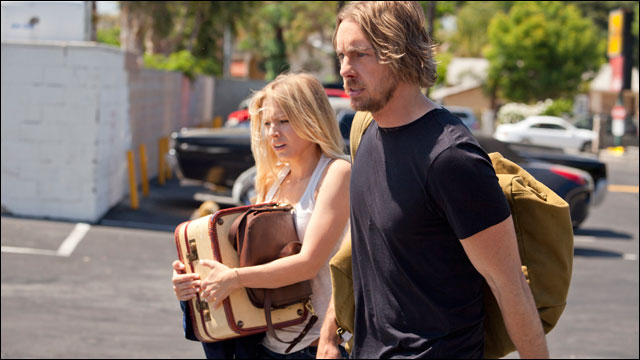 In a summer where many star-driven comedies have struggled domestically — "That's My Boy," "The Watch" and "The Dictator," just to name a few — Open Road Films is hoping acquisition "Hit and Run" can duplicate the recent success of pics like Warner Bros.' "Project X," Sony's "21 Jump Street" and Universal's "Ted" — comedies with quirky approaches and outside-the-box stars.
And just like Open Road willingly embraced an offbeat, low-budget laffer, co-director Dax Shepard (a comedian and a star of "Punk'd" and more recently of "Parenthood") found Open Road's offbeat business model — a joint venture of exhibitors AMC and Regal — the right fit for the car chase-fueled romantic comedy he co-directed with David Palmer.
"Ultimately, (the reason) we went with Open Road was they have theater saturation that would normally require a $50 million P&A budget," Shepard told Variety . "They can get you in 45% of the market share they own. They can get you standees, posters, trailer play … all these things I knew we would need that we weren't going to get through conventional P&A and ad space on television."
Shepard plays a bank-robbing getaway driver in the witness protection program who risks his life to drive his girlfriend, played by real-life fiancee Kristen Bell, to Los Angeles for a job interview; along the way, he contends with a dreadlocked criminal (Bradley Cooper), a zealous ex-boyfriend (Michael Rosenbaum) and a bumbling U.S. marshal (Tom Arnold) assigned to protect him. Early tracking has the $1.3 million pic, which opens Wednesday in 2,870 theaters, making as much as $10 million for its initial five-day run.
Open Road topper Tom Ortenberg said the fledgling distrib sparked to the pic at last year's AFM, acquiring it that same month.
"We saw about four or five minutes of footage, and we thought it was hilarious," Ortenberg told Variety . "Then we saw the whole film and realized it wasn't just hilarious, it was really smart and touching."
So much so that Shepard said the distrib made "a very generous" P&A commitment.
"We basically went with a company that we felt had the most to gain by putting us out and didn't have such a strong ancillary revenue source that they were happy to dump us," Shepard said. "For them, it doesn't make sense for them to pick something up to dump it. For other studios, it does."
The major studios have released 10 notable R-rated comedies this year, with "Ted" ($210 million) and "21 Jump Street" ($138 million) outgrossing the next eight pics domestically combined. Of the 10 films, the most unconventional and daring were "Ted" — which starred Mark Wahlberg, an unproven comedy draw — and "Project X," a found-footage teen comedy starring mostly unknown actors that grossed more than five times its budget.
As Shepard and Bell aren't box office draws just yet, that kind of originality is exactly what Open Road is banking on to attract auds.
"Comedies can suffer when they become too broad or too homogenized or too developed in the studio system," Bell said. "There's an authenticity to what makes you laugh. That was Dax's commitment on this movie, and I honestly think that's the single (biggest) reason he succeeded."
Cooper is no stranger to unconventional comedies. He wasn't exactly an A-list star when the first "Hangover" film broke all the rules about the necessary elements of a hit comedy.
"It's about being funny and whether it's a good story and the characters are funny. That's what it always is," Cooper said. "I think 'Hit and Run' totally works and actually think that it could be a big hit. It's really a testament to Open Road taking a chance with it. The movie cost $1.3 million, so if it does $50 million all-in, that would be like … 'Avatar' shit."