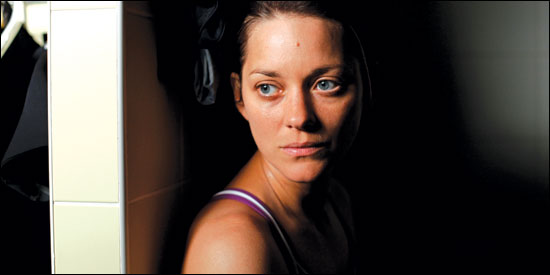 When Marion Cotillard first read the script of French-language drama "Rust and Bone," her character, Stephanie, was a mystery to her.
Discovering the essence of an orca trainer who later experiences a terrible accident was an intriguing challenge for Cotillard. She won both the Oscar and Golden Globe for her portrayal of French chanteuse Edith Piaf in 2007 biopic "La Vie en rose."
"The hardest was finding who she was before the accident. She doesn't even know," Cotillard says.
"She's struggling with who she is, so she can be violent, cold and needy."
It actually helped that "Rust and Bone" began shooting with a demanding scene in which Stephanie awakens alone in the hospital and discovers her legs have been amputated.
"When we shot 'La Vie en rose,' on the fourth day there was a major scene, when she's very old and dying. I was not OK with it," Cotillard says. "But after that first experience, I realized it was good to just dive into the role."
Cotillard takes Stephanie on a nuanced journey from depression to joy through an evolving relationship with fighter and security guard, single father Alain (Matthias Schoenaerts).
"She has to face herself because there's nothing else left," Cotillard says. "Even with a damaged body, she becomes a full person."
Cotillard says director Jacques Audiard helped her find Stephanie's soul and bring it to the screen: "What I love about him that he's willing to try things, often opposite things, to find the authenticity of the moment."
| HOME | Jennifer Lawrence >>