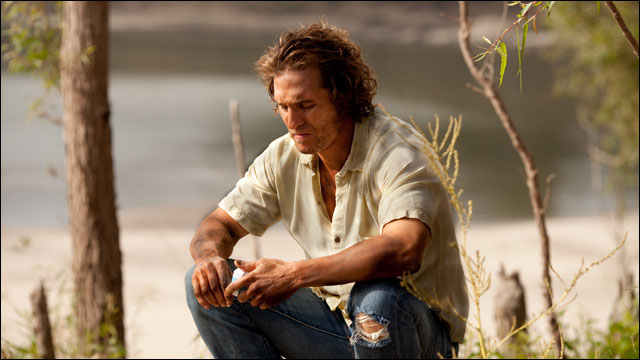 Lionsgate and Roadside Attractions are in advanced discussions to acquire U.S. rights to Jeff Nichols' "Mud," which stars Matthew McConaughey as the title character, along with Reese Witherspoon and Michael Shannon. Distribs plan a 2013 release.
Cannes competition pic was fully financed by Everest Entertainment ("127 Hours"), which produced with overseas distributor FilmNation Entertainment.
Redemptive coming-of-age tale follows a dangerous yet charismatic fugitive named Mud (McConaughey) and his unlikely friendship with Arkansas teens Ellis (Tye Sheridan) and Neckbone (Jacob Lofland), who help Mud escape from the law and bounty hunters. Witherspoon plays Mud's soulmate Juniper, with whom he's desperately trying to reunite.
Popular on Variety
Pic also stars Sam Shepard, Sarah Paulson, Ray McKinnon and Joe Don Baker.
Everest founder Lisa Maria Falcone produced with FilmNation's Aaron Ryder and Sarah Green, who exec produced Nichols' drama "Take Shelter." Everest's Tom Heller and Gareth Smith exec produced with FilmNation CEO Glen Basner, whose company handled international sales. FilmNation also repped domestic rights along with CAA.
"We have had an extraordinary journey with this film so far, from the rivers of rural Arkansas to the French Riviera, and it is fitting that our next step is with partners like Lionsgate and Roadside Attractions," said Falcone. "Their teams share our passion for unconventional, unique material, and they have a deep understanding of how to bring such distinctive films to market."
"'Mud' is a riveting mystery thriller set in American river country with a stellar cast by one of our greatest new cinematic voices, Jeff Nichols, and top specialty film producers Everest Entertainment," said Howard Cohen, co-prexy of Roadside Attractions. "We see it very much in keeping with films like 'Margin Call' and the upcoming 'Arbitrage,' which are quality, commercial, performance-driven films that benefit from the unique partnership of Lionsgate and Roadside, where we can each shine in our respective media."
Lionsgate, which owns 43% of Roadside, previously teamed with the distrib on J.C. Chandor's "Margin Call" and Nicholas Jarecki's "Arbitrage," which opens Sept. 14. Other recent Roadside releases include "Albert Nobbs" and "Friends With Kids."