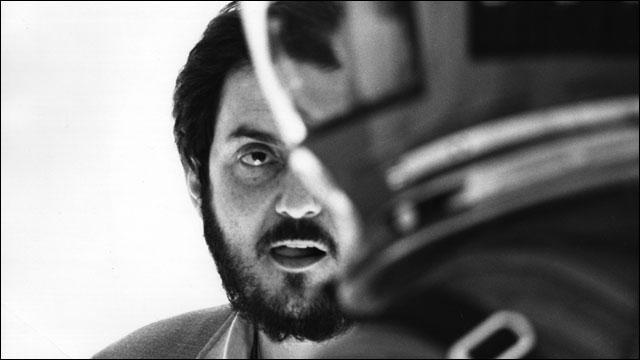 The Los Angeles County Museum of Art's "Stanley Kubrick," the first retrospective of the late filmmaker's work in the U.S., reveals the almost maniacal research that the director of such films as "Dr. Strangelove," "2001: A Space Odyssey," "Barry Lyndon" and "The Shining" undertook for each project, and the installation, first staged by the Deutsches Filmmuseum in Frankfurt, leaves few stones unturned.
At a press preview on Wednesday, LACMA CEO Michael Govan described the exhibit, which opens Nov. 1, as having "more single objects than any exhibit we've done recently."
A view of the show bears that out and then some, with everything from the Eymo and Graflex cameras that Kubrick used as a photojournalist for such publications as Look magazine to contact sheets, posters, unpublished production stills, storyboards, original costumes and set pieces, working scripts with scribbled notes by the director, and design sketches gorgeous enough to frame and hang in a museum — precisely the point here.
Terry Semel, co-chair of LACMA's board of trustees and Kubrick's confidant and collaborator while he was chairman at Warners, recalled that "we played it Stanley's way. There were no barriers with Stanley. Whatever he said was good by me."
Dawn Hudson, CEO of the Academy of Motion Picture Arts & Sciences, which is co-presenting the show, called the exhibit an important launchpad for the Academy's impending museum space in the old May Co. building that LACMA now inhabits and praised Govan as someone who "always included film on the pedestal with other artistic disciplines."
The exhibit will be paired with a retrospective of Kubrick's work at LACMA's Bing Theater running Nov. 9-Dec. 15, while the Academy will stage a "Salute to Stanley Kubrick," hosted by Malcolm McDowell, at the Samuel Goldwyn Theater on Nov. 7. In the spring, the two institutions will collaborate on a series that will feature films and filmmakers who influenced, and were influenced by, Kubrick.
Also at the press conference were Kubrick producer Jan Harlan and the filmmaker's widow, Christiane Kubrick, whose paintings are generously displayed in Kubrick's swan song, "Eyes Wide Shut." "All great artists anger people," Harlan said about the mixed reception Kubrick's films often generated. This show comes on the 50th anniversary of "Lolita," Kubrick's controversial adaptation of Vladimir Nabokov's provocatively prurient novel.
Among the more rare Kubrickania on display are detailed research notes and related items for features that were never made including his "Napoleon" biopic, abandoned in 1969 due to excessive production costs at a time when the studios were cutting back on wide-canvas epics; and his Holocaust drama based on Louis Begley's book "Wartime Lies," which was derailed in 1991 when it was determined that Spielberg's "Schindler's List" (1993) would hit theaters first. (Spielberg would end up using Kubrick's blueprint to make "A.I.: Artificial Intelligence.")
In so many instances, Kubrick was shown to be ahead of his time, from the X-rated violence in "A Clockwork Orange," tame compared to today, to the candle light used in "Barry Lyndon" to the special effects on "2001," perhaps one of the first films to artfully use product placement from the likes of IBM and Hamilton watches in a way that benefitted both creator and manufacturer.
The exhibition runs through June 30.