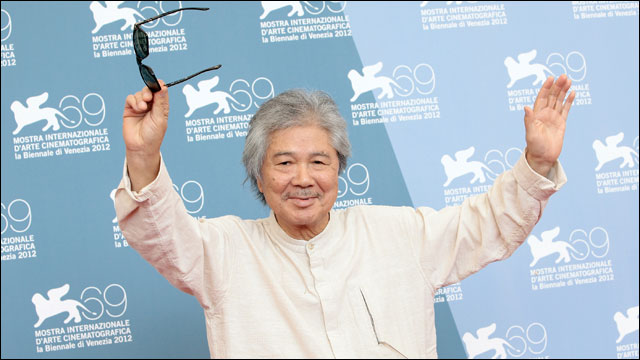 TOKYO – Koji Wakamatsu, the prolific and pioneering Japanese cult helmer known for his work in the pink-film adult genre, died on Wednesday from injuries sustained when he was hit by a taxi in the Shinjuku district of Tokyo on Friday night. He was 76.
According to police reports at the time of the accident, he had broken his hip, but his life was not thought to be in danger.
The accident occurred shortly after 10 p.m. on Friday at a spot on a four-lane road with no traffic light or pedestrian crosswalk. The driver was taken into custody by police for questioning.
Born in Japan's Miyagi Prefecture, Wakamatsu began his filmmaking career in 1963 at Nikkatsu, where he became one of the studio's leading exponents of pinku eiga, or pink film. Telling stories of rape, kidnapping, torture and mass murder, many of them ripped from local headlines, these violent and sexually explicit low-budgeters nonetheless earned Wakamatsu critical attention for their mix of avant-garde aesthetics and provocative political themes.
Wakamatsu came to prominence when his 1965 softcore skin pic "Secrets Behind the Wall" competed at the Berlinale, though the Nipponese industry was embarrassed by the selection and deemed it a national disgrace. The helmer subsequently left Nikkatsu to form his own company, Wakamatsu Prod.
The '60s were a highly productive time for him, and his many bluntly titled films from this period included "The Embryo Hunts in Secret" (1966), "Go, Go Second Time Virgin" (1969) and "Dark Story of a Japanese Rapist" (1969).
In 1971 Wakamatsu co-helmed the Palestinian Liberation Front docu "Red Army/PFLP: Declaration of World War" with Masao Adachi, a member of the Japanese Red Army. Adachi scripted a number of Wakamatsu's films including "Violated Angels" (1967), "Angelic Orgasm" (1972) and the controversial "Ecstasy of the Angels" (1972), whose tale of a militant revolutionary group held up a mirror to the activities of the JRA.
In 1975 Wakamatsu produced his countryman Nagisa Oshima's "In the Realm of the Senses," which drew international notoriety for its unsimulated sex scenes.
While his output was less frequent in the 1980s and '90s, Wakamatsu directed more than 100 films over his career and experienced a resurgence in 2007 with "United Red Army," a grueling docudrama about the rise and fall of a group of left-wing extremists. The pic was well received critically and prefaced an impressive run of festival berths for the last few films of the director's career, including his WWII drama "Caterpillar," which was selected to compete at Berlin in 2010.
His biopic of the late author, poet and helmer Yukio Mishima, "11:25: The Day He Chose His Own Fate," played in Cannes' Un Certain Regard sidebar in May, while dark drama "The Millennial Rapture" unspooled in the Venice Film Festival's Horizons section in September.
Wakamatsu won the Asian filmmaker of the year award at the recently wrapped Busan Film Festival in South Korea and had just returned to Japan.
(Justin Chang in Los Angeles contributed to this article.)