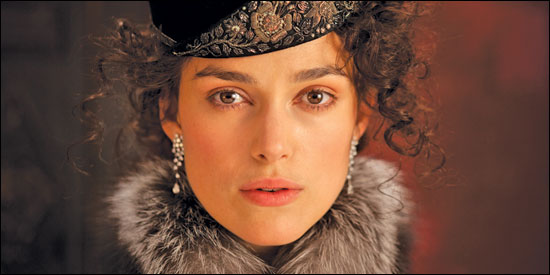 For Keira Knightley, known for her highbrow collaborations with Joe Wright, acting can often seem like an extended university lit course.
"That's why I like acting," says the whip-smart 27-year-old. "I think that's also why I like doing literary adaptations. I almost feel like you are preparing for a thesis on the character."
After tackling Elizabeth Bennet in "Pride and Prejudice" and Cecilia Tallis in "Atonement" for Wright, she reunites with the director to inhabit her most formidable literary icon yet, "Anna Karenina," the subject of almost countless past film and TV iterations.
"I think it's because it's open to so many interpretations," Knightley says. "I think (Anna) is a very strange jewel-like creature, and it's very hard to pin her down. (The book) poses more questions than it answers. I find it quite a terrifying novel, and I suspect that's the reason."
When Knightley initially read Tolstoy's late 19th-century masterpiece in her late teens, she recalled it as a sweeping romance.
But upon revisiting the work, she sensed a more complex love-hate relationship between the writer and his tragic heroine.
"(Tolstoy) very often stands outside her, judging her," she says. "He describes her vanity and duplicitousness at great length."
In this regard, Knightley plays Anna less as victim of circumstance than willful creature of impulse whose affair with Count Vronsky is all-consuming. In researching the part, she read Orlando Figes' "Natasha's Dance: A Cultural History of Russia," and quotes the author's description of Russian high society at that time as "like a piece of fruit ripe to the point of rotten."
"Everybody's having affairs," she says of pre-revolutionary Russia. "The crime that she commits is being honest about it."
| HOME | Helen Mirren >>