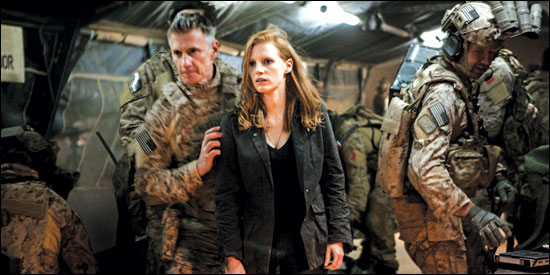 Jessica Chastain's amazing run of notable performances, which began to crest two years ago, continues with the buzz on "Zero Dark Thirty," Kathryn Bigelow's film about the hunt for Osama Bin Laden.
Between 2010's "The Debt" and now, she's appeared in "The Tree of Life," "The Help," "Lawless," and "Take Shelter," and has drawn awards and nominations, including an Oscar nom for supporting actress, like a wedding draws rice. In the meantime, she's been named by Time magazine as one of the world's 100 most influential people, and has become the face for Yves Saint Laurent's fragrance, Manifesto.
The Juilliard-trained Chastain is an actor's actor who goes by her gut. She was reluctant to do a Broadway play — she says the timing didn't seem right — until she read the stage adaptation of Henry James' "The Heiress." Now it's one of Broadway's hottest tickets.
Of "Zero Dark Thirty," Chastain says, "I was a kid when I saw Jodie Foster in 'Silence of the Lambs.' Her performance has always stayed with me. She was a real person in that role. I hoped to do something like that, and then this opportunity came along."
To prep for the role, Chastain read Michael Scheuer, former CIA intelligence officer and author of "Imperial Hubris," and screenwriter-journalist Mark Boal, a Bin Laden specialist.
Says Chastain, "I went line by line to find my character, a CIA targeter who has a strong suspicion of where Bin Laden may be, and fights to stay on the case."
Of working with Bigelow, the director of the Oscar-winning pic "The Hurt Locker," Chastain says, "She empowered me in the role. There was never any holding back."
HOME | Marion Cotillard >>