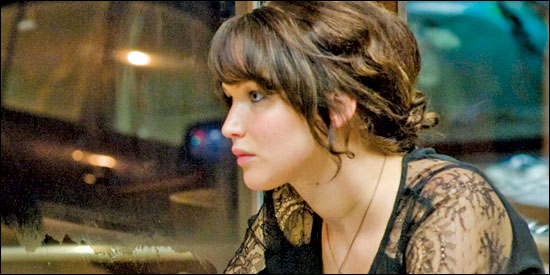 At just 22 years old, Jennifer Lawrence has demonstrated an astonishing range.
She's equally at home in big-budget blockbusters such as "The Hunger Games" and "X-Men: First Class" as she is in small independent films like "Winter's Bone," for which she received an Oscar nomination and multiple critics awards.
Now, she's extended her range even further, with a spry, witty, vulnerable and sexy turn as Tiffany, a troubled young widow who befriends the equally troubled Pat (Bradley Cooper) in David O. Russell's "Silver Linings Playbook."
"She's got a level of emotional intelligence that's way beyond her years," enthuses Donna Gigliotti, one of the producers of "Silver Linings Playbook." "It's what fuels her acting. She's got that level of deep understanding and is not precious about it in any way. That's what makes you want to watch her. She's just true."
"It's a real pleasure to be next to her," agrees Cooper. "She's instinctual, works organically and is verbally dexterous."
"A lot of girls wanted this part," recalls Gigliotti, "and when her name came up, David said, 'I think she's too young, but let's read her. You never know what'll come out.' She's one smart cookie. We had a Skype meeting with her, and she was beautiful but had a baby face.
"But she was very clever. She had so much black eye-liner on and came prepared with her version of what that character was for her. It made her look older and helped get us over the hump of whether she was too young. She was just electric."
| HOME | Keira Knightley >>