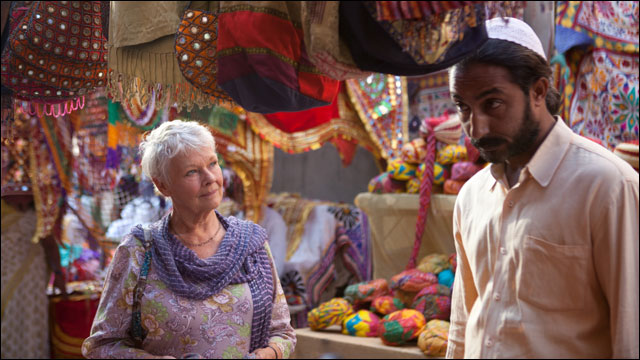 It was the year day-and-date VOD releases came of age for independent films. But outside of experimentation with windows and new platforms, there was no one trend that defined the indie film scene in 2012. Theatrical success often rested on savvy exploitation of niche demos ("Best Exotic Marigold Hotel" for over-50s and "The Perks of Being a Wallflower" for under-20s).
Here's a snapshot of the trends and notable films that marked the independent film landscape over the past year:
Beast-master: If the indie year kicks off at Sundance, 2012's jury dramatic winner "Beasts of the Southern Wild" set the tone early on. The unusual tale of the bayou wasn't an easy sell but and Fox Searchlight has had a swell run by indie standards: it grossed $11.2 million with a summer counterprogramming release and won the Camera d'Or in Cannes. With several Spirit noms and a host of other honors, looks to rack up a few more awards before the season ends.
VOD milestones: Though many simultaneous VOD releases offer little return to filmmakers, the entire film business was taken by surprise by the success of Richard Gere starrer "Arbitrage." Grossing $7.9 million in theaters, it made more than $11 million from a simultaneous VOD release. Lionsgate and Roadside Attractions built on the similar success of "Margin Call" the previous year to create the template for a boffo dual release.
The Weinstein Co.'s multiplatform venture Radius entered the game with its first release "Bachelorette," which grossed more than $7 million on VOD, though it made just $448,000 in theaters. It hit No. 1 on iTunes in its first week of release, unusual for an independent film.
On the DIY end, after premiering "Marfa Girl" at the Rome Film Festival, where it won the grand prize, "Kids" helmer Larry Clark took distribution into his own hands. The feature was released only on his website, streaming in high definition for $5.99.
"I was fascinated by everybody under 35 watching all their media on their laptops. I thought, why not just go right to the people," said Clark, "I never get paid anyway by the distributors — you sign contracts and they still don't pay you."
Clark thinks he will make money on the venture, though as yet his only marketing has been through interviews in outlets including Vice magazine and Italian Vogue.
—
Long live the olds!: Some of the best specialty film performances of the year were turned in by films that appealed largely to over-50 auds. "Best Marigold Hotel" was the year's top specialty title, with $46 million. Like many films appealing to auds above the age of 35, it had long, if not youthful legs, playing for 25 weeks. The comedy beguiled overseas auds, taking in an impressive $88 million internationally.
Meanwhile, "Salmon Fishing in the Yemen" took in $9 million, also from largely mature moviegoers. The trend continued among the majors, with pics like "Argo" and "Lincoln" also luring larger-than-average numbers of over-35s into theaters.
—
Luring the elusive youth aud: Teen coming-of-age pic "Perks of Being a Wallflower," which premiered at Toronto, made it to a healthy $17 million. A strong base of support came from young filmgoers who were fans of the MTV-published novel, helped by a ratings appeal that changed the initial R to a PG-13. And who knows how to target young filmgoers better than "Twilight" studio Summit?
But several Sundance titles with youth appeal didn't fare as well, and overall, it seems that getting under-25 auds away from vampires and iPhones and into arthouses remains an uphill battle.
Helping bridge the age gap, Wes Anderson's late May opener, "Moonrise Kingdom," the second-highest grossing specialty pic with $45 million Stateside, scored the highest per-screen average for a live-action film (only to be beaten four months later by Paul Thomas Anderson's "The Master"). The former Anderson's nostalgic coming-of-ager lured the typical adult arthouse crowd, but also appealed to a decidedly younger core who are fans of the director's whimsical vision.
—–
Woody peaking? Last year's specialty winner was Woody Allen's "Midnight in Paris," with $50 million. Another title that appealed strongly to seasoned cinephiles, it was the Woodman's biggest pic ever, hitting 93% on Rotten Tomatoes. But this year's "To Rome With Love" topped out at $13 million, reaching only 43% on Rotten Tomatoes.
—
French kiss: Successful foreign films are increasingly rare at the U.S. box office. But the Weinstein Co.'s "The Intouchables" hit a comedy sweet spot with the tale of a parapelgic and his African caretaker, grossing $10 million in the U.S. The pic was a huge hit in the rest of the world, as well, totalling an impressive $421 million worldwide.
The next-highest foreign-language pic was Lionsgate's "Casa De Mi Padre," with $5.9 million — not huge for a pic starring Will Ferrell, but a worthy attempt by Lionsgate's Hispanic-targeted label Pantelion to aim a pic directly to the massive Spanish-speaking audience in the U.S.
Pantelion CEO Paul Presburger told Variety earlier this year that Hispanic auds want to see Hollywood movies, "but they also feel under-represented in Hollywood.
"This had all the ingredients to cross over," Presburger said.
—
Wide release, small audience: "Teletubbies" czar Kenn Viselmann took a big risk pouring investors' money into a 2,160-screen release of "Oogieloves in the BIG Balloon Adventure," but the film landed an all-time low $206 per-screen average. The life-sized puppet live action pic was pitched to the youngest tots — not a strong moviegoing demo — and adults found the name and characters off-putting.
The film did manage to cross the $1 million mark but ultimately served as a reminder that despite aggressive marketing tactics (like hosting mommy blogger junkets) it remains a tough job getting fickle kids to embrace new characters from an independent producer.
—-
Doc appeal: Though it wasn't a huge year for theatrically-released docus, a handful provided high enough entertainment value or controversy to get viewers to buy tickets. A scuffle over the pic's rating was one factor helping the Weinstein Co.'s "Bully" become the highest-grossing theatrical doc, at $3.2 million. Sony Classics' feel-good tale "Searching for Sugar Man" had dual Sundance prizes helping propel it to $2.96 million, while Oscilloscope's "Samsara," released in 70mm and Magnolia's "Jiro Dreams of Sushi" both crossed the $2.5 million line. Almost as popular was the deliciously decadent riches-to-rags story, Magnolia's "Queen of Versailles," with $2.4 million.