Though these folks may not be considered frontrunners, they remain firmly in the discussion for Oscar consideration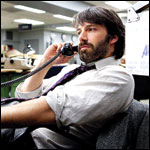 Ben Affleck
'Argo'
There's more awards talk about Affleck's sharp direction of this snappy political thriller, but that's not to dismiss his sturdy but selfless work in the lead role, which intelligently anchors the action while allowing zingier supporting turns to bounce around him. Affleck is, arguably, an underrated performer, though the general momentum of his vehicle makes for a good shot at an acting Oscar nod.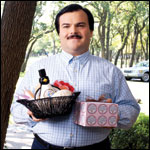 Jack Black
'Bernie'
The Acad has long had a soft spot for funnymen taking on dramatic roles. While Richard Linklater's oddball true-crime story has a black comic undertow, allowing Black to indulge in some winking whimsy as a fey mortician turned unlikely murderer, many have been taken off-guard by the rowdy actor's restraint in the role. The film has a low-key but dedicated critical following, and Black's against-type casting has already paid off with an Independent Spirit nom.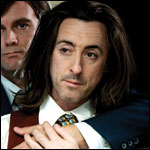 Alan Cumming
'Any Day Now'
Cumming wears two hats in Travis Fine's scrappy period pic, and we're not talking about the gender affiliation of his wardrobe. In addition to playing a drag queen with singing dreams, Cumming is also heartbreaking as a man who unexpectedly finds himself bonding with an abandoned teenager with Down syndrome. With co-star Garret Dillahunt, Cumming puts an unforgettable face on what otherwise might have been just a concept: a gay couple hoping to adopt when society was dead set against it.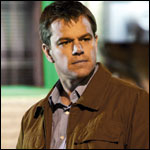 Matt Damon
'Promised Land'
With that trusting face and common-man spirit, Damon convincingly plays a natural-gas company salesman looking to pave a way for his employer to tap into the ground while he's tapping into the misfortune of small-town residents looking for a financial windfall. Reuniting once again with "Good Will Hunting" director Gus Van Sant, Damon remains naturally comfortable in front of the camera.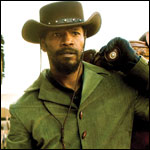 Jamie Foxx
'Django Unchained'
A recently freed slave astride a horse in pre-Civil War South and dressed in a Blue Boy outfit, yeah, Foxx's Django is feeling pretty good about himself. He and Christoph Waltz visit Leo DiCaprio's plantation to buy the release of Foxx's wife (Kerry Washington) and the comedic impact is grand. The whole Quentin Tarantino escapade would seem an actor's playground, with Oscar winners aplenty coming back for more.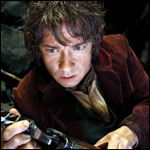 Martin Freeman
'The Hobbit'
The soul of Peter Jackson's return to Tolkien territory is Freeman, who played Tim on the BBC's "The Office" and of late has been Watson to Benedict Cumberbatch's "Sherlock." Freeman is every bit the unlikely hero of the epic journey undertaken by "The Hobbit: An Unexpected Journey," evolving from proud householder to sword-carrying burglar who tussles with foes of all shapes and sizes. A nomination for this underdog performance would parallel the "Hobbit" story nicely.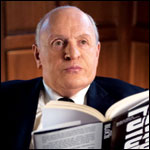 Anthony Hopkins
'Hitchcock'
Though he may not have gained the weight or channeled the Master of Suspense to a T, Hopkins' portrayal of Alfred certainly carried his spirit accordingly. In channeling the director, Hopkins showed affection and more than a tinge of jealousy when it came to his wife, Alma, played by Helen Mirren. If the Academy likes to fondly look back at its moviemaking past, Hopkins could receive consideration.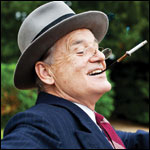 Bill Murray
'Hyde Park on Hudson'
It may stand in the shadow of certain other actor's portrayal of a certain other U.S. president, but Bill Murray's loose, louche turn as Franklin D. Roosevelt will please viewers interested in a lighter interpretation of a weighty historical icon. The film plays to a more middlebrow crowd than much of his best work, but Murray isn't actually required to play against type: his natural drollness as a performer suggests FDR's own canny powers of persuasion.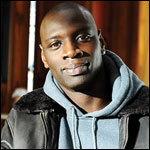 Omar Sy
'The Intouchables'
While critics are split on this crowd-pleasing French buddy comedy, even the film's fiercest detractors agree that the imposing Sy's charismatic star turn is its greatest asset. As an ex-con improbably hired as caretaker for a wealthy paraplegic, Sy has winning chemistry with co-star Francois Cluzet, but it's his character that "The Intouchables" elevates as a life force; earlier this year, he even upset "The Artist" star Jean Dujardin to take the Cesar Award in France.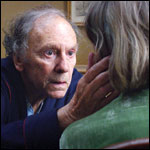 Jean-Louis Trintignant
'Amour'
One of the great French leading men, Trintignant came out of retirement to play a music teacher watching his wife slide into dementia in Michael Haneke's acclaimed latest, and showed not a hint of rust. Quietly alternating between passive-aggressive rage and naked grief, it's one of his richest performances. He's never been nominated, but Acad members, particularly those who remember him as a young heartthrob in "A Man and a Woman," should be affected.
Eye on the Oscars: Talent
When a performance feels within reach
IN THE MIX
Lead actor | Lead actress | Supporting actor | Supporting actress