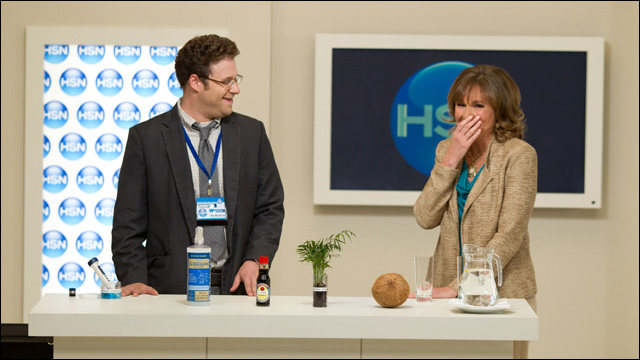 Shopping channel HSN, which typically targets women, will turn to Seth Rogen next month to help boost sales.
The network and online inventor community Edison Nation will launch a search for the next big idea as part of a promotional tie-in with Paramount Pictures comedy "The Guilt Trip," out Dec. 25. Airline Virgin America and car rental firm Budget are also helping market the pic and appear in the film.
In "The Guilt Trip," Rogen plays a struggling inventor who travels across the country to sell his products and is joined by his overbearing mother, played by Barbra Streisand.
The HSN promo is the latest for the network as it increasingly looks at TV shows, films and celebs as marketing opportunities it can use to hype its wares after having launched successful campaigns around "Snow White and the Huntsman" and "Eat Pray Love" and teamed with Giuliana Rancic, Queen Latifah, Serena Williams, Padma Lakshmi, Lionel Richie and Tony Bennett to launch products ( Daily Variety , Sept. 9). Rod Stewart will sell his first holiday CD on the network, as part of the channel's live concert series.
Naturally, Hollywood is happy to pair up with HSN. With its many millions of viewers, the network can provide studios with considerable marketing muscle not just on-air but also online and through print and direct marketing platforms.
Net is planning a programming event tied to the opening of "The Guilt Trip" that will run Dec. 17-25. It's designed as a celebration of independent inventors and ingenious products that gives customers a look at the product creation pro cess behind popular brands on HSN.
"Creating an opportunity for inventors nationwide to have a chance to appear on HSN is a fantastic compliment to the storyline (of 'The Guilt Trip')," said LeeAnne Stables, president of consumer products for Paramount Pictures and head of global marketing partnerships for the studio.
To find HSN's inventors, Paramount will host an open call Nov. 17 on the studio lot, where aspiring inventors can pitch their products; they can also submit their ideas online at Edison's website for $25. Top concepts will be presented to HSN on Dec. 4, with a panel of judges selecting the final inventor to appear live on HSN during a "Guilt Trip" event airing on primetime Dec. 23. Winners will be sold across HSN's platforms in 2013.
Anne Fletcher helmed "The Guilt Trip," written by Dan Fogelman and produced by Lorne Michaels, John Goldwyn and Evan Goldberg.
Separately, Virgin America will promote "The Guilt Trip" by airing the film's trailer on its "Onboard Virgin America" channel on the airline's entertainment system and through the company's website through January. Budget will run a sweepstakes and promote the film at its rental locations and across its social-media platforms.