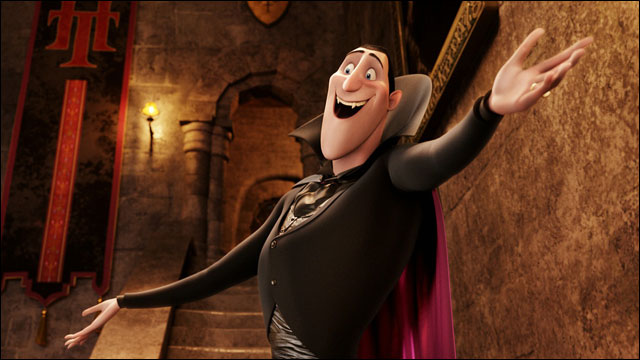 After a pair of pallid box office turns, funnyman Adam Sandler is back from the dead.
Sony Pictures Animation's "Hotel Transylvania," voiced by Sandler, is on its way to the top spot at the domestic box office with an estimated $33 million-$35 million weekend, according to early estimates. Sandler, typically a big box office draw, is coming off two underwhelming B.O. performers, this summer's "That's My Boy" and 2011's "Jack and Jill."
"Hotel Transylvania" would mark the ninth No. 1 debut for Sandler and could become the highest-opening ever for Sony Pictures Animation. "The Smurfs" (2011) holds the current benchmark for the studio, with $35.6 million.
Featuring the voices of Sandler, Kevin James and Selena Gomez, "Hotel Transylvania" tells the story of Dracula (Sandler), an overprotective father who operates Hotel Transylvania, a vacation refuge for his fellow monsters.
Sony's other wide release, sci-fi actioner "Looper," is on track to secure the No. 2 spot with a projected $18.5 million weekend. Produced for $30 million, the Sony TriStar/FilmDistrict feature stars Joseph Gordon-Levitt and Bruce Willis and is riding a stellar 93% Fresh rating on RottenTomatoes.
"Looper" could stay afloat with strong word of mouth among adult auds but faces a tough road ahead, B.O. observers warn, with male-centric pics "Taken 2" and "Argo" ahead.
20th Century Fox's "Won't Back Down," this weekend's third newcomer, is lining up to earn a modest $4.5 million for the frame.