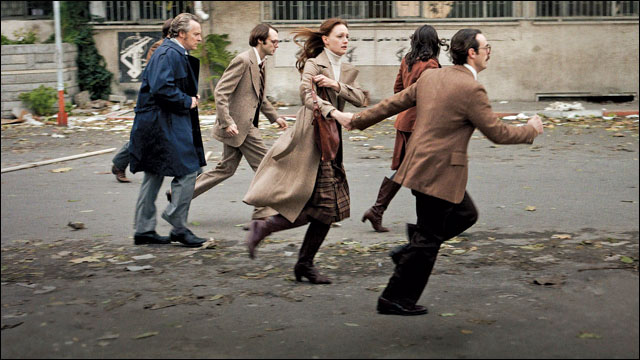 Planes crash, ships capsize and action heroes duke it out atop moving trains. No, these aren't the summer's biggest blockbuster setpieces, but scenes from this year's award contenders, the sort of scenes that cement otherwise dramatic films in the public's mind. Audiences won't soon forget Kathryn Bigelow's chillingly accurate recreation of the night raid on Osama Bin Laden's compound in "Zero Dark Thirty" or the bravura scene from "Argo" in which diretor Ben Affleck distills into nine memorable minutes the three-hour storming of the U.S. Embassy in Tehran.
In discussing such challenges, directors are quick to correct the notion that a single auteur handles everything on set, freely crediting their closest collaborators, both above and below the line.
Affleck and scribe Chris Terrio — whom the director calls "a true partner on this movie" — determined to provide "an acute, first-person sense of the danger" of the momentous historical event, toting up the necessary indoor and outdoor visual beats. "I hoped we could mirror what it felt like to actually be there," Affleck says, "chaotic and incomplete and panicky."
For two days of Istanbul location shooting, the crew built a segment of wall and assembled more than 2,000 extras, matching faces to real-life rioters' photos. The compound was added via CGI (a soccer field actually lay beyond the wall), with interiors shot over another four days stateside.
To recreate Abbottabad, Bigelow mixed "The Hurt Locker" vets like first a.d. David Ticotin with such pros as d.p. Greig Fisher and production designer Jeremy Hindle, who studied news footage to replicate compound details down to floor tiles and hand-strewn trash.
"You're in these incredibly narrow spaces with the SEALS and your entire crew (trying to) make it not just have historical sense, but cinematic sense at the same time," Bigelow says. Planning encompassed all contingencies including wind direction (to ensure the safety of their real Black Hawk helicopters).
Free to invent his own showstopper, Christopher Nolan decided "The Dark Knight Rises" needed "an absolutely devastating and momentous sequence" to signal overwhelming threat, and settled on decimating a football stadium — "a place in which huge numbers of people come into this arena to watch a safe version of combat. We wanted those things to position (the villain) Bane as a gladiator. Unlike the Joker in 'The Dark Knight,' he's a physical protagonist, and so this felt like the appropriate arena for him to announce himself."
To that end, he turned to the population of Pittsburgh: "We got 11,000 people to turn up on the day to portray the inhabitants of Gotham," he says. "My a.d., Nilo Otero, did an incredible job of getting these people to react to a very extreme sequence of events."
The ensuing series of real on-field explosions, with a wave of rising turf and players actually falling into pre-dug holes, became a major jigsaw puzzle for editor Lee Smith. "The crosscuts in this film, and the degree to which he's balancing different narrative elements is extraordinary — it's very easy to overlook how complicated that is," Nolan says.
To achieve the most complex sequence in "Flight" — when Denzel Washington's character crash-lands an airliner upside-down — Robert Zemeckis divided the plane set in two, shooting the cockpit and main cabin portions separately.
"They'd put the main cabin on the rotisserie, the device that inverts it," he reports. "Then we'd shoot all the stuff with the people inverted, go off and then finish with the cockpit on the rotisserie." The experience was "a checkerboard dance," with d.p. Don Burgess, Kevin Bailey handling visual effects and Michael Lantieri on mechanics as principal dancing partners.
For the dynamo freighter-sinking scene in "Life of Pi," Ang Lee says the team ran into such technical hurdles as "fogging, maneuvering, reflection problems." The crew struggled for 12 hours, unable to get anything shot, he says, because the 3D camera was "too clumsy … not very handy yet" and at times needed to be hung onto a "Spidercam" device ordinarily used to follow plays in a football stadium.
Looking back, Lee says, "I don't think anybody in the world could give me better answers than the people around me," including marine consultant Rick Hicks, who had weathered "The Perfect Storm"; Thomas L. Fisher, veteran of "Titanic"; and adventurer Steven Callahan, whose own 70-day experience adrift contributed to the sequence's reality.
Another of the year's most indelible — and demanding — sequences was the dynamic recreation of the 2004 Thailand tsunami in "The Impossible," which sweeps a family of five into a real-life search-and-rescue mission. Filmmaker J.A. Bayona invested a year in planning 150 water-related shots with d.p. Oscar Faura, production designer Eugenio Caballero and his effects team.
Three weeks of rehearsal led to six weeks in a giant water tank, during which only a single shot might be captured each day. As if the visual aspect weren't demanding enough, the scenes also required star Naomi Watts to deliver dialogue amid the scene's daunting conditions. "We did the first take and Naomi couldn't say anything, she was so into the water," Bayona remembers. "The talking never got easy. She was swallowing water all the time."
"Les Miserables" also opens with a big water-bound setpiece, as a bevy of convicts sing "Look Down" while pulling a man-o'-war into port. "(We had) hundreds of guys in seawater, and that water had to be pumped," remembers helmer Tom Hooper, who relied upon sound mixer Simon Hayes ("He walks on water"), music supervisor Gerard McCann and d.p. Danny Cohen to manage musicality and spectacle within the sequence.
The fact many tentpoles open with elaborate, gripping scenes is no coincidence, Affleck believes: "You need to invest the audience in the story very quickly, to grab them and say, 'There are really high stakes to this, and a lot of urgency.'"
Nowhere is that truer than in the spectacular pre-credits sequence that opens any Bond film, the logistics of which must seem terrifying to any director trying his hand at action for the first time, the way Sam Mendes was on "Skyfall."
"It was pretty challenging, and you can't do it without great collaborators," says the director, who relied on franchise pros, such as second unit d.p. Alexander Witt and stunt coordinator Gary Powell, to solve the scene's most intricate details — "like the roof," says Witt, referring to the CGI-free motorcycle chase high above an Istanbul bazaar. When plans to shoot in India fell through, the production found its way to Turkey, whose elaborate overhead architecture inspired the unforgettable stunt.
Though the mood is generally relaxed on a second-unit set, according to Witt, tension is ramped up and teamwork tested whenever action gets really dangerous.
"You can rehearse it all, but you can never be 100% sure how a stunt's going to work out. The day you shoot it, you hope everything'll go right," he says. "It's a group collaboration where everybody has something specific to do. So everybody cheers when things go right: 'We don't have to do it again!'"
Iain Blair, Steve Chagollan, Justin Chang, Stu Levine and Jon Weisman contributed to this report.