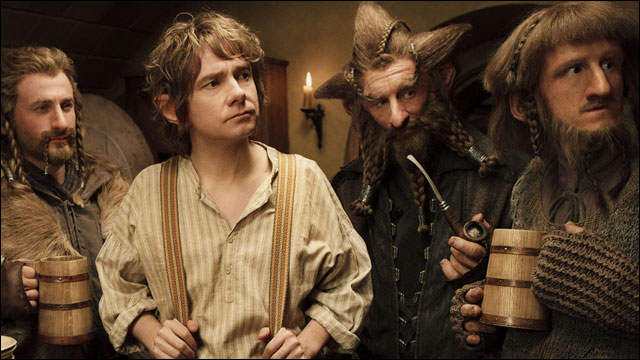 Hollywood may break out the bubbly a bit early, as the 2012 domestic box office barrels toward a record-smashing $10.8 billion gross and the biggest admissions bounce in more than a decade — an outcome that will depend heavily on Warner Bros.' "The Hobbit: An Unexpected Journey."
"The Hobbit," projected to debut north of $100 million this weekend domestically, also will goose international box office, which Variety reported is record-bound at around $20 billion through the end of November. Warners launches "The Hobbit" starting today through Friday in 55 day-and-date territories.
Stateside B.O. hit $10.03 billion through Sunday, the fastest ascension to eight figures in history. By comparison, last year's totals reached $9.49 billion by this time, while in 2009 — a benchmark year at the domestic box office with $10.6 billion total — B.O. stood at $9.84 billion through Dec. 13.
Box office records are nice, but a steady decline in admissions is what keeps execs up at night.
This year offers a glimmer of hope: Year-to-date ticket sales are currently at roughly 1.26 billion — 6% better than 2011, according to the National Assn. of Theater Owners. If that pace holds, 2012 admissions would end at 1.36 billion, making it only the third (and largest) uptick since 2002, which tallied 1.57 billion.
Likewise, admissions will depend greatly on "The Hobbit," which offers more premium format options than any film before with the advent of the 3D 48fps format. Depending on word-of-mouth, auds may opt to bypass the pic's 3D version in favor of 2D, which would help admissions — but only if more people than usual choose 2D.
It will take about $800 million more Stateside through Dec. 31 to break the record, but that's not entirely up to "The Hobbit": Several Christmastime offerings are poised to help, including Universal's "Les Miserables," Paramount's "Jack Reacher" and the Weinstein Co.'s "Django Unchained." In fact, this holiday period — with seven wide releases from Dec. 19-25 — is the most congested Christmas season at the movies ever.
The big question for those films not set in Middle-earth is, how will they fare in comparison?
Observers anticipate that "The Hobbit" could leg out to as much as $450 million domestically, since pics that open in December tend to have crazy-good playability. Still, "Les Mis" and "Django Unchained" each have $100 million-plus Stateside prospects, even with the potential "Hobbit" bulldozer; but those two pics have only about a week of play in 2012.
As for the year's remaining crop, Fox's "Parental Guidance" and Disney's "Monsters, Inc." 3D re-issue should satisfy families, while awards contenders including Sony's "Zero Dark Thirty," Summit's "The Impossible" and Focus Features' "Promised Land," expect to establish strong roots in limited release.