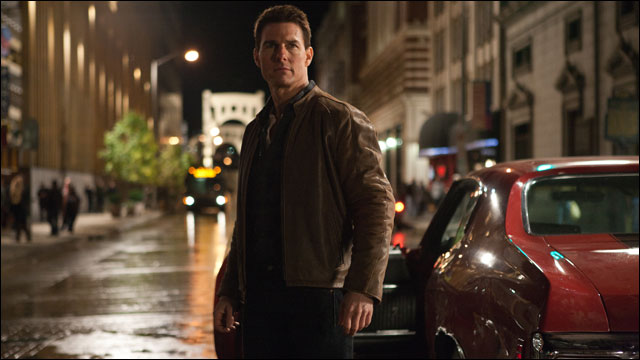 Above: Paramount's 'Jack Reacher,' starring Tom Cruise, is expected to land in the low-to-mid teens.
Nearly a dozen films open between Wednesday and Friday, kick-starting what is the most crowded Christmas play period ever at the domestic box office — though it won't be the busiest.
None of the weekend's five wide releases, including Wednesday openers, Paramount's "The Guilt Trip" and Disney's "Monsters, Inc." 3D re-issue, are expected to go beyond the mid teens, which leaves Warner Bros.' hearty holdover "The Hobbit: An Unexpected Journey" to carry most of the weight.
"Hobbit" took in $7.7 million on Monday, bringing the pic's domestic cume to $92.4 million.
Paramount alone launches four pics this weekend, with "The Guilt Trip" expected to gross $6 million-$8 million, while Tom Cruise actioner "Jack Reacher" likely will land in the low-to-mid teens. The studio's other Friday releases include 3D spectacle "Cirque du Soleil: Worlds Away," at 800 locations, and music indie "Not Fade Away," from Paramount Vantage, which launches at three.
Sony's "Zero Dark Thirty" begins its platform roll out Wednesday on the coasts at five locations. Anything north of $40,000 per screen for the Mark Boal-Kathryn Bigelow collab would be solid.
Six more films open next week, starting Christmas day.
Rivaling "Jack Reacher" for the top spot among the new entries is Universal's Judd Apatow comedy "This Is 40," though the R-rated laffer has a slightly more limited core than the Par pic, which is rated PG-13. Meanwhile, "Monsters Inc." is expected to gross $10 million-$12 million in three days, with a mid-teens upside in five.
Still, the weekend's modest all-around tracking isn't too troubling, since pics this time of year tend to gross, on average, five to six times their Stateside openings.
A handful of other pics open limited over the next few days, including Wednesday's Austrian Oscar foreign-lingo contender "Amour," at three locations, and Summit's tsunami disaster pic "The Impossible," which launches Friday at 15 theaters.