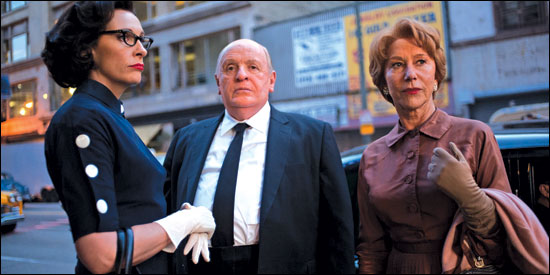 Helen Mirren isn't known for playing characters that stand in the shadows. Her 2006 Oscar for "The Queen" came after taking on many roles as powerful women.
Yet as Alma Reville, wife of the famous director in "Hitchcock," played by Anthony Hopkins, she's her husband's unacknowledged collaborator on scripts, editing and even directing.
Mirren came to appreciate her character's significance when she read "Alma Hitchcock: The Woman Behind the Man" by the couple's only child, Patricia.
"The daughter of this incredibly famous film director writes a biography and chooses to write it about her mother," Mirren says. "It was huge to me. It gave her mother great status."
Despite Alma's lack of public recognition, Mirren says, "She wasn't resentful or angry about the fact that history wiped her credit out."
As part of her preparation, Mirren studied photos of Alma, which she says, revealed "an incredible energy, a lightness. … She's laughing, smiling. I think Alfred Hitchcock made her laugh. Any woman will say a sense of humor is the sexiest thing in a relationship."
Creating that relationship on screen came intuitively for Mirren and Oscar winner Anthony Hopkins, who had never worked together.
"It was as if we had done 10 years of repertory theater together," Mirren says. "It was very natural. We were both coming at it from a rather British point of view: You learn your lines, get on there, do it and don't make a fuss. You give the other actor the room and support to do what they need to do."
Mirren enjoyed discovering a key unknown player in the industry in which she herself has made such a mark.
Mirren says: "It was like finding a little treasure as a woman, to find out about the women who were important in the history of film."
| HOME | Quvenzhane Wallis >>