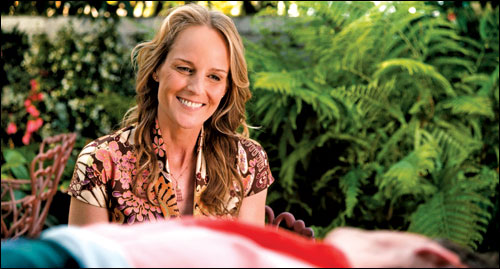 As an Oscar and four-time Emmy winner, Helen Hunt is adept at finding the right key to unlock a character.
"It can be a pair of shoes, an accent, one phrase," says the actress, who's grown more selective of projects since taking home the gold for "As Good as It Gets" and becoming a mom to 8-year-old daughter Makena.
For her emotionally (and often physically) naked comeback role as a licensed sex surrogate in "The Sessions," the key proved to be meeting the real-life therapist, Cheryl Cohen Greene, who helped polio-stricken writer Mark O'Brien (John Hawkes) lose his virginity.
"It was invaluable not only hearing what she said but how," says the former "Mad About You" star. "Her enthusiasm, sense of adventure and unabashed frankness about sex seemed like something I hadn't seen onscreen before."
While Hunt met several times with Greene — even inviting her over to the house, where the actress had her read the entire "Sessions" script into a tape recorder — she spent "almost no time" with co-star John Hawkes prior to filming their intimate scenes together, which is exactly how she wanted it.
"It worked out perfectly for the movie," she says, "because the camera got to capture those very real 'I don't know you but we're going be naked together now' moments."
Hunt's bare bod certainly hasn't hurt in generating buzz for the tiny indie, though according to the actress, putting clothes back on at the end of the day was way more exciting.
"I'd put on the thickest sweatpants I had, zip up my collar, and go to In-n-Out Burger," she says.
| HOME | Frances McDormand >>