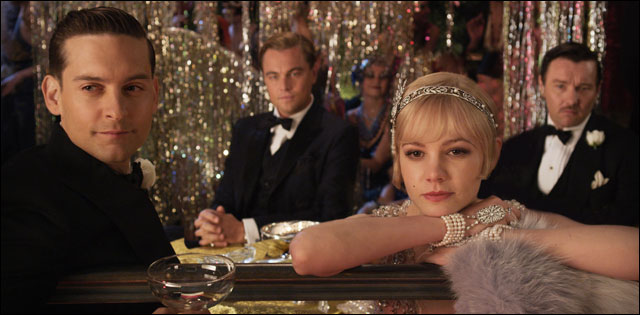 Warner Bros. has bumped Baz Luhrmann's "The Great Gatsby" from Dec. 25 to an unspecified date next summer, a move the studio says will boost the 3D epic's B.O. prospects but also reshuffles this year's awards-season deck — and prevents a Leo-vs.-Leo standoff at both the plexes and the podium.
"Gatsby" becomes the latest in a flurry of films recently punted into 2013, with Warners and Paramount leading the charge.
Pic is the sixth that WB moved off the 2012 calendar, following "Gravity," "Man of Steel," "Jack the Giant Killer," "Bullet to the Head" and, most recently, "Gangster Squad," for which Variety first reported the studio was seeking distance from the Aurora, Colo., shootings. Meanwhile, Par moved "World War Z," "Hansel and Gretel" and, just weeks before its release, "G.I. Joe: Retaliation" into next year.
In a statement, WB execs said "Gatsby," which also stars Tobey Maguire, Carey Mulligan and Joel Edgerton, has a tentpole sensibility, and the shift was made to take advantage of summer crowds. Move also reportedly gives the meticulous Luhrmann breathing room for 3D post-conversion and soundtrack work.
Though "Gatsby" was widely considered early Oscar bait, its delay hardly leaves Warner in the awards-season lurch. Studio already has several contenders on the way — "Argo," "Trouble With the Curve," "Cloud Atlas" and "The Hobbit," to name a few.
"Gatsby" also evades a still-crowded holiday slate that includes the Weinstein Co.'s "Django Unchained." Had "Gatsby" stuck to Dec. 25, the two DiCaprio pics would've opened against one another on Christmas Day, and the thesp — whose Appian Way shingle is on the WB lot — could conceivably been made to compete against himself for kudos.
While bizzers and Wall Street tend to question the quality of a bumped project, that usually happens only if a move comes after ad dollars are spent — e.g., Par's decision to push "G.I. Joe" five weeks before its scheduled release. And while fewer films may dampen theatrical revenue for a given quarter, it can also save coin depending on timing.
"A Dec. 25th movie will lose money for you on an accounting basis," said Alan Gould of Evercore Partners. "It's all expenses (with very little revenue). Moving it would make 2012 more profitable." Still, he said, six is a lot — and "it's a little surprising to see this two weeks after "Gangster Squad."