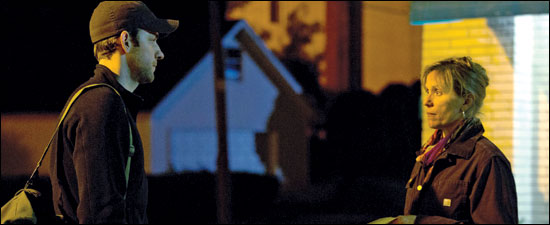 Prior to any producer coming on board, before the film's premise was even in its finished form, Frances McDormand was all in with "Promised Land."
Matt Damon says he and co-writer John Krasinski sent her the earliest draft of the script, back when it was a movie about windmill farm prospecting in upstate New York and not about natural gas drilling in rural Middle America.
McDormand plays Sue Thomason, a slick-tongued, no frills gas company land buyer who opts for playful punches over an encouraging hug when her colleague, Damon's Steve Butler, gets a promotion.
While she's grateful for the work, her time on the road keeps her away from her son, and that becomes an an internal struggle that McDormand masterfully keeps simmering just beneath the surface.
"Her performance as Sue is so layered and nuanced," says Damon about his co-star with whom they often share the screen. "Many times I'd be playing a scene with Fran and sense something strong happening. Then, watching the dailies, I could take the opportunity to see the distinctions in every single take she did."
And as for preparing for the role, McDormand didn't have to step too far out of her own shoes to get into Sue's. Issues central to the film are ones she is all too familiar with.
"I went to high school in a steel town in Pennsylvania," McDormand says. "Now the town is suffering a lot, although I have friends that are still living there happily because it's their community."
Thus she lends a lot of heart to her role as the proxy for heartless corporate America.
| HOME