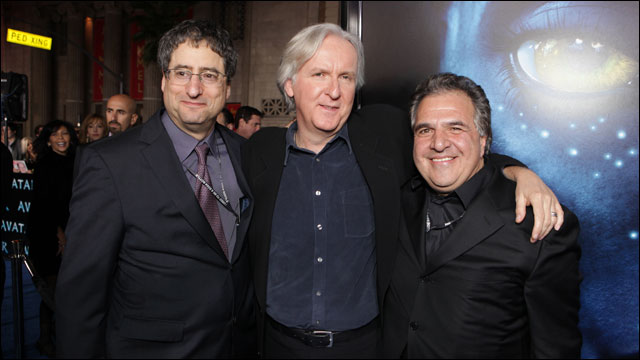 Above: Tom Rothman, director James Cameron and Fox' Jim Gianopulos at the 2009 premiere of 'Avatar'
As Tom Rothman gets ready for his year-end exit from 20th Century Fox, the studio's film division heads are preparing for increased responsibility and accountability under the solo leadership of Jim Gianopulos.
In announcing Rothman's exit on Friday, News Corp. unveiled a studio restructuring that will make its TV production units a stand-alone business entity for the first time (see separate story).
Since Rothman and Gianopulos began co-chairing the Fox film division in June 2000, every fiscal year has been profitable and the division broke its own annual records for operating profit nine times.
Despite some box office misfires this year, Fox has passed $2 billion at the global box office since January.
The company won't replace Rothman; toppers are confident about Gianopulos flying solo.In addition to his fiscal and production duties over the past 12 years, Gianopulos spearheads much of Fox's anti-piracy and international efforts. Observers expect him to allow his division heads even more creative freedom across the board. The most high profile of these is probably Emma Watts, who's known for her tough managerial tactics and who's championed directors as diverse as Josh Trank, Ridley Scott and Matthew Vaughn.
Gianopulos has been pushing Fox's technology initiatives for years. The general industry perception was that he was more hands-on with Fox's financing, while Rothman focused on production and marketing. But in truth, those lines intersected, and Gianopulos has long-standing and good relationships within the company and with key Fox talent such as James Cameron, Alexander Payne and George Lucas.
"I'm sorry to see Tom stepping down," Cameron said in an emailed statement. "He was there with me and my Lightstorm team through two of the biggest, toughest movies imaginable, 'Titanic' and 'Avatar,' and we forged a strong bond of mutual respect and creative partnership in that crucible of fire."
While Rothman was colorful and often the media's go-to guy for quotes, Gianopulos has been just as prominent within the industry, but in different ways. He's on the board of governors for AMPAS and the Motion Picture Fund and is the director of the X Prize Foundation, an educational nonprofit. He is also a trustee for the American Film Institute. Gianopulos held senior posts at Columbia and Paramount before becoming international and pay TV prexy at Fox and then president of 20th Century Fox Intl.
Steven Spielberg, who is currently directing sci-fi tentpole "Robopocalypse" for the studio and Disney/DreamWorks, also released a statement Sunday on Rothman's departure. "He has a big creative appetite for big commercial ideas and well-written personal films. His track record at Twentieth made history," Spielberg said. "Tom and Jim Gianopulos were the kind of perfect partners that Bob Daly and Terry Semel were during all those years at Warners. I'm certain Tom and I will continue our working relationship on another playing field."
Spielberg has a film relationship with Fox dating back to 2002's "Minority Report" and more recently through 20th Century Fox TV's "Terra Nova," which Spielberg exec produced with Peter Chernin.
Rothman is a Type-A micro-manager, fretting over even the smallest details. His personal governing style earned him admirers and detractors both inside and outside of Fox. Managers and agents often moaned about the studio's penny-pinching, while financial players complained of the difficulty of making a Fox deal. Rothman always shrugged that he was simply a tough negotiator and pointed to the studio's track record. And while the industry often focuses on box office totals and market share, Rothman was always reminding journalists (and anyone else nearby) that the key was not share but profitability.
While he was relentless in pursuing his point of view, many concede that he was often right.
"There's no question he drives a hard deal," said Shawn Levy, who runs the Fox-based 21 Laps. "This was a guy who truly cares, and every actor and director and writer that I know will choose passion and giving a shit over pure analytics and business."
It was not unusual to find the exec tweaking small details in a newspaper ad for a film in its second or third week. Nor was it uncommon for Rothman to see every cut of a movie.
"Tom would tackle each thing specifically, and Jim would sort of look at the overall thing," said Elizabeth Gabler, who runs Fox 2000 and has worked with Rothman at the studio for 18 years. "With 'Life of Pi,' Tom would say, 'When can I see the movie again?' and Jim would say, 'Tell me when you want me to see the movie.' "
"I sat on the top of his stairs once when a movie of mine didn't open and I was crying, and he sat there with me and talked me through it," Gabler said. "That's a guy who cares about who works with him."
In an email to staffers on Friday, Rothman said he was proud of his co-workers and the films in his 18 years at the studio. "But I've done the same thing, at the same place, for a long time (indeed, in the 75 year history of our studio, no one has supervised movies for longer except Darryl Zanuck himself). I do need some new challenges and to write a new chapter."
It's unclear where that next chapter will be written. Rothman's name has surfaced in conjunction with several high-level studio jobs, including the recent Disney opening that ultimately went to Alan Horn. Hollywood has also buzzed about the possibility that Rothman would eventually take Universal's reins from Ron Meyer.
Rothman recently purchased a home in Manhattan, according to one insider, and has two daughters on the East Coast. He also sits on the board of Brown U., and a few observers over the weekend speculated whether Rothman's next venture could be outside the film business altogether.
The exec forged strong relationships with filmmakers like Spike Lee and Jim Jarmusch from the start, first at Gotham entertainment law firm Frankfurt, Garbus, Klein & Selz, where he repped Jarmusch on "Stranger Than Paradise," and helped produce the helmer's 1988 follow-up "Down by Law."
"I learned that great filmmakers make great movies," Rothman told Variety last year. "It's the heart and soul of what I do every day in my job: Try to pair the right talent with the right material."
Rothman moved on to Columbia Pictures during the Dawn Steel-David Puttnam era before segueing to Samuel Goldwyn Films. On the basis of his indie experience, he shifted in 1994 to News Corp., where he launched Fox Searchlight. He was quickly promoted to prexy of production for the studio.
While Rothman's distaste for extravagant expense, say insiders, could lead to tension with the creative teams underneath him, the fiscal conservatism of Gianopulos and Rothman helped protect Fox's bottom line and its relationship with longtime backer Dune Capital Management. At a time when many investors can't get away from Hollywood fast enough, the New York-based hedge fund is trying to renew its deal with the studio for a fifth time.
Rothman's frugality was reflected in his personal life, though the exec would insist he is just being practical by driving a car that's a decade old. On the other hand, that frugality was frustrating to some filmmakers. Fox wanted to make the comedy "Ted," but at a lower budget than Seth MacFarlane wanted. Rothman wouldn't budge, so MacFarlane, who has made the studio plenty of dough with his TV animated work, took the pic to Universal, for which it became a big hit.
In Hollywood, perception equals reality, and Rothman's higher-ups were said to be unhappy with the image that the studio was not filmmaker-friendly or that its pictures (though successful) didn't have the elusive sizzle and buzz that got the industry talking.
Insiders say Rothman had seemed increasingly unhappy, pressured by general industry economics and some of Fox's lackluster performances. This summer, Fox saw disappointing grosses for Timur Bekmambetov's "Abraham Lincoln: Vampire Hunter" and comedy "The Watch" (which earned just half of its production budget at the domestic box office).
But internationally, Fox pics earned $2.1 billion as of early September thanks to the success of films including "Ice Age: Continental Drift." Only Fox and Sony passed the $1 billion mark at the overseas B.O. for the summer.
The exec had 18 months left on his contract.
"Tom has played a critical role in building our film business into one of the industry's leading studios," News Corp. chief Rupert Murdoch said in a statement Friday. "We are well positioned for future success under the leadership of Jim Gianopulos, whose talents will ensure that we continue to engage audiences around the world on multiple platforms."
News Corp. prexy-COO Chase Carey's statement also signaled strong support for Gianopulos. "I am confident that Jim will take our film business to new heights," Carey said. "As we continue in our commitment to develop superior television content, I look forward to working more closely with Gary and Dana, who … are unquestionably one of the best teams in the business."
Gabler summed up the mood for everyone." 'We live to fight again,' we'd (always) say to each other when a movie would come out," Gabler said. "Even in great success, let's go on to the next challenge."