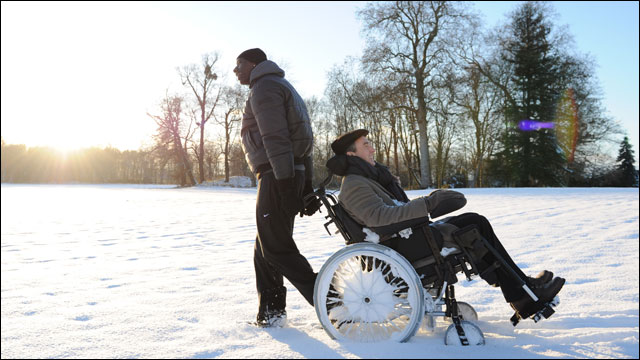 Hollywood films continue surge at the overseas box office, but local pics held their own in territories including France and Japan. In fast-growing China and India, local production is strong but reliable box office figures are not always available. Here are a few local-language titles that clicked over the past year.
FRANCE
Gallic movies had a hard time measuring up to 2011's phenom, "The Intouchables" (above), which took $166 million in just two months after its Nov. 2 release.
The highest earner in 2012 was "Sur la piste du Marsupilami," helmer Alain Chabat's CGI-animated, live-action family comedy at No. 4 in the B.O. chart with $44.5 million — just 25% of "Intouchables' " French haul, for Gaumont.
Hollywood pics took six of the top 10 spots.
GERMANY
Locals couldn't resist Gaul's "The Intouchables," released by Senator, pushing it to the top of the 2012 Teutonic B.O. with $79 million towards its worldwide take of $420.7 million.
The highest-rated German pic in a list dominated by Hollywood fare was Constantin's dramedy "Turkish for Beginners," a spin-off from the popular TV series, directed by Bora Dagtekin, which placed 11th and raised $21.6 million.
ITALY
In Italy local pics lost some luster in 2012 but still took the numero uno box office slot with laffer "Welcome to the North," a sequel helmed by Luca Miniero which pulled $36 million via Medusa largely capitalizing on the massive success of first installment "Welcome to the South," which is the Italian remake of Gallic megahit "Welcome to the Sticks."
But while 2011 had seen four Italo pics among the top ten earners, in 2012 only two Italo titles made that cut. Hollywood pics took the remaining eight of the country's top ten spots.
SPAIN
Grossing $53.5 million in Spain, Juan Antonio Bayona's Naomi Watts starrer "The Impossible," topped B.O. charts, setting an all-time record for a Spanish film there.
Indiana Jones-style 3D toon "Las aventuras de Tadeo Jones" (Tad, the Lost Explorer) hit No. 3 at the Spanish box office with $23.5 million, becoming the highest-grossing local animated movie ever on home turf.
Distribbed by PPI, it pushed "The Intouchables," which nabbed $21 million, into fourth place.
Driven by "The Impossible," Spanish films' total 2012 B.O. trawl of $143 million was also an all-time record. However, beyond eighth-placed "I Want You" ($15.9 million), the rest of the list makes sorry reading for Spanish industryites with just two other Spanish-nationality pics in a top 50 heavy on Hollywood offerings.
JAPAN
Local films had another boffo year at the box office, lead by Toho's latest installment in the Japanese Coast Guard franchise "Umizaru 4: Brave Hearts," which took $91.3 million.
Unlike other markets, local titles dominated the plexes. Hollywood nabbed just two slots in the top 10: Sony's "Resident Evil: Retribution," at No. 6 with $48.3 million followed by Disney's "The Avengers" with $45.2 million.
BRAZIL
Director Roberto Santucci's comedy "Ate que a sorte nos separe" (Until Luck Do Us Part), about a big lottery winner who ends up broke and must hide the fact from his wife, was Brazil's highest earning local pic. Distribbed by Paris Filmes, the movie slid into 10th spot with $16.3 million.
It was one of the few local pics in a top 100 packed with U.S. fare.
CHINA
In a year in which Hollywood movies dominated China's box office, low-budget laffer "Lost in Thailand" has become the best performing local film of all time, breaching the 1 billion yuan ($160 million) threshold since its Dec. 12 bow.
"Lost" outstripped the year's best earner, James Cameron's 3D version of "Titanic," and the previous biggest domestic record holder, "Painted Skin: The Resurrection," which earned $116 million, the state-backed Xinhua news agency reported.
Pic is a "Hangover"-esque tale of two businessmen who go looking for their boss in the north of Thailand and link up with a tourist eager to explore the country.
(Pat Saperstein and Nick Vivarelli contributed to this report.)