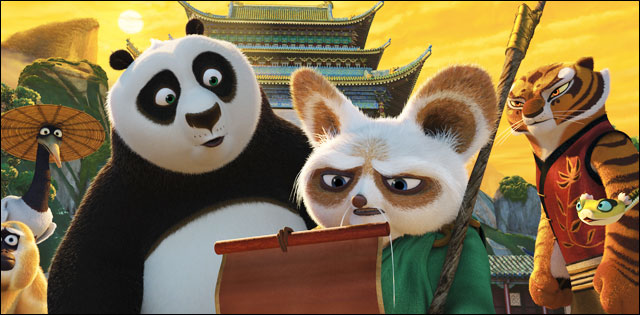 Analysts have long believed that it would be difficult for Jeffrey Katzenberg to secure a new distribution pact for DreamWorks Animation — especially at a studio with a successful toon division.
But with a new deal in place at 20th Century Fox, Katzenberg has found a partner who understands the value of animated films.
"Ice Age: Continental Drift," the fourth installment of Blue Sky Studios' hit franchise, so far is Fox's biggest hit of the year, earning more than $800 million globally. Its previous pic, "Dawn of the Dinosaurs" earned $887 million worldwide.
It should be no surprise Fox was looking for ways to put more family fare on its release schedule.
Popular on Variety
While Fox-owned Blue Sky Studios boasts the top two highest-grossing animated releases of all time internationally with "Ice Age" pics "Dawn of the Dinosaurs" and "Continental Drift," and scored a hit with "Rio," division has made just six pics since "Ice Age" bowed in 2002.
With DWA, Fox has landed the creator of the "Shrek," "Madagascar," "Kung Fu Panda" and "How to Train Your Dragon" franchises that have pumped around $700 million in distrib fees into Paramount Pictures' coffers since 2006. This
year, "Madagascar 3: Europe's Most Wanted" and "Rise of the Guardians" are expected to be Par's biggest earners at the box office. DWA's "Shrek 2" is the top-grossing toon domestically, with $441 million. Fox spent most of the summer wooing DWA to the lot.
"There's no need for us to be doing anything but step back and put our product in their hands," Katzenberg said in a call to announce the new deal Monday afternoon with 20th Century Fox co-chairmen Tom Rothman and Jim Gianopulos.
DWA parted ways with Par after execs at the two companies couldn't agree on a new deal that would have kicked off in 2013. Par wanted a higher distribution fee, which Katzenberg balked at.
Instead, the fee will remain the same — at 8% for theatrical and homevideo releases. But when it comes to growing digital platforms like cable and online video-on-demand and electronic-sell-through, DreamWorks Animation will hand over a lower 6% of sales. So far, digital dollars are still small, but Katzenberg believes it will grow to a level that will prove lucrative in the near future — hence the decision to end a pay TV pact with HBO early and switch over to Netflix last year.
DWA also will continue to explore the launch of a branded cable channel. And the deal with Fox could expedite that, considering Fox already operates 350 channels worldwide.
While Fox does not operate theme parks that could benefit from DWA's characters, Katzenberg's penguins of "Madagascar" will feel right at home with the prehistoric beasts of "Ice Age."
Both Fox and DWA also draw healthy revenue from live touring shows. Fox partnered with Stage Entertainment to launch an "Ice Age" arena tour set to bow in November, while DWA preemed its "How to Train Your Dragon Arena Spectacular" in March.
Fox also has been turning to the studio's kids properties like "Ice Age," "Rio" and "Alvin & the Chipmunks" to grow its consumer products division, which previously focused on TV shows like "The Simpsons."
While Fox will handle DWA's domestic and international marketing and distribution duties for features released through 2017, Katzenberg has maintained control over inking the company's own promotional partnerships and licensing deals for consumer products, live events and theme park attractions. Those include a long-running partnership with McDonald's and Walmart, as well as deals with Nickelodeon and Cartoon Network for TV versions of its franchises, including "Madagascar," "How to Train Your Dragon" and "Kung Fu Panda." DWA will continue to control those pacts through the new deal with Fox.
Katzenberg had hoped to have a new distribution pact in place by Labor Day, with Sony and Fox considering deals. In addition to the lower distribution fees and release dates, he had sought control over video-on-demand and other digital deals with companies like Netflix. DWA explored an option to self-distribute its own films but found the effort too expensive to pursue.
Other studios and filmmakers have long taken advantage of Fox's international theatrical and worldwide home video infrastructure. The studio exploits MGM's library on homevideo, while it famously partnered with George Lucas to release Lucasfilm's "Star Wars" franchise (Fox also distribs the sci-fi saga on homevideo).
Competition from the animation divisions of other studios weighed heavily into DWA's decision-making process for its new home. Too much competition from an in-house toon shop could have meant less favorable release dates for DWA's upcoming titles.
DWA already has 10 pics in production and another eight or nine in development. It has recently announced a third "Kung Fu Panda" as a Chinese co-production through Oriental DreamWorks. It retains all rights to produce sequels to pics Paramount released. Par only has rights, including homevid, to titles DWA "delivered to them," Katzenberg said, with deals for revenues tied to those films expected to last several more years.
Fox will now have to consider how to schedule DWA's films, many of which already have been dated through 2014.
Fox's first DWA title will be March's "The Croods," followed by "Turbo" in July. It has three films skedded for 2014: "Me and My Shadow," in March, "How to Train Your Dragon" (in June) and "Happy Smekday!" (in the fourth quarter).
DWA acquired Classic Media, home to Casper the Friendly Ghost, for $155 million in July. With Classic it's already adapting "Mr. Peabody and Sherman," out on Dec. 25, 2013.
Fox also has dated "Epic" for May 24, 2013, and "Rio 2" for April 11, 2014.
Rothman stated that the studio would not consider reshuffling its own pics to make room for new DWA fare on the Monday afternoon press call, but acknowledged the chance for "slight changes here and there."
"The good thing about animated films is that they're dated well in advance," Rothman said, alluding to the competition for release dates and long gestation time for such films. "The dating for the next several years is pretty much set … it looks to us like very strong lineup and good spacing."
Par will still release "Rise of the Guardians" on Nov. 21.
"DreamWorks Animation has been a terrific partner for Paramount over the last seven years and we congratulate their entire team on their new distribution deal with Fox," said Paramount Pictures chief Brad Grey. "Jeffrey is one of the most successful executives in our business, both in terms of his creative talent and the value he has built at his company. The marketing and distribution work we did with DWA helped pave the way for the creation of Paramount's new animation division. We are grateful to Jeffrey and his entire team for their contributions to our studio and wish them the best at their new home."