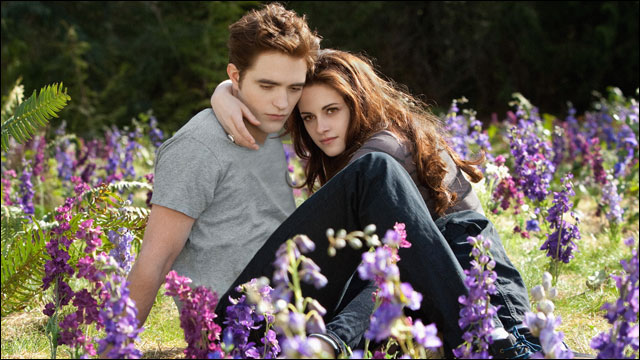 Though the pre-weekend chatter centered on whether "The Twilight Saga: Breaking Dawn — Part 2" would set a franchise record for its domestic box office bow, the finale offers a level of predictability in the ancillary markets that Wall Street loves — and observers can safely estimate that the final film will generate at least $670 million in overall revenue, including television, digital and homevideo platforms, international and other downstream earnings.
The $141 million three-day result for "Part 2" fell just short of the franchise-best $142.8 million for "New Moon," though the final installment could leg it out to $325 million-plus Stateside, which would be a franchise best. With homevideo expected to generate roughly 50%-60% of the domestic box office take, "Part 2" could post a homevideo figure of more than $160 million. That falls in line with previous "Twilight" pics, which all have earned shy of $200 million on homevideo.
Analysts estimate that "Dawn" will earn on VOD about 10%-15% of its domestic box office, translating to about $32 million-$49 million on that platform; digital platforms are expected to generate a number equal to about 5%-10% of domestic B.O., or roughly $16 million-$32 million.
While pay television often earns a film 15%-20% of its domestic box office take, Lionsgate's deal with Showtime has a roughly $24 million cap, which "Breaking Dawn" would have already hit from opening weekend. With no such cap in place, for the most part, free television is expected to generate 10%-12%, translating to about $33 million-$39 million.
"Breaking Dawn" is also outpacing the previous best "Twilight" pic by 40% internationally. Though Lionsgate sells most of its international rights, it will keep roughly 30%-40% of what the film makes overseas via minimum guarantees and overages, translating to about $175 million. Merchandising and licensing could add another $15 million or more.
Wall Street loves predictability, and it's already high on Lionsgate: Company shares have soared since the January acquisition of Summit, which brought two of the top-grossing film franchises — "Twilight" and "The Hunger Games" — under one roof.
Steady revenue streams and lowered P&A costs have led some analysts, including David Bank of RBC Capital Markets, to raise their target stock price on Lionsgate shares.
"We think it's reasonable to expect similar performance to the first 'Hunger Games' installment on homevideo/box office index for future 'Hunger Games' and 'Twilight' franchises," Bank wrote in a recent report.
And with a similar target audience for its "Hunger Games" franchise, "Twilight's" success could rub off on the company's other young-adult pics. Lionsgate recently acquired bigscreen rights to young adult tomes "Divergent" and "Ender's Game." As Bank points out in his report, "Divergent" has already sold more than 2 million copies, outpacing the performance of the "Twilight" and "Hunger Games" tomes at similar stages.
"(It) looks very promising as a theatrical franchise," Bank writes.
And with a release date of March 21, 2014 — the same as "Hunger Games" this year — it's clear that Lionsgate feels the same.