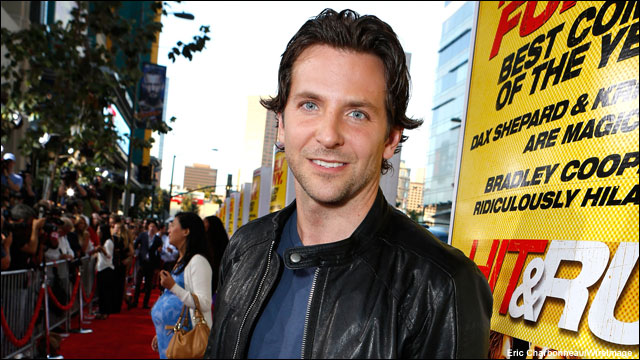 With Bradley Cooper preparing to shoot the final installment of "The Hangover" franchise, the thesp continues to map out his plans for 2013, as he has entered negotiations to topline J Blakeson's crime thriller "Bad Blood and Trouble," which MRC is set to finance and produce.
Also, Clint Eastwood is eyeing Cooper to star opposite Beyonce in the director's remake of "A Star Is Born" at Warner Bros., though there is no deal in place and Cooper has a very busy schedule.
While MRC is keeping the official logline for the 1950s-set pic under wraps, Cooper is in talks to play a Miami detective in love with a married woman whose husband has been targeted by a group of criminals.
Adrian Sturges, who produced Blakeson's feature directorial debut "The Disappearance of Alice Creed," is set to produce through his Iota Films banner along with Michael De Luca. Production is being eyed for the second half of 2013.
Cooper will be busy at the Toronto Film Festival, with starring roles in David O. Russell's "Silver Linings Playbook" and Derek Cianfrance's multi-generational crime drama "The Place Beyond the Pines," expected to be a top acquisition title. He will soon be seen playing the villain in Open Road Films' action-laced romantic comedy "Hit and Run," which opens Aug. 22.
At the Tuesday night premiere, Cooper told Variety that the producers of Susanne Bier's period drama "Serena" would be screening footage from the film at Toronto. "The Hangover Part III" starts shooting next month, and after wrapping that comedy, he'll segue into another Russell pic, untitled and set up at Sony, in which he'll star with Jeremy Renner and Amy Adams.
MRC recently produced Universal's boffo hit "Ted" and has wrapped production on Neill Blomkamp's Sony pic "Elysium."
Cooper is repped by CAA, which also reps Blakeson along with David Higham Associates and attorney Carlos Goodman.