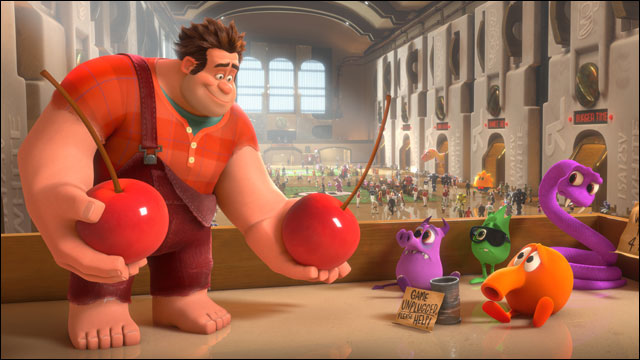 Several East Coast theaters reopened late Friday evening, as crews continue to restore power to the region in the wake of Hurricane Sandy. AMC is reporting that 11 theaters remained closed in Manhattan and New Jersey while Clearview is currently down at 20 locations. Regal's Union Square theater in Manhattan reopened shortly after 9:00 p.m. ET.
Disney's "Wreck-It Ralph" is having no trouble luring audiences out of the cold. The 3D animation feature is on track for a hefty $50 million-plus, according to Friday evening estimates, which would mark Disney's third-highest opening of the year behind Pixar's "Brave," which bowed with a $66 million debut.
Playing at 3,572 locations, "Wreck-It Ralph" had been tracking solidly for several weeks. The vidgame-themed toon also assembled positive responses from a barrage of early test screenings, and especially from gamers and fanboys, over the last few months.
One exec attributed East Coast Cabin Fever into the stellar sales for the film, with families taking their kids to theaters for a reprieve from the storm's aftermath.
"Their kids have been waiting all week to do something fun," the exec said. "And it's a good movie, too."
Paramount's "Flight," meanwhile, is doing healthy business at No. 2. The Denzel Washington starrer, directed by Robert Zemeckis, should land in the $18 million range through Sunday.
WB's "Argo" continues to hold well at $9 million to $10 million for the frame while U's kung-fu actioner "The Man With the Iron Fists" should debut around $8 million.