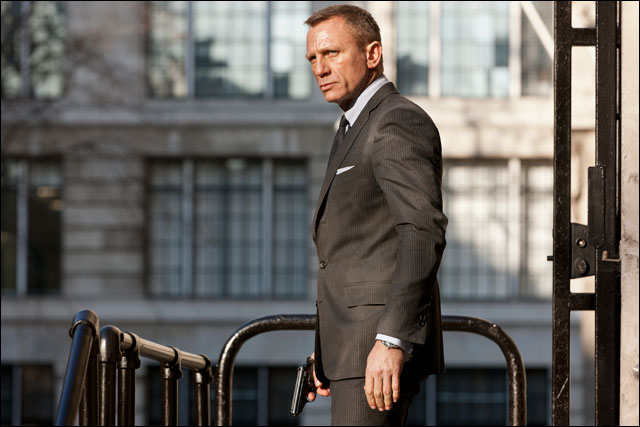 James Bond is celebrating his 50th anniversary in style.
According to Friday afternoon estimates, Sony-MGM's "Skyfall" is on track for a mammoth $80 million-plus debut, which would mark the highest 007 opening in franchise history.
The 23rd Bond film (and the third starring Daniel Craig) is expected to draw $32 million-$37 million in the U.S. Friday, which includes last night's $4.6 million from Imax and midnight runs.
A rep for Sony downplayed the $80 million estimate, saying the studio was eyeing "in the low 70's" for the weekend. Outside B.O. sources beg to differ.
Playing in 3,500 locations Stateside, "Skyfall" has already reeled in $321 million internationally since Oct. 26. Overseas holidays (midterm school breaks in the U.K. and All Saints Day throughout Western Europe and parts of Latin America) were the primary reasons behind the plan to launch "Skyfall" overseas ahead of the U.S.
The Sam Mendes-helmed thriller had been tracking neck-and-neck with the last Bond film, "Quantum of Solace" ($66 million opening) but audience interest soared over the past 48 hours.
"I'm seeing it tonight," one studio rival says. "It looks much better than the last one."
Scoring a fresh rating of 93% on Rotten Tomatoes, "Skyfall" also represents the best debut of the year for Sony. "The Amazing Spider-Man" opened to $66 million in the U.S. this past summer before grossing an impressive $752 million worldwide.
Steven Spielberg's "Lincoln," playing in limited release, enters the awards season at 11 locations today with a bright $80k/per location average, according to insiders.
Meanwhile, last weekend's B.O. champ, "Wreck-It Ralph," is still flexing its muscle with family auds. Disney's 3D toon is off 40-45% from its frosh frame which should generate a weekend haul of $25 million-30 million.
"Flight," Paramount's Denzel Washington drama, is also holding steady: Robert Zemeckis' live-action return is looking at a three-day cume of $14 million.