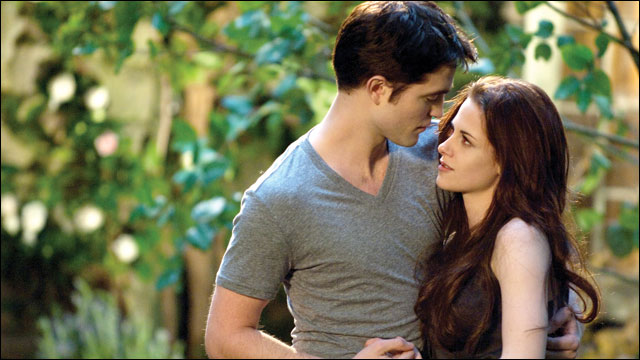 Summit's final "Twilight" installment "Breaking Dawn — Part 2" marks the end of a bloody good run for the $2.5 billion global franchise, and stronger reviews plus increased fanboy interest could push the conclusion past "The Hunger Games" into the top five domestic bows of all time.
Pre-weekend tracking suggests the "Twilight" finale could score the franchise's highest three-day U.S. debut at around $150 million, in addition to impressive international potential in 61 territories totaling nearly 12,000 screens. "The Hunger Games" launched Lionsgate's other juggernaut young-adult franchise to the tune of $152.5 million in March.
"Part 2" kickstarted its overseas run Wednesday with an estimated $13.8 million from six markets including France and Italy.
Most North American theater chains are preceding 10 p.m. and midnight Thursday screenings of "Part 2" with a four-pic "Twilight" marathon. Summit launched "Part 2" nationwide today at 4,070 engagements — the second-largest berth for a "Twilight" film after "Eclispe," which bowed at 4,468.
"Part 2" already has sold out thousands of Stateside showtimes since Oct. 1 when tickets first went on sale.
Disney, meanwhile, expands Steven Spielberg's presidential biopic "Lincoln" to 1,775 locations, up from 11 last weekend, when it scored a stellar $85,846 per-screen average. Prospects for the pic this weekend fall in the low to mid teens.
A pair of awards contenders — Focus Features' "Anna Karenina" and the Weinstein Co.'s "Silver Linings Playbook" — bow Friday at 16 locations each.
High expectations for the "Twilight" finale spring from a mix of built-up fan tension and broadened moviegoing beyond the franchise's female core. But can "Part 2" eclipse its predecessors over the long haul?
Early positive buzz suggests it can. Variety 's Justin Chang described "Part 2" as "the franchise's most eventful and exciting entry" that could generate stronger male support than any of the previous "Twilight" outings.
The franchise's previous best three-day Stateside opening goes to the second installment, "New Moon," which debuted with $142.8 million in 2009. Last year, the penultimate "Twilight" scored $138.1 million during its opening frame, for a Stateside cume of $281 million. "New Moon" ended with $296.6 million domestically — topped only by 2010's three-quel "Eclipse," which bowed to $158 million in five days and cumed $300.5 million.
The penultimate "Twilight" saw a steep 70% soph-sesh drop over Thanksgiving weekend last year. By comparison, "The Hunger Games" — by which Summit debuted its "Breaking Dawn" teaser trailer — fell just 62%, for a domestic cume of $408 million. Also, repeat business among core fans should boost prospects for "Part 2."
As it did with past installments, Summit paraded "Part 2" at Comic-Con, during which the company debuted the film's first eight minutes. The cast began touring the globe to promote the film last month.
Summit stoked "Twilight" fever at the film's world premiere in L.A. by hosting a fan camp Nov. 8-12; more than 2,000 fans camped out to reserve a spot along the red carpet.
The film's online marketing campaign, which featured a live broadcast of Monday's premiere, has centered primarily on viral content. To date, online video content for "Part 2" has generated more than 260 million views — more than any other "Twilight" film.
For the finale, Summit also launched an online "Twilight"-themed scavenger hunt via 16 worldwide fan sites.