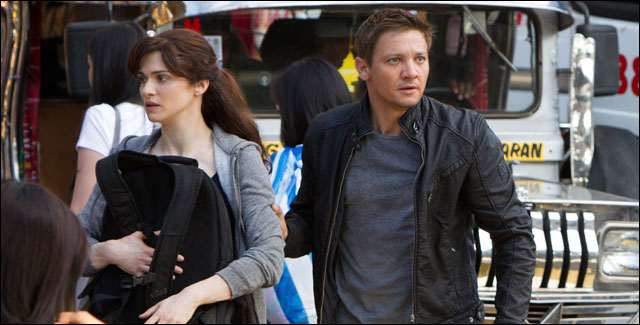 It appears Jeremy Renner has found the ideal running mates for a strong overall weekend at the domestic box office.
According to Friday afternoon estimates, Universal's "The Bourne Legacy" is aiming for $45 million to secure the No. 1 spot, while Warner Bros.' "The Campaign" has surprised B.O. observers with $27 million to $29 million.
U should sleep well knowing that "Bourne," the first installment of the popular franchise to star Renner, has found its audience. The studio gambled on a $125 million reimagining of the Bourne series after Matt Damon walked away in 2009.
Popular on Variety
Will Ferrell and Zach Galifianakis' R-rated comedy "The Campaign," meanwhile, is proving to be a strong runner-up. Warners' political laffter marks the best R-rated laffer to open in August since "Superbad" in 2007 ($33 million).
"They were always tracking better than people give them credit for," one rival analyst says of the Warners Bros. comedy. "But you gotta hand it to them."
WB has heavily marketed "The Campaign" over the past month, with Ferrell and Galifianakis hitting the trail for the pic's Whistle Stop Tour across the U.S.
Another WB property, "The Dark Knight Rises," will finally fall out of the top spot after three consecutive weekends but is looking at a stellar $20 million in its fourth domestic frame.
As of Thursday, "TDKR" has cumed over $750 million at the worldwide box office.
This weekend's other new release, Sony's "Hope Springs" starring Meryl Streep and Tommy Lee Jones, is in fourth place with a respectable $13 million, but should have legs with strong word-of-mouth among mature auds.