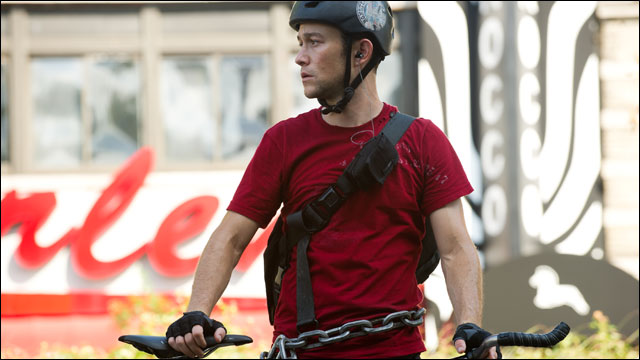 Above: Sony's bicycle actioner 'Premium Rush,' starring Joseph Gordon-Levitt, opens at 2,255 locations.
The summer B.O. season is winding down — or more likely fizzling out — as a trio of low-profile wide releases are poised to succumb to Lionsgate's "The Expendables 2" in its sophomore outing.
Sony's bicycle actioner "Premium Rush" could lead the charge among newcomers that also includes Warner Bros.' scarer "The Apparition," at a scant 810 locations, and midweek laffer "Hit and Run," from Open Road Films. None of those films are expected to hit double digits in three days; "Hit and Run" could reach upwards of $10 million in five.
A possible surprise, however, could be conservative docu "2016: Obama's America," which grossed last weekend an impressive $1.2 million from just 169 locations. Rocky Mountain Pictures mounted a grassroots rollout for the politically charged pic and managed to secure nearly 1,100 playdates for the pic this weekend.
But without a major release to drive theater traffic, it's unlikely that any of the other wide entries will overperform. That's good news for "Expendables," which should drop by around 50% — comparable to the original pic's second-frame decline. If the sequel holds as expected, it will gross between $13 million and $15 million through Sunday.
The weekend should play out similar to last year, when "The Help," with $14.5 million in its third frame, conquered three wide releases.
Budgeted at $32 million, "Premium Rush" opens at 2,255 locations, a respectable mid-August push by Sony — though the studio stayed conservative in marketing the long-shelved project.
"Rush," which follows a bike messenger as he's chased by a crooked cop through Manhattan, could piggy-back on residual "Dark Knight Rises" appeal for star Joseph Gordon-Levitt; pic also has been receiving decent reviews.
"Hit and Run," meanwhile, struggled Wednesday, grossing just $625,010 from 2,698 locations. But the comedy's R rating limited those under-17 auds still on summer vacation. Pic, which stars Dax Shepard, Kristen Bell and Bradley Cooper, was made on a lean budget.
Warners doesn't expect much from "The Apparition," as evidenced by the somewhat limited rollout, plus the studio opted not to submit the pic to critics (though that's not unusual for horror films).
The pic, which centers on a couple haunted by evil spirits, marks one of the last Dark Castle pics to be distributed by WB, after the studio ended its deal with Joel Silver.
At the specialty B.O., Focus Features expands "Moonrise Kingdom" to 332 playdates. Pic has totaled $43.2 million domestically — just shy of "The Best Exotic Marigold Hotel" ($45.6 million) as the summer's highest-grossing specialty film.
MPI Media bows French-lingo "Little White Lies," toplining Marion Cotillard and Jean Dujardin, at three Stateside engagements, after having earned a stellar $46 million in Gaul. IFC's indie comedy "Sleepwalk With Me" launches today at one location domestically.