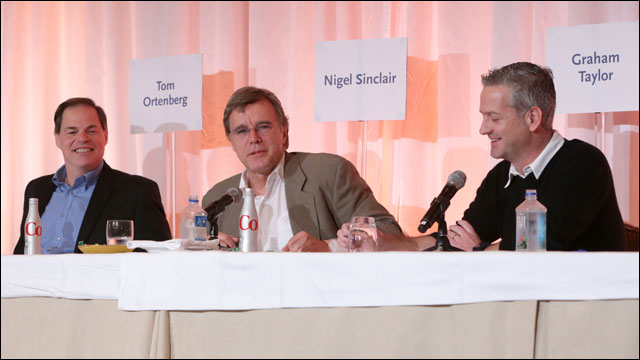 Independent financing is emerging from its darkest days.
That was the consensus at AFM's film finance panel Friday, when Exclusive Media's Nigel Sinclair, Open Road topper Tom Ortenberg and WME's Graham Taylor discussed how social media, new distribution windows and good scripts are all helping indies gain ground in a changing media landscape.
"I think what we need is exhibition and distribution to converge and have the same agenda," Sinclair told the audience, referring to films like "Arbitrage" which experimented with innovative release strategies to better align marketing and distribution costs. Lionsgate distributed that pic day-and-date, and it earned about $11 million on VOD — one of the biggest successes in simultaneous release strategies.
"Every time a movie actually works on a day-and-date model, then I think the flip side of the argument is going to be 'Should it have gone out on a traditional method?' " Taylor said of criticism that "Arbitrage," a film he repped, should have had a more traditional release strategy. "I think you would have had to triple or quadruple your P&A spend to go out on a traditional method … and I'm not sure you would have done any better."
"More than likely, if an enterprising distributor stood up and said, 'Don't go day-and-date, I'll give you a legitimate theatrical release with a real minimum guarantee and P&A commitment, I'm guessing you would have taken it," Ortenberg added. "But nobody did."
Exclusive Media recently purchased a minority stake in home entertainment shingle Millennium Entertainment. The experience, according to Sinclair, has helped teach him the importance of knowing the strategies of companies like Redbox and Walmart.
"If you're in the business that I'm in, in creating films, you have to know what they're wanting, what it is they're thinking. If we sell the film to Tom, ultimately (it's going to them)." Sinclair said.Panel, moderated by Akin Gump partner John Burke, was also asked what percentage of the budget presales need to cover to leave indie producers on good footing. The general consensus: 60% to 75%, which includes tax incentives, would not leave filmmakers scrambling for too much equity. Only 40%, Sinclair pointed out, and you're in trouble.
Panelists also pointed out the benefits of social media, both in defraying marketing costs and promoting art house pics.
"Not to say you don't need to do TV spots or newspaper spots," Taylor said. "(Digital convergence) should help level the playing field.