"I think of each movie as a puzzle," says composer Marco Beltrami. "The fun is in solving the puzzle, finding a musical identity for the picture, however that can be summed up. It can involve a theme or themes, or things that may not be melodic: certain sonic, harmonic or rhythmic ideas. Until you figure it out, you're hopeless. But after you do, you're on fire."
That flame has been burning since 1996, when horrormeister Wes Craven hired Beltrami for "Scream." Sixteen years later, his resume includes two Oscar nominations (for "3:10 to Yuma" and "The Hurt Locker"), an Emmy nom (for the Oprah Winfrey-produced "David and Lisa"), and more than 50 films, including box office hits "Terminator 3: Rise of the Machines," "Live Free or Die Hard" and "I, Robot" — not to mention three "Scream" sequels.
"Marco has a sense of the material in front of him," says "3:10 to Yuma" director James Mangold from Sydney where he is shooting "The Wolverine." "He understands when to let all of the horses out of the barn and when to hold them back, staying within the emotional reality of the scene and not overwhelming it."
The 46-year-old New York native was typecast for a long time as a genre composer, largely on the basis of his "Scream" music and later films including "Mimic," "Resident Evil" (with rocker Marilyn Manson), "Blade II" and "Hellboy."
Beltrami's not even a fan of horror films. But his grasp of advanced classical techniques — acquired while tinkering in the electronic music labs at Brown U. during the mid-1980s, then honed in more serious graduate studies at Yale — served him well.
Even more valuable, however, was his year in the USC scoring program where he studied under the great Jerry Goldsmith. "He would also give us a scene from whatever movie he was writing at the time, and have us score it," says Beltrami. "Then we would go to his recording sessions and see what he had done. It was a great educational experience."
Three years after USC, he auditioned for "Scream" with music for its 13-minute opening sequence. "We knew in half a minute that we had found our composer," recalls Craven. "The music was haunting, beautiful and totally original. Marco turned out to be shy and soft-spoken, but a fountain of ideas and innovation. I never looked back."
The career "turning point," as Beltrami puts it, came in 2005 when he was hired to score Tommy Lee Jones' directorial debut, "The Three Burials of Melquiades Estrada." The evocative, Tex-Mex flavored score was unlike anything he'd ever written.
"I sensed that he was looking for something that was different than what he was usually called upon to do," says Jones. "I told him I wanted the music to sound like it was coming out of the country, not being poured onto the country. He was grateful to learn that we weren't interested in anything that seemed conventional. He invented some instruments, which pleased me to no end."
Those "invented instruments" were electronically manipulated recordings of plucked cactus needles. "It was an epiphany moment for me," says the composer, "trying to incorporate the sound environment of the film itself into the music. It's grown from there, and really had its culmination in 'The Hurt Locker.' "
Oscar's best picture of 2009 boasted a cutting-edge, textural-music score that blended seamlessly with the film's sound effects. His co-nominee, Buck Sanders, has been with him since 1997, playing guitar, programming synthesizers and co-producing many of the scores. (The innovative "Hurt Locker" score featured Sanders' guitar combined with the Chinese stringed erhu.)
For "3:10 to Yuma" — a period movie "but completely anachronistic," notes Beltrami — he used only 19th-century instruments, including pump organ and tack piano, but digitally processed many of the sounds. Some observers likened his work to the classic Western scores of Ennio Morricone, one of Beltrami's musical heroes.
"It became my romanticized version of how Morricone treated sound," Beltrami says. "He took familiar sounds and twisted and used them in unconventional ways, whether the reverb from an amp, the ticking of a clock or using the human voice in ways that were new. That was inspiring to me.
"I am basically pushing that to the next level. In all the scores I've done since then, I am hyper-aware of the sound world and how it can be incorporated."
But while Beltrami is still fascinated by film ("there are a lot of things I have to say in this medium that I haven't said yet"), other musical projects wait in the wings. One is an opera he's planning with Jones, although he says it's too early to talk about the project.
First, though, Jones wants Beltrami for his next film as a director, another period piece, about the 19th-century Homestead Act in Nebraska.
Says Jones: "I'm already talking to him about it. We won't score the movie without him."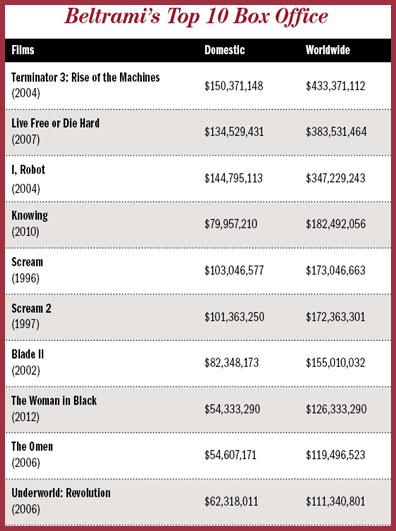 Billion-Dollar Composer: Marco Beltrami
Tapping into the keys of success | Beltrami dials it down | A place to experiment and create