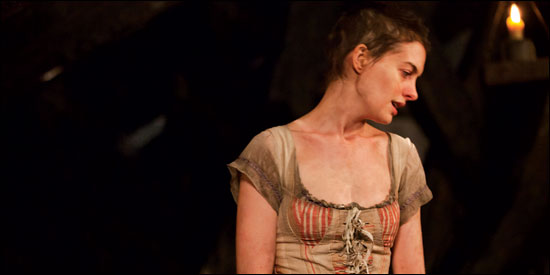 Twenty-two years after she first saw the staged "Les Miserables," Anne Hathaway won the coveted role of Fantine.
It's a part she as a pre-teen had seen her own mother play and the emotional sacrifice of the character was deeply imprinted on her.
"The fact it's happened does blow my mind," says Hathaway, who took time off from shooting "The Dark Knight Rises" to audition for director Tom Hooper in New York. "He wanted the film grounded in reality, and I felt very free to collaborate and share ideas with him, to explore how to get a scene on its feet, how to move and what actions to make it feel more conversational."
In addition to physically transforming herself, which included losing 25 pounds and chopping off her long hair, Hathaway prepared vocally with a coach for nearly four months to tackle the role, which includes performing the iconic song "I Dreamed a Dream."
"I thought about it for months, that the way to do it is not to focus on my singing and make it a little raw and potentially ugly," says Hathaway, adding that she purposely decided not to listen to Patti LuPone's milestone original version. "Of course, I had to have the vocal stamina to sing for 12 hours a day."
Hathaway watched documentaries about prostitution and hired a researcher to help answer questions of what could have influenced Fantine, as well as the emotional life of a prostitute in 19th-century France. "So much of the way Fantine views the world is through a lens of shame," she says.
The entire "Les Mis" production experience was like nothing else in her 14-year acting career.
"We were all very aware of that," she says.
| HOME | Helen Hunt >>