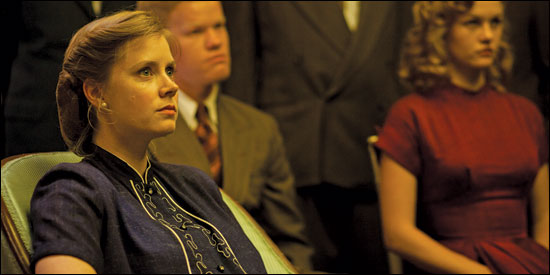 In "The Master," Amy Adams plays Peggy Dodd, wife of Lancaster Dodd, the magnetic and somewhat mysterious leader of a philosophical movement. Peggy knows her place, but she also has a take-charge side of her, and that turns out to be a powerful combination.
"When I saw her walk on set in costume and be so still and her posture so perfect — she never missed a trick of what was going on around (Philip Seymour Hoffman as Dodd) — I thought, 'She's really hooked on to something that's going to be great,' " says director Paul Thomas Anderson.
There is one particular scene in a bathroom in which Adams displays her assertive side that earned special kudos from Anderson. "She loved for a long time playing the dutiful wife, but you see the frustration in her," he says. "In that scene in which she grabs his … and tells him what's going on. Then she goes back to being the dutiful wife."
Anderson wrote the part of Lancaster Dodd specifically for Hoffman. Adams was cast later, although the director had always wanted to work with her, reports producer JoAnne Sellar. "This was not a part that you would naturally think of Amy," Sellar says. "She's the strong, silent type behind Phil. The Master character brings the personality and salesmanship, but she's the one who feels like the true believer.
"In a very supporting role, she brings so much to it that you leave the cinema thinking about the Peggy character as much as you do about Philip or Joaquin (Phoenix)."
| HOME | Judi Dench >>