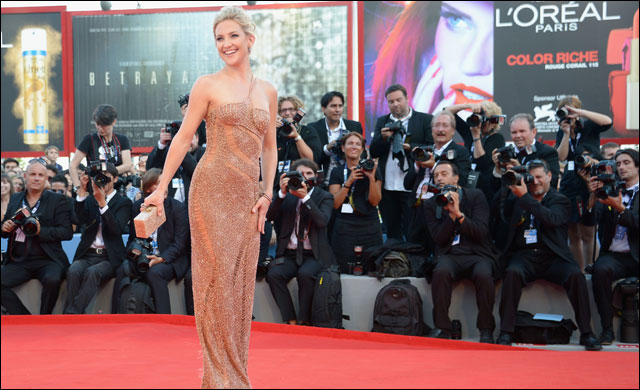 Above: 'The Reluctant Fundamentalist' star Kate Hudson attends the opening ceremony during the 69th Venice Film Festival at the Palazzo del Cinema in Italy.
VENICE – The 69th Venice Film Festival kicked off Wednesday with a mix of politics, spectacle, and stars for its opening ceremony, followed by the bow of Mira Nair's "The Reluctant Fundamentalist."
A glowing Nair strutted down the Lido's balmy red carpet with pic's protag Riz Ahmed and co-stars Liev Schreiber, and Kate Hudson tubthumping the hot-button 9/11 themed thriller, unspooling out-of-competition, which got the 11-day fest off to a heated start.
Jury prexy Michael Mann and a slew of top talent, including fellow jurors Samantha Morton, Laetitia Casta, italo helmer Matteo Garrone, and performance artist Marina Abramovic, also posed for the paparazzi before filing into the Palazzo Del Cinema for a somewhat somber kick-off. Also spotted: Franco-Tunisian entertainment entrepreneur Tarak Ben Ammar whose Eagle Pictures will release "Fundamentalist" in Italy
Before "Fundamentalist" world preemed, Polish-born actress and model Katia Smutniak, the event's hostess, in a cherry red dress, declared the fest open after striking a separate, but related, political note.
She pointed to an empty white seat on the stage, Venice's reminder to the world, following similar initiatives in Berlin and Cannes, that Iranian helmer Jafar Panahi is still held under house arrest in his country.
He was condemned by an Islamic court to a six-year jail sentence and a 20-year ban on directing caused by the content of his films about life in Iran.