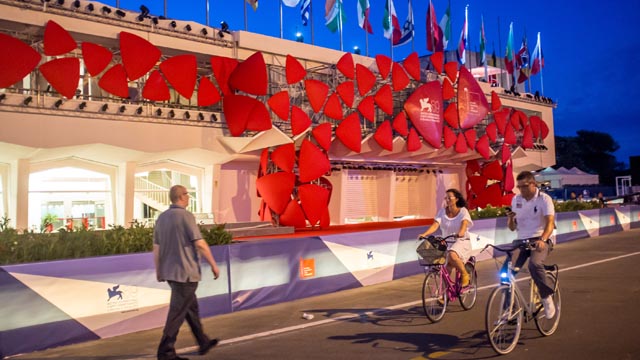 The first Venice Film Market wraps on a high note today with some deals sealed, industryites happy with facilities and services, and the likelihood that next year they won't save all their announcements for Toronto.
"I found it very useful," said Hengameh Panahi, topper of Paris-based Celluloid Dreams. She concluded several deals, including taking international rights to a 16-pic package from Japanese helmer Koji Wakamatsu, whose "The Millennial Rapture" screens at in Venice Horizons on Monday (see separate story).
"They managed to bring distributors to Venice who had never come before, or not for a long time; and they set up great facilities for us to meet and work — not bad at all for the first year," she said
These new facilities include the digital video library and a private screening room, besides great access to fest screenings.
"Thanks to the digital library combined with other screening venues I had zero problems attending all the films I wanted," enthused Jakub Duszynski, artistic director and acquisitions head at Polish arthouse distrib Gutek.
Duszynski saw 17 films during the five-day mart. Most importantly, he felt no rush. "I was not stressed at all. And yes — I discovered a film I'd never heard of before Venice and immediately made an offer," he said.
But were there sales?
Most of the roughly 250 international buyers and 50 sales agents attending the Venice mart were saving their biggest news for the Toronto Film Festival, or its run-up next week. Films Distribution looks like one example.
On many bigger films, Venice may remain the fest which, in a classical one-two play, positions films for deals that are then closed at Toronto. And it was a big ask for sales agents to close Lido-generated deals by Sunday evening,
By then, however, some early sales announcements looked to be in the pipeline.
Screening one of the fest's buzz titles, "Wadjda," The Match Factory could be in a position to announce sales by early week, topper Michael Weber told Variety.
Wide Management had two early offers on Israeli-Palestine omnibus feature "Water," another hit.
"Films with strong historical or human issues, based on what's going on in our society today, have far stronger marketing potential than just a few years ago and distributors realize that," said Wide Management founder Loic Magneron.
Docu sales company Wide House was finalizing deals by early Sunday evening.
Russian film promotion entity Roskino announced a preliminary pact with Italo sales company Intramovies that has become its sales consultant-agent on 12 titles (see separate story).
The deal strengthens Italy's ties with one of the world's fastest-growing markets. Roskino, which took a stand and sponsored the mart's opening dinner, is the company with most visibility at the event.
"I am happy because I'm getting really good feedback, with everyone saying that at least now they have a place to meet and work," said mart topper Pascal Diot. "So now I think the word of mouth will work."
Diot said that next year he will try to bring exhibitors closer to industry folks in terms of working areas, expand the number of screening rooms, and beef up the international panels, which were well attended this year.
One key question for the Venice mart's sales potential remains the quality of the films. By Sunday at last one verdict was in. "One of the big pluses of Venice is that one is able to see all the films, which is something you can't do at other festivals," said James Velaise, topper of Paris-based Pretty Pictures, the French distributor of Haifaa Al Mansour's "Wadjda."
He added, "The general quality of the films is very high: I haven't seen any real clunkers. All the films playing here are worthy of being invited."
(Elsa Keslassy contributed to this report)