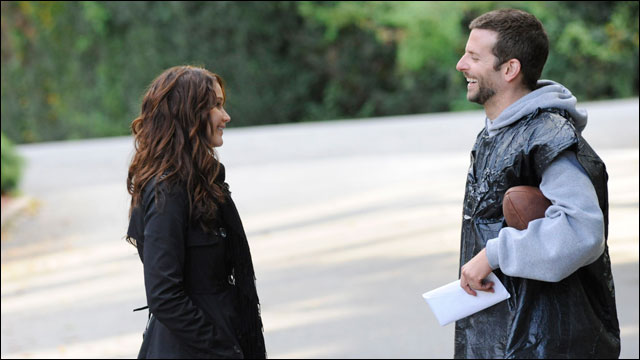 Above: David O. Russell's "Silver Linings Playbook," starring Jennifer Lawrence and Bradley Cooper, is among the potential Toronto contendors.
It turns out that, much as some would have hoped, Toronto didn't clarify the Oscar picture at all. It blew it open.
With standing ovations here and headscratchers there at Canada's bellwether film festival, you'd think some cohesion might have come to the Academy Awards field, especially with Telluride and Venice in the rear-view mirror.
Instead, what you see is a group widening rather than narrowing, complicated by a) several potential contenders not having yet been released and b) the nagging fear that serious praise early in awards season risks a backlash later.
Watch how many films I can make a nomination case for, and tell me if the crystal's getting clearer:
First, to put things in perspective, let's remember what candidates we had before TIFF began. Early season faves "Amour," "Beasts of the Southern Wild," "Moonrise Kingdom" and "The Sessions" all have their unique challenges to avoid settling for the foreign-language and/or screenplay categories, but these aren't reaches. They remain substantive contenders (4).
Then come the more recent festival debuts of "The Master" and "Argo." The refrain of "I need to see that again" that seems to accompany every other filmgoer's reaction to "The Master" would seem to put a hitch in its git-along, no matter how impressive the film is, but I think anyone would be surprised to see it absent come nominations day. And though "Argo" must hold up under the weight of its festival-generated raves, its combination of depth, stakes and rousing heroism still figures to greenlight it for the Dolby Theater in February. (6)
David O. Russell's "Silver Linings Playbook," called "bracingly sharp and satisfying" in Variety senior film critic Justin Chang's review, arguably made the strongest Toronto splash, catapulting it firmly into contention. Meanwhile, the tri-directed "Cloud Atlas" certainly created the most buzz — appropriately, in all dimensions — but its themes are poised to capture the same Oscar vote that pushed "Extremely Loud and Incredibly Close" into the last Oscar finals. By another token, the same filmgoers who were jazzed by the audacious filmmaking of "Cloud Atlas" might also see the same virtues in Joe Wright's "Anna Karenina" (9).
Then, J. A. Bayona's "The Impossible" leaped onto sort-of-shortlists everywhere after its Toronto premiere Sunday, marrying "a tremendous feat of physical filmmaking to an emotional true story of family survival," as Chang wrote. (Hey, that's 10! Can we stop here?)
(Nope.)
We also have to leave potential spots open for Derek Cianfrance's "The Place Beyond the Pines," beloved by many in Toronto, and on the heels of his Oscar-nominated "The Tree of Life," Terence Malick's "To the Wonder" (12).
And we have to keep the light on for a group of yet-to-be-screened films that includes "Django Unchained" (Quentin Tarantino's first film since 2009 nominee "Inglourious Basterds"), Peter Jackson's "The Hobbit," Tom Hooper's "Les Miserables," Ang Lee's "Life of Pi," powerhouse Steven Spielberg-Daniel Day-Lewis combo "Lincoln" and Kathryn Bigelow's "Zero Dark Thirty" (18).
And, we have to remember that we might not have heard the last of "The Dark Knight Rises," despite its tragedy-tinged opening. Nor can we rule out other wild cards — and on that note, let me just say that although it would take a sustained campaign, John Madden's "The Best Exotic Marigold Hotel" and Gaul hit "The Intouchables" have all kinds of Oscar DNA swimming in their systems (21).
Gael Garcia Bernal starrer "No" (22), a practically flawless pic of note about the unusual climax of the movement against Pinochet in Chile, also belongs on a wild-card list with couple dramedy "Hope Springs" (23), Clint Eastwood's anti-"Moneyball" baseball pic "Trouble With the Curve" (24) and Denzen Washington airline disaster drama "Flight" (25).
So you tell me: Is this progress? One score and five films, to paraphrase Lincoln. And while we all have our five-to-10 favorites, with a field this robust, it's going to be a good long while before we know what everyone else's are.