Canada offers no less than three major production centers, two in the East and one out West. Here's a look at what's available if you're really thinking big — along with what production resources are available, what to look forward to and what to be warned about in the Great White North.
Think Big: Canada's Largest Soundstages
Montreal: Stage H at Mel's 2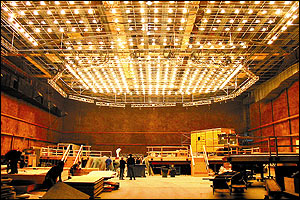 The biggest shooting stage at Mel's Cite du Cinema, Montreal's leading studio facility, is 36,000-sq.-ft. (300'x122′) Stage H at Mel's 2 at the Technoparc complex. There's 40 feet clearance to its fixed grid, which has 7200 amps power capacity. It is soundproofed and air conditioned.
That big stage is one of the defining elements that has brought these big blockbusters to town," says Quebec film commissioner Hans Fraikin.
Films that have shot on the stage include "The Aviator," "Mummy 3," "Pluto Nash," and "White House Down," which is filming there now. — Brendan Kelly
Toronto: Pinewood Studios — The Mega Stage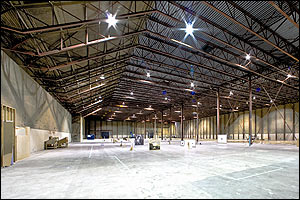 The biggest shooting stage at Mel's Cite du Cinema, Montreal's leading studio facility, is 36,000-sq.-ft. (300'x122′) Pinewood Studios Toronto opened its first phase in 2008 in the Port Lands area, bringing 250,000 sq. ft. of production space online. Its eight film and TV stages feature green initiatives such as insulation and instantaneous hot water systems.
The studio's star attraction is the soundproofed 45,900- sq.-ft. Mega Stage (256′ x 180′; height to grid 60′). North America's largest purpose-built soundstage boasts four 30-ton heating/AC units; after the desired production temperature is set, the studio's automated system controls everything. The supply ducts are above the truss, with drop-down attachment points to hang tubes for ground-level spot tempering.
The centerpiece of Pinewood's plan to attract steady tentpole business to the city, Mega housed early tenants "Scott Pilgrim vs. the World" and "The Thing," followed by bigger budget pics "Total Recall" and "Pacific Rim," which used multiple Pinewood stages. — Jennie Punter
Vancouver: Stage 2 — Mammoth Studios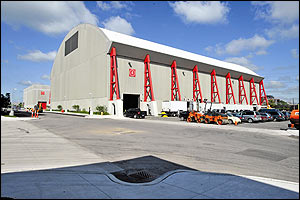 Stage 2 at the appropriately named Mammoth Studios, a subsidiary of North Shore studios, spans 123,883 sq. ft., is 40 feet tall, and nestled in the Vancouver suburb of Burnaby.
Recently, $2 million has gone into upgrading its electrical system to ensure it has plenty of juice to support bigger features and can distribute power throughout other stages.
Stage 2 features a support area for wardrobe and set deck lockup. Mammoth Studios has also poured another $2 million to update its 43,000 sq. ft. of offices. The turnkey facility is fully furnished.
"Walk in and you're ready to go," says Peter Leitch, president, North Shore Studios and Mammoth Studios.
According to Leitch, the presence of such a large stage attracts bigger projects that might not otherwise be shot in Vancouver. — Katherine Brodsky
The Stats
Montreal
Number of movie shoots locally in 2011: 9
Number of TV series shot locally in 2011: 2
Number of shooting stages available: 74
Major equipment rental houses: 6, including Location Michel Trudel, Le Departement Camera, Video Mtl.
Total number of local crews: 7
Number of local crews available: As of mid-August, 2
Number of actors' union members: 3,614
Look forward to: Experienced crews, major studios are close to the center of the city.
Be warned about: Only one major studio owner (Mel's Cite du Cinema), crews are French-speaking, though mostly fluent in English).
Toronto & Ontario
Number of feature films shot in 2011: 43
Number TV series shot in 2011: 148
Number shooting stages available: 43, not including warehouses. (This number fluctuates.)
Major equipment rental houses: 40+, including William F. White (and its related company 3DCC), P.S. Production Services, Panavision Canada, D.J. Woods Productions.
Number of local crews: 40+
Number of local crews available as of latest date: In mid-August
Look Forward To: A stable workforce of 25,000 professional crew members; a large multicultural acting pool; an abundance of post, VFX and animation pros and facilities; hundreds of Directors Guild Canada members (producers, directors, editors); production concierge services; diverse locations & neighborhoods; wide range of accommodations and vibrant cultural scene.
Be warned about: Because there is so much production in Ontario, advance planning (location, studio, crew availability etc.) and early preparation of tax-credit paperwork are advised. There is a continuing lack of mid-range studio space (suitable for TV) although Toronto's converted warehouse spaces are a common choice.
Vancouver
Number of movie shoots 2011: 35
Number of TV series shooting locally 2011: 25
Number of shooting stages available (for film & TV): 44 purpose-built stages and 6 conversions
Number Major equipment rental houses: 53, including William F. White, PS Production Services, Pacific Backlot Services, and ProVision
Total Number of local crews: About 40
Number of actors' union members in local region: 4,294 active members of UBCP (The BC branch of ACTRA).
# of local crews actually available (i.e., not working) as of (latest available date): as of mid-August, about 5-10.
Look forward to: Versatile "world city" looks, diverse geography, mild climate. Many state-of-the-art sound stages; cast and crew with experience on numerous studio projects, including tentpoles; Numerous local vfx studios. Proximity to L.A. Laid-back, relaxed attitude.
Be warned about: The city is heavily unionized (Indie projects in particular may encounter difficulties; UBCP low-budget agreements give the actors 20% of gross.) Weather is prone to mood swings. An unexpected downpour can put a damper on production and cause reshoots.