Rome wasn't rebuilt in six months. But Marco Mueller has certainly put his distinctive stamp on what was previously a somewhat shapeless fest.
Time constraints due to protracted political bickering over his appointment caused Mueller to go for "a pluralistic and therefore contradictory festival," he says about his first Rome lineup.
But the foundations of the former Venice topper's vision for his reinvented Eternal City event are clearly in place.
Mueller recalls the similarity between his agonizingly long Rome appointment process and his first year at Venice in 2004 when, also due to a powerplay delay, he did not come storming out of the gates with a slew of big buzz titles.
"We simply got started too late for that," Mueller says. But he boasts, "The good news is that Rome still has some of the best and most surprising independent films of the next two seasons."
Among the relatively off-the-radar pics he touts as hot Rome bows, Mueller cites the opener, of course, big-budget Russian ecological epic "Waiting for the Sea" by Tajik helmer Bakhtiar Khudojnazarov whose magic realist "Luna Papa" made a big splash after winning the Venice Silver Lion in 1999. "It's a lavish spectacle that blends genres and cultural traditions, and an indication of where we want to take our audience," Mueller vows.
Rome's robust Russian contingent also comprises "Celestial Wives of Meadow Mari," Aleksei Fedorchenko's followup to his pluriprized 2010 "Silent Souls," and revered veteran auteur Kira Muratova's latest opus, "Eternal Homecoming."
Other Rome world preems Mueller also proudly points to include Roman Coppola's sophomore pic "A Glimpse Inside the World of Charles Swan III," toplining Charlie Sheen as a brokenhearted playboy and Bill Murray and Jason Schwartzman as his buddies, and Gabriel and Alan Polsky's "The Motel Life," starring Emile Hirsch, Dakota Fanning, Stephen Dorff and Kris Kristofferson in the story of two brothers who skip town after being involved in a fatal accident.
"We had to insist largely on new directors partly because we have to build a relationship with some of the confirmed auteurs, so they would recognize the interest of using this mid-fall platform," says Mueller, whose ambition is for Rome (which runs Nov. 9-17) to become a prime launching pad for global titles and U.S. awards season hopefuls in the year's fourth quarter.
Meanwhile, in contrast with some eclectic choices, there is enough Hollywood fare, and also several more mainstream movies, to fulfill the fest's mission to play for large metropolitan crowds, Mueller maintains.
Former BFI London Film Festival topper Sandra Hebron, who is on Rome's selection committee, has been instrumental in guiding Mueller on "how you program a big city fest," he says.
DreamWorks Animation and its latest 3D epic "Rise of the Guardians" will launch internationally with CEO Jeffrey Katzenberg, "Guardians" exec producer Guillermo del Toro and helmer Peter Ramsey in tow. They will be collectively feted with Rome's new Vanity Fair Intl. Award for Cinematic Excellence.
And Rome will world preem Walter Hill's Sylvester Stallone starrer "Bullet to the Head," an action thriller from Warner Bros. based on Gallic graphic novel "Du plomb dans la tete." Hill will be feted with the fest's Maverick Director Award.
"Obviously, I have been talking to the studios and will be doing so a lot more for the next edition, with more time to make plans," Mueller says.
Potential crowdpleasers unspooling also include Regis Roinsard's Gallic romcom "Populaire," for which the Weinstein Co. has high expectations at the U.S. box office, and Aussie dramedy "Mental" from P.J. Hogan.
In concocting his carefully calibrated mix of arthouse, genre and edgy fare, Mueller's most idiosyncratic ingredient is certainly Rome's new CineMaxxi section dedicated to cutting-edge films and multidisciplinary moviemaking, which picks up from where his Horizons sidebar at Venice, promptly reconfigured by his Lido successor, left off.
Unspooling in the Italian capital's ultramodern new Maxxi contemporary art museum are cutting-edge pics including new works in various formats by James Franco (who is also being feted), U.S. maverick Amos Oz, cult Brazilian helmer Julio Bressane and Paul Verhoeven, who will world preem "Tricked," touted as the first film with a plot decided by the public via social media. Portmanteau pic "Centro historico," helmed by Aki Kaurismaki, Pedro Costa, Victor Erice and Manoel de Oliveira will open the section.
From day one, Mueller has been adamant about having world preems in Rome. This seems to be paying off on its post-AFM Business Street market side and its New Cinema Network projects platform. The informal mart is touting 42 market preems and an increase in U.K. and U.S. buyers looking for titles largely from Eurasia and South America, with an especially strong Chinese representation this year thanks to a Spotlight: China initiative.
While Mueller seems to have laid the groundwork for a solid Rome reboot, his future as Rome topper could be jeopardized by Italy's turbulent politics, which often interfere with the country's cultural enrichment and film industry evolution.
Still, Mueller seems hellbent on keeping politics out of his job prospects.
"I just have to make sure I do something useful for the national and international film community," he says. "If I don't have that kind of endorsement, then the money being spent on a large-scale event like this could go for something else; and there would probably be less conflicts and rivalries."
HIGHLIGHTS
Humanitarian Honor: On Nov. 17, Sean Penn receives Variety's Humanitarian Award for
his philanthropic work on behalf of such causes as aid to the victims of Hurricane Katrina and relief for the casualties of the 2010 Haiti earthquake.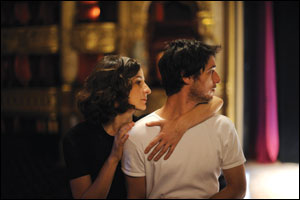 "Hand in Hand"
Director: Valerie Donzelli
Actors: Donzelli, Jeremie Elkaim
Donzelli follows her sophomore pic, "Declaration of War," with this nonconventional romancer, in which a couple's young son is diagnosed with brain cancer. A world preem.
"Lesson of Evil"
Director: Takashi Miike
Actors: Takayuki Tamada, Hideaki Ito
The "13 Assassins" helmer returns with this gory chiller about a psychopathic teacher who starts killing his students.
"Tar"
Directors: James Franco and 10 NYU students
Actors: Franco, Mila Kunis, Jessica Chastain
Pic is based on poems by C.K. Williams. Franco plays the poet. He will also be feted with Rome's Cubovision prize awarded by its new CineMaxxi section dedicated to cutting edge films and multidisciplinary moviemaking.
"Tricked"
Director: Paul Verhoeven
Pic is touted as the first "user-generated" movie, in the CineMaxxi section, about a real estate tycoon whose business partners are scheming back his back. The plot twists were decided by the public via social media. A world preem.
Perspectives Italy: Inaugural section, which Mueller basically brought over from Venice, is a springboard for new pics by promising young Italian helmers, including Susanna Nicchiarelli ("Discovery at Dawn"), and Francesco Amato ("Cosimo and Nicole").
European Day: Fest's Business Street mart hosts a day of debates on the European Union's Media program for distrib subsidies under a proposed scheme called Creative Europe.
RELATED LINKS
• A mountain of talent