Anna Karenina
After teaming for "Pride & Prejudice" and "Atonement," Brit helmer Joe Wright reunites with star Keira Knightley for yet another prestige lit adaptation. Boasting a script by Tom Stoppard, and with Jude Law as the hapless Karenin, Wright has reportedly taken a more stylized, theatrical approach to the material: shooting almost entirely on a single soundstage at London's Shepperton Studios, with more than 100 interlocking sets constructed. Early reports (and one six-minute clip, released online with an introduction from the director) have prompted comparisons to Baz Luhrmann — and with that director's "The Great Gatsby" suddenly out of Oscar contention, this film's timing might be ideal.
Byzantium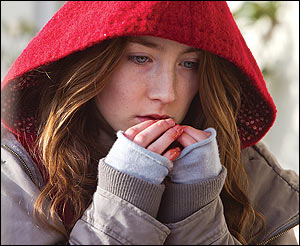 Adapted from a play by Moira Buffini ("Tamara Drewe"), this drama sees helmer Neil Jordan return to the horror genre for the first time since 1994's "Interview With the Vampire." Gemma Arterton and Saoirse Ronan star as mother and daughter whose arrival in a small coastal town, fleeing some violent crime, plunges the locals into the realms of the bloodily supernatural. Sam Riley, Jonny Lee Miller and Tom Hollander fill out the cast; and Jordan shot entirely at Ardmore Studios in his native Ireland, with in-demand lenser Sean Bobbitt ("Shame") behind the camera. Whether the result can overcome vampire-fatigue, or reinvigorate the genre, remains to be seen.
Quartet
Making his directorial debut at an age when most of his peers are thinking about retirement, Dustin Hoffman has assembled a stellar cast of fellow vets — Maggie Smith, Billy Connolly, Michael Gambon, Tom Courtenay, Pauline Collins — for this tale about a trio of retired opera singers, whose annual concert is thrown into chaos by the arrival of a diva-ish ex-wife. Produced by Finola Dwyer ("An Education") and Stewart Mackinnon, and with a script by Oscar-winner Ronald Harwood ("The Pianist"), this genial ensemble pic suggests that the Weinstein Co. release hopes to tap the same "mature" demographic that turned out for "The Best Exotic Marigold Hotel."
Capital
Despite a few casting hiccups, with Gad Elmaleh ("Midnight in Paris") finally settling on the role originally intended for Vincent Cassel (and subsequently offered to Mathieu Kassovitz), this study of a high-powered CEO battling the influence of U.S. investors is unlikely to lack for verisimilitude, based as it is on a 2004 novel by one "Stephane Osmont" — a pseudonym for a former French corporate titan. It's directed and co-scripted by Greek vet Costa-Gavras, and the filmmaker will doubtless bring his usual political acuity to this study of greed and ambition among the 1 per-cent set, with locations including London, Miami, New York and Paris.
Dormant Beauty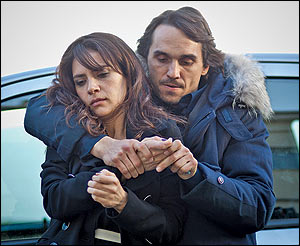 After a spell in the Philippines (for Brillante Mendoza's "Captive") and a visit to South Korea (for Hong Sang-soo's "Another Country") — not to mention co-starring in David Gordon Green's forthcoming "Susperia" remake — French thesp Isabelle Huppert continues her cinematic Grand Tour, toplining this drama for Italo Marco Bellocchio. Based on a true story, the film covers the final six days in the life of Eluana Englaro, a woman who lived for 17 years in a vegetative state following a car accident. At 72, Belloc chio remains one of his country's most interesting and vital filmmakers, and advance word on this one, which unspools in Toronto following its Lido preem, is predictably strong.
Hannah Arendt
A labor of love for German helmer Margarethe von Trotta, this study of four years in the life of the German-Jewish philosopher — set during the turbulent 1960s, and encompassing the trial of Nazi bureaucrat Adolf Eichmann in Jerusalem — was shot in Germany, Luxembourg and Israel, and finds the director working with actress Barbara Sukowa for the sixth time. Meticulously researched, the script reportedly benefitted from a lengthy development process for von Trotta and her co-writer, American author Pam Katz — and the result, shot by French d.p. Caroline Champetier, takes its place among the filmmaker's studies of strong, independent women, in the tradition of Rosa Luxemburg and Hildegard von Bingen.
In the House
For his 13th feature, prolific French auteur Francois Ozon has chosen to adapt a play by Spain's Juan Mayorga, "The Boy in the Last Row," about a high-school student (newcomer Ernest Umhauer) whose essays about a friend's family may conceal a darker purpose. Fabrice Luchini plays the boy's teacher, and Kristin Scott Thomas co-stars as his wife; Emmanuelle Seigner and Denis Menochet fill out the cast. First glimpses show a thriller suffused with Ozon's characteristic blend of ambiguous sexuality and mordant wit. Screening in Toronto and San Sebastian ahead of its domestic release in early October, the Mandarin Cinema production is being sold by Mars Distribution.
The Impossible
A Spanish production, made in English, this true story of a family's experience in the devastating 2004 tsunami in Asia reunites the creative team from 2007's "The Orphanage" — from director Juan Antonio Bayona, scribe Sergio Sanchez and producer Alvaro Augustin, right down to the same editor, cinematographer and composer. Shooting began back in 2010, but the delay has been necessitated, according to production company Telecinco, by the extensive f/x work required. Naomi Watts co-stars with Ewan McGregor, and the result sounds like it was worth the wait — especially given that U.S. distrib Lionsgate has skedded the pic for release on Dec. 21, right in the heart of awards season.
Kon-Tiki
Norwegian directing team Joachim Roenning and Espen Sandberg follow their massive domestic hit "Max Manus" (a TIFF gala presentation in 2009) with the story of one of their most famous countrymen — ethnographer and adventurer Thor Heyerdahl, who in 1947 sailed 4,000 miles on a wooden raft from Peru to the Polynesian Islands. Budgeted at $11.6 million, and shot around Malta, it's the biggest Norwegian production to date, made possible as a co-production between Denmark's Nordisk Film, German distib DCM, and the U.K.'s Recorded Picture Company (whose principal, Jeremy Thomas, started developing the project in 1996); the latter's distribution arm, HanWay, is handling international sales.
Great Expectations
The London Olympics might have overshadowed the bicentenary of Charles Dickens' birth, but the task of adapting one of the author's best-loved classics has fallen to journeyman Brit helmer Mike Newell and scripter David Nicholls. Another "Harry Potter" alum — Alfonso Cuaron — delivered a modern-day, Gotham-set adaptation back in 1998; but Newell's version returns the story to its original locale and period — though with, the director claims, a renewed interest in its thriller elements. Early reports suggest a "dark, gritty" take on the material, and the first trailer revealed Ralph Fiennes as a thrillingly filthy Magwitch. Helena Bonham Carter and Robbie Coltrane co-star, alongside up-and-comers Holliday Grainger and Jeremy Irvine.
Hyde Park on Hudson
A distinct Oscar buzz is building around this Film4 production, helmed by U.K. journeyman Roger Michell from a script by playwright Richard Nelson, which depicts the clandestine romance between President Franklin D. Roosevelt (Bill Murray) and his distant cousin — and eventual mistress — Margaret Stuckley (Laura Linney). Focusing on a weekend in 1939 when the king and aueen of England came to visit the president's country estate, the result mines territory similar to "The King's Speech." But for auds, the real lure might be watching Murray play a non-fictional character again, after years of (br
illiant) variations on his public persona; certainly the early key art renders him a mo re-than-credible FDR.
Twice Born

Italian thesp Sergio Castellitto continues his occasional forays into directing with this melodrama, charting an ill-fated romance set against the backdrop of the siege of Sarajevo. Based on a novel by wife Margaret Mazzantini and adapted for the screen by both spouses, the Italian-Spanish co-prod stars Penelope Cruz (who appeared in the helmer's second feature, "Don't Move," back in 2004) alongside Emile Hirsch, playing Cruz's husband, a war photographer, with support from Castellitto himself. Oddly, the film is bypassing a berth on the Lido to world preem in Toronto; Wild Bunch is handling world sales.
RELATED LINK: • Toronto: Classy or Comfy?