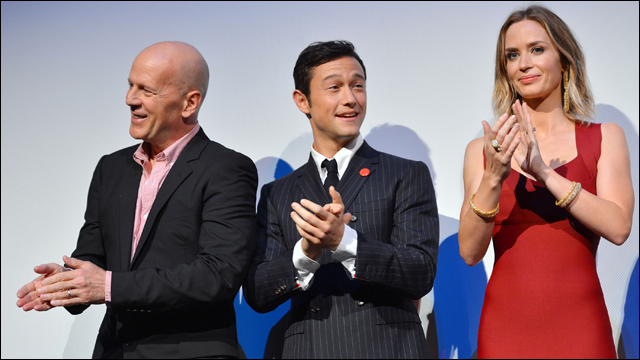 Above: Bruce Willis, Joseph Gordon-Levitt and Emily Blunt attend the 'Looper' opening night gala premiere at the Toronto Film Festival. (Photo by GettyImages)
The 37th Toronto Intl. Film Festival kicked off with a major dose of Hollywood-style hyperbole — twinned with the world premiere of "Looper."
"This is the largest and most succesful public film festival in the world," declared James Moore, the Minister of Canadian Heritage and Official Languages in a pre-screening speech at the Roy Thomson Hall – site for 20 galas over the next 10 days including "Argo," "Hyde Park on Hudson," "The Company You Keep," "Silver Linings Playbook," "What Maisie Knew" and "Song for Marion," the closing night pic.
Cameron Bailey, TIFF's artistic director, told the audience that "Looper" is the first sci-fi title to lead off the festival and the fest's first U.S.-China co-production.
"When I came out of the screening my heart was racing," he added. "It's loud, it's smart, it's fast, it's moving."
Director Rian Johnson introd cast members Joseph Gordon Levitt, Emily Blunt and Bruce Willis. The story centers on a time-traveling assassin assigned to kill his future self.
"It's so exciting to be doing a premiere in a town that loves movies," Johnson said.
The fest launched last year with the world preem of Davis Guggenheim's U2 docu "From the Sky Down."
TIFF runs through Sept. 16 and will screen more than 280 films.