The entertainment world lost many singular women's voices over the past year. Variety asked influential bizzers to talk about how these iconic femmes made waves in the industry and beyond.
Rita Wilson remembers Nora Ephron
Nora Ephron directed "Sleepless in Seattle," starring Rita Wilson, who recently appeared in "The Good Wife." Ephron died June 26.
On Ephron's most memorable works: When I saw "This Is My Life" I felt that I was seeing something completely new — a woman writer-director that was writing about women in the most contemporary way. She allowed the women in that film to be funny, and speak the truth. The movie had loads of hope and love in it which, as we know, is one of Nora's trademarks. For a long time, before I met her and worked with her I would hear that Nora was "tough" so I wondered about this "tough" woman who had so much access to all these warm, romantic, feelings.
On women's changing career possibilities: Nora didn't like to think of herself as a woman director. She was a director. Her films have a timelessness and beauty to them that fit in with the romantic classics, all directed by men. Her contribution, to me, is about possibility and empowerment. She made you feel as if you could do anything. Her protagonists were strong, competent, sometimes extraordinary women that made you feel as if that was you up there on the screen, that finally someone was writing about your thoughts and feelings but saying them far more intelligently or wittily than you ever would. Nora gave her female characters the last word. Just think of Meg Ryan's scene in "When Harry Met Sally" — she gave that last line to Estelle Reiner: "I'll have what she's having."
Career guidance: She empowered me from day one to believe that you can do anything. She didn't direct her first film until she was 50. Look at what she accomplished in a little over 20 years in film — giving us some of our most beloved romantic comedies. She made a film set fun. She made you want to be like her.
Giving back: There were the charities, of course, and her work with her favorites, but to me what she gave back to the community was giving her time to anyone who was daring to start out in something new. She reached out to other women, young and old, who were writers, or directors. She would read your script, watch your movie, give you honest notes and then when you applied those notes she would read or watch again. Nora's mother told her something like "everything in life is copy," which inspired me to take an experience and look at it objectively. Inevitably you will find the pain, then the comedy in that experience.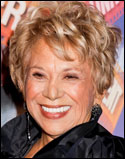 Eva Longoria remembers Lupe Ontiveros
Lupe Ontiveros played the mother-in-law of Eva Longoria's character on "Desperate Housewives" and appeared in features including "Real Women Have Curves" and "Selena." She died July 26.
Breaking through: She wasn't afraid to take on roles that may have had a negative stereotype, whether it was maid, mother or neighbor — everybody has complex stories. She embraced it.
what made her successful: She was a firecracker, a natural entertainer. She would be the center of attention at dinner, she would pull focus in a room.
Her most memorable roles: In "As Good as It Gets," when she went toe to toe with Jack Nicholson, people got to see her shine.
Giving back: She was the mother of our culture. Any set that she came onto, she gave advice. When I started on "Desperate Housewives," she advised me about how to hold onto your dignity. And she was involved in causes for the LGBT community as well as the deaf community.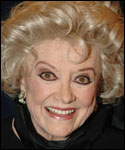 Bonnie Hunt remembers Phyllis Diller
Bonnie Hunt forged a comedy path starring on TV in "Life With Bonnie" and "The Bonnie Hunt Show," as well as doing voices for "Toy Story" and other toons. She found inspiration in the work of pioneering comic Phyllis Diller, whom she worked with on "A Bug's Life" and "Life With Bonnie." Diller died Aug. 20.
Most memorable perfs: Seeing Phyllis Diller on "The Tonight Show" with Johnny Carson was significant. It was the first time I saw a female doing stand-up. I was a little girl, not quite sure that I understood the jokes at the time, but her wild outfits and wacked-out hair, and that trademark punctuating laugh, caused me to take notice. The most powerful memory of Phyllis on "The Tonight Show" was watching with my parents, seeing them laugh hard, wiping their eyes, repeating her one liners … pure joy. One of my favorites: "I never made 'Who's Who,' but I'm featured in 'What's That?' "
Career guidance: Phyllis approached her career from her own truth — the foundation for most of her humor seemed to come from an honest, yet skewed, self-reflection. I admired her ability to exaggerate that truth and add the biting sarcasm, delivered in that dry exhausted tone. Diller was savvy, smart, choosing to downplay her own authentic attractiveness, wearing those bell-shaped dresses to hide her enviable figure … genius. She also had, what at the time could be described as a "man's take" on things, in a male-dominated profession she knew to add the "what's the deal with women" type of humor: "The reason women don't play football is because 11 of them would never wear the same outfit in public."
What made her successful: Can you imagine, at that time, that era, to be a wife, a mother, and thinking, "I'm going to try comedy"? I think her success is due to courage, talent, a great work ethic and the wonderful fact that she was funny, truly funny.
Giving back: She told stories like a sailor, my ribs were sore from laughing. Phyllis made us laugh, that was her gift to the community.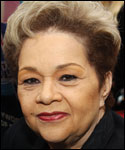 Darnell Martin remembers Etta James
Darnell Martin directed "Cadillac Records," the story of Chess Records' recording artists Muddy Waters, Chuck Berry and Etta James, who died Jan. 20. Martin researched James' life and talked to people who knew her as a young woman, then met the genre-bridging singer after the film was done.
What made her successful: She had a vision, she wasn't afraid of being blacklisted. She wasn't afraid to be labeled a bitch, but it ruined her career. She was nobody's girl — the way she looked had never been done before, she was bohemian before anybody else.
Fame game: She was completely uncompromising and they crushed her. She was a phenomenal artist who wasn't allowed to be what she was, and finally she was able to come back. She was ahead of her time.
Overcoming challenges: If she weren't black or were thinner, she would have had have a different career. She came from a rough life — it was a socioeconomic crossover.
Most moving performances: "I'd Rather Go Blind" was pretty stellar. You feel a whole life in that song, and you feel the desperation in "God's Song."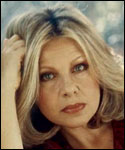 Sherry Lansing remembers Sue Mengers
Former Paramount topper Sherry Lansing was the trustee of super-agent Sue Mengers' estate, and came to know the feisty tenpercenter best after Mengers retired. Mengers died Oct. 15.
Success in a man's world: Sue was a total original. She was the first female agent that really became a super-agent and her client list was extraordinary. Her wit is what stands out. She was insightful and knew people's personalities. If she was frightened, she covered it up, that's how she was able to operate in a man's world. She was funny and irreverent and aggressive, and relentless in pursing you.
Passion plays: She loved actors and directors. It was the industry that she cared about. She was so on their side that they knew it — if she believed you were the right person, she would call the producer. She never took no for an answer.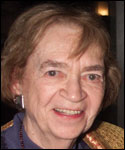 Carrie Rickey remembers Judith Crist
Film critic Judith Crist, who died Aug. 7, was the first full-time female critic for a major newspaper, appeared on "Today" and wrote for TV Guide. Longtime Philadelphia Inquirer critic Carrie Rickey found comfort in seeing Crist's byline among many male critics in the 1960s.
How she inspired: See that 15-year-old girl in the North Hollywood Public Library in 1968? The one ostensibly writing a term paper on Disraeli and Gladstone? The one standing in the periodical racks and realizing, with sinking heart, that virtually all the bylines are male? That's me. The exceptional female byline belonged to the movie critic in New York magazine: Judith Crist. Oh yeah, I thought. She's that lady on the "Today" show. Doesn't she also write for Saturday Review? Until that moment (comic-strip heroine) Brenda Starr was the only girl reporter I was aware of consciously, and she was a fantasy figure. In that nanosecond I recognized living women wrote for newspapers and magazines.
Ahead of her time: In retrospect, Crist — who I met only once — realized the importance of multiple platforms for her work, something so essential for journalists today. It wasn't a publishing institution that gave Crist her power; it was Crist who gave institutions as varied as Saturday Review, New York magazine and the "Today" show their cachet. This was not lost on Pauline Kael, who envied Crist her broadcast platform.
Pioneer path: In a male-dominated profession, the presence of one high-profile, talented female opens door and possibilities. I believe Crist's national profile contributed to a climate where William Shawn felt he needed an outspoken voice in film criticism at the New Yorker and hired Kael and Penelope Gilliatt.
Lessons learned from her career: I admired her populism, her belief that "If you're going to be a movie fan, you take Bond as seriously as you do the grand auteurism of Bergman." I also admired her fearlessness, even when she harpooned movies I liked. After her scathing review of one of his films, Billy Wilder famously said, "Inviting Judith Crist to review your movies is like asking the Boston Strangler for a massage."
Giving back: As an adjunct professor in the Columbia School of Journalism for more than half a century, she shared her wisdom with generations of students. Her professorial style has been explained to me as "strict on usage, film history and integrity." An admirable way of giving back.
Amy Pascal remembers Laura Ziskin
Producer Laura Ziskin, who died June 12, 2011 of cancer, was one of Hollywood's most powerful and enduring women, shepherding films including "Pretty Woman" and "As Good As It Gets." Sony topper Amy Pascal worked with Ziskin on films including four "Spider-Man" installments.
Approach To Work: Working with her was like keeping up with a high-speed train. You never wondered what she was thinking — she was as blunt as a crater falling on your head.
Secret Of Success: She was the most curious person I ever met, and that is where her passion, her energy and drive came from. She was totally uncynical even in the face of gigantic obstacles, which she faced on every front of her life.
Giving Back: Besides being responsible for wonderful movies and the careers of many writers, directors and actors, Laura co-founded Stand Up to Cancer and made it her life's work.
Mariah Carey remembers Whitney Houston
Pop diva Whitney Houston died Feb. 11 after a life of some hard times and many triumphant moments, as one of the world's top-selling music artists, with seven consecutive No. 1 hits. Songstress Mariah Carey, who collaborated with Houston on the soundtrack for "The Prince of Egypt," spoke at the B.E.T. awards, saying that reports of a feud between the two thrushes were false.
"The first time I heard Whitney's voice I was mesmerized, like the rest of the world," Carey said. "Just an unknown budding singer myself, I was captivated by the power in her range, the richness of her tone and her unique ability to wrap a lyric in emotion.
"She was a hilarious person with a cutting sense of humor. She was real and she kept it real. That's why we got along so well and so many others feel like I do: If you really knew Whitney, you couldn't help but love her."