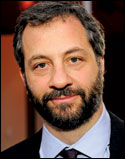 Judd Apatow
Excellence in Filmmaking
As producer, writer and director, Judd Apatow has created a brand, formed his own band of merry troupers and determined new landscapes for the Hollywood comedy.
Apatow began his career with a number of male-centric successes. As he says, "I am a man and so I lean to things male. I was going to say masculine but for me that's probably not true." But recently he has segued to produce female-driven work like last year's "Bridesmaids" and the new HBO series "Girls."
Fittingly, Apatow declines to take sole credit here. "I did want to mention a great portion of my success is a result of my collaboration with my wife," he says of Leslie Mann, "who is a great actress and a really insightful partner in everything we do. Her behind-the-scenes ideas and encouragement is responsible for so many of the high points of our films. She was the one who always said to me, 'There are no good roles for women. I read all these scripts and nobody is writing great comedy from the female perspective.' "
Mann's input pushed Apatow "to try harder, to find writers and actresses who could carry films, and in all of our movies just to think more deeply about our female characters and think that they were equally important as the male characters."
That's why he is "especially proud" of "This Is 40," his first writing-directing effort in three years that reteams Mann and Paul Rudd as their "Knocked Up" characters Pete and Debbie. "We're calling it 'a sort of sequel.' It is about Pete and Debbie's life and their struggles as they head into their 15th year of marriage and their 40th birthdays. It's a comedy but very truthful about that phase."
Instead of saying it is autobiographical, Apatow says of the film, "What we like to tell people is, everything that seems deeply personal is actually about Paul Rudd."
Michelle Pfeiffer
Cinema Icon Award
If an icon is something to put on a shelf or someone unapproachable that isn't Michelle Pfeiffer.
"I'm not convinced I've reached icon status," Pfeiffer says of her CinemaCon honor. "It doesn't feel quite right I've got to be honest, but I'll take it if they want to give it to me."
After an inauspicious start on television as "The Bombshell" in a forgotten half-season series, Pfeiffer has scored with a career notable for its range and variety in drama, comedy, musicals and fantasy, including the "Dark Shadows" reboot from Tim Burton.
"I'm not sure that I ever was all that confident that I would achieve stardom. But I always knew that I could be good," says the actress. "I knew when I wasn't good. I think I learned how to act onscreen, really. Working was being used as my acting class, although I was studying all along and had some really great teachers.
"Those beginning years were spent," she reflects, "knowing I had some ways to go but having the feeling I could get there if people could just be forgiving along the way that I could get better. And I wasn't bad enough so that people continued to give me opportunities."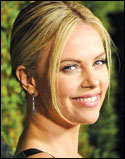 Charlize Theron
Distinguished Decade of Achievement
Charlize Theron's distinguished decade begins with 2003's "Monster" and continues through a summer double whammy of the Gothic Grimm take of "Snow White and the Huntsman" and Ridley Scott's "Alien" prequel, "Prometheus."
Yet, when asked about what counts as her greatest achievement, Theron isn't exactly joking when she answers, "I don't have to steal bread out of restaurants anymore. Honestly from the moment that I knew I wanted to be an actor the only thing I was praying and hoping for was not to take a second job in order to survive. If I could support myself as an actor, that was for me the ultimate success."
Today, with an Oscar and a half dozen modern classics to her credit, Theron notes, "You'd have to be a pretty unhealthy person to dream and expect things would turn out this well as they have for me. I'd never ever thought I'd achieve this much, work with the talent that I have and be able to tell these stories and have critics embrace me.
"And also, just to be able to try different things. To do 'Monster' and people assuming that was going to be my high point and then to be part of a project like 'Young Adult' and have critics respond to that. I can't be jaded about that. That stuff is pretty awesome."
As for what made "Prometheus" and "Snow White" irresistible choices, Theron says, "One, had a director I always wanted to work with: Ridley Scott. With him going back and doing the genre he redefined, there was no way I was going to say no to that. I'd be an idiot."
Regarding her evil queen, "I saw a great challenge in taking on something that was so iconic and I had a studio behind me and a director behind me who said, 'We want you to do this as real and dark as you want. We will give you all the tools you need to do that.' That comes very rarely."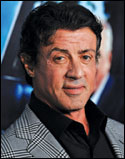 Sylvester Stallone
Career Achievement
From the start Sylvester Stallone's career has been marked by a talent who knew his worth and stood his ground: He's the unknown who famously wrote "Rocky" and wouldn't sell unless he could also star. Nearly four decades on, he remains unstoppable.
Liam Hemsworth, who costars with him in "The Expendables 2" this summer, calls Stallone, "One of the smartest people I've met: extremely intelligent and an incredible writer. He just gets this business."
And that from a 22-year-old whose birth coincided with the Stallone Christmas hit "Tango and Cash" as the multi-hyphenate prepared "Rocky V"!
"To do a sequel at this time of my life?" mused Stallone, "Amazing. I've always loved sequels, although there was a stigma that I never understood. You can do a television show for 10 years — which is like a 10-year sequel. If you do it in film it was, 'What are you doing! It's kind of avaricious.' Three sequels!? If anything it's a beginning, middle and end of the character arc. Sometimes it's hard to do that in two hours. That's why I liked 'The Godfather' sequels."
As for "Expendables 2," "I think we can do it better. We had to amp up the villainy and get some opposition out there, but I think I'm on the right track. I'm happy considering how difficult it was to pull off the first one because I'm beholden to all my friends who stepped up and worked for very little cash and put themselves on the line. Now I'd like to think we've come up with something that can surpass the first. That's the challenge with sequels: We've found a few nuggets, now can we find the motherlode?"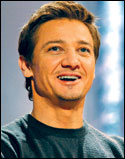 Jeremy Renner
Male Star of the Year
After nearly two decades of struggle, Jeremy Renner suddenly landed two Oscar noms, for "The Hurt Locker" and "The Town," and learned a lot about the biz and himself in the process.
"I feel like I don't deal with fear very well," says Renner. "I definitely don't think anything that is impossible, but how do I manage four big action movies that come right in a row?" he asks, referring to not only "The Town" and "Mission: Impossible — Ghost Protocol" but the upcoming "Avengers" and "The Bou
rne Legacy."
The answers his own question: "That's difficult and it doesn't happen to people — certainly it doesn't happen to people like me. That amount of responsibility's been challenging and don't get me wrong, it's also a lot to fun, an amazing ride."
Renner shrugs off the question whether he's set to become Hollywood's next big action aero. "I don't know, man. I'm giving this a go," he says with a laugh. "I'm trying it out I'm not really worried about typecasting. I feel I can fight that off. I've been a lot of bad guys. I did comedy when I was younger. I still feel: If you can do it, you can do it. And if people receive it, great."
But it's not action pics 24/7. With his role as Hansel in "Hansel and Gretel: Witch Hunters," Renner takes a break from that cycle.
"After four in a row, I have to keep myself guessing just as much as anybody else. I want to grow, I want to learn. It doesn't matter what the format is: big movie, small movie, action movie or not. That's not really relevant. What's relevant is, what am I learning? What am I growing as an artist?
"Even growing," he adds, "as an athlete in a way. These action movies are quite fun. I have always done my own stunts — and I'm surprised how physical these are."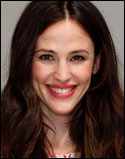 Jennifer Garner
Female Star of the Year
Jennifer Garner has two very personal pics opening this year. First up is Peter Hedges' "The Odd Life of Timothy Green," in which a childless couple bury a wish-filled boxed in their backyard — and soon after have a very special baby boy.
"It has definite fairy tale elements to it and a healthy dose of magic," Garner says. "Peter's script was the most beautiful heartbreaking version of parenthood I'd ever come across. It really hit me. It speaks to everything about being a parent but it's about family, and your relationship with a sister, and your parents, and how things change when you get older."
Parenting is something Garner, married to Ben Affleck with three children ("six and three and eight weeks old"), knows intimately.
"We have a busy family now that's more like a circus," Garner says. "It's a lot of planning of who's doing what when and who needs a ride when and that now includes nursing a baby. It's not unlike anyone else's house except we have more travel and more help. And there's still only one of me. I have a husband who works a lot and when he's here, he's really here for huge chunks of time and can just take over which is great. I used to have such tremendous guilt anytime I worked at all. Now I realize when I work they actually have great experiences. They're forced to depend on their father more, in a healthy way."
The autumn sees the release of the off-beat, long-delayed "Butter," in which Garner stars as a butter carver. The actress will always make room for another "Butter."
"There's lots of things I'd love to do but it doesn't make sense," she explains. "My whole family we twist ourselves into pretzels when I work on something I love, like I couldn't say no to 'Butter.' "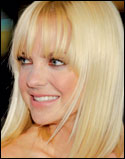 Anna Faris
Comedy Star of the Year
For Anna Faris, it's the shoes that connect to the funny bone.
The comedienne, who is under "very strict orders" not to be too revealing about starring opposite Sacha Baron Cohen in "The Dictator," laughingly admits, "I don't stay in character the way Sacha does. But something happens when you're in the wardrobe and hair and makeup. You can't help but feel a little different.
"My theory is," Faris adds, "it's the shoes. In 'The House Bunny' those five-inch heels were instrumental in making me feel one way, and when I'm in those Doc Martens in 'The Dictator' I feel a different way."
Due to the success of "Bridesmaids" Faris senses a boost for funny women in Hollywood mainstream movies.
"At least I hope so. A few years ago when I was pitching movies that were R rated, the first question was always, 'Well, how can we make this PG-13?' And the second question was, 'Well, we like this character but America is going to hate her. How can we make this character likable?' That was really limiting and unimaginative. You felt the characters that were out there were watered down, eye rolling character girlfriends of the funny guy. With the success of 'Bridesmaids' it's really exciting that the industry is forced to acknowledge that there's an audience. It turns out women want to see all kinds of women. Not just one particular type."
Faris also detects, "The bigger idea of community in the comedic world, a lot more camaraderie and support than even six or seven years ago, which is really exciting."
As for a return to "Scary Movie 5," the series that was her breakthrough, Faris tamps down the fires. "That's a rumor," she insists. "I don't know who puts up stuff on IMDB but everyone is asking me about it and I don't even know if they're making it. I'm usually the last person to know. I do have a fondness for that moronic Cindy Kimball, though, and I do love playing her. Most of all I love working with Regina Hall who plays Brenda. It would be really fun — if the timing was right and I got to reunite with the old gang, but I don't know."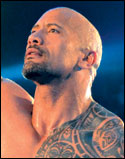 Dwayne Johnson
Action Star of the Year
Dwayne Johnson is as big as he ever was — physically and professionally.
"There's nothing like being the baddest dude on the planet," a grinning Johnson says, "and that's what's happened and I'm the best at it. Studios call me when they need to hunt men down in the best way."
Johnson is onscreen this summer in "GI Joe: Retaliation," as the aptly named Roadblock, and is set to reprise his relentless federal agent Luke Hobbs in the next "Fast and the Furious," The thesp stands as the sole wrestling star to make a hit Hollywood transition. Yet, this year he's gone back to the mat, reviving his the Rock monicker and crowd-pleasing moves.
"Do I need it? It's not about money. It's about going back. I love it making movies but there's nothing like engaging 70,000 people. That's electric!" he exclaims.
It probably helps that Johnson's currently filming in Miami for Michael Bay's "Pain and Gain," playing a bodybuilder in a fact-based thriller.
If it all looks easy in retrospect Johnson knows when he left the ring for the movies, "It was the biggest risk I've ever taken in my career. I left on top and quietly walked away. But you go to Hollywood and you never know, it's high risk."
He recalls his debut in "The Mummy" in 1999. "I was so inexperienced," he notes. "We were shooting in Morocco, it was 110 degrees and my agent called and said the studio executives wanted to give me my own franchise –'The Scorpion King' — from just watching the dailies. And I said, 'What the fuck are dailies? Speak normal.'"
Now he can laugh at that kind of ignorance. "Ever since that we were off to the races!" he says.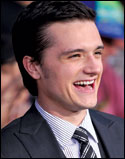 Josh Hutcherson
Breakthrough Award
Josh Hutcherson was just a toddler when he fixated on acting, and age nine the Kentucky native had convinced his parents to move to L.A.
"Ten years later," Hutcherson, 19, can say, "Mission accomplished" with "The Hunger Games."
As Peeta Mellark, the baker's son whose love for Katniss Everdeen will propel Suzanne Collins' bestselling trilogy through three more movies, Hutcherson scores in the movies' newest
blockbuster franchise.
Regarding fame and celebrity, "I don't want that to ever let that dictate the choices that I make," he says, recalling something Julianne Moore once told him. "In her mind, between every movie, she's like, 'God, can I act anymore? Or do I suck? I have no idea?' It's kind of refreshing to know that I'm not the only person in the world that thinks that," Hutcherson says. "So to be signed on for three movies is a good sense of job security. It allows you to take some chances and do more off beat kind of things in between when you know you have these bigger films coming your way."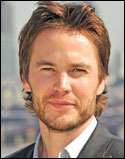 Taylor Kitsch
Male Star of Tomorrow
To keep taking risks, to be scared, is everything to me," says Taylor Kitsch.
True, his bigscreen launch in Disney's "John Carter" may have faltered, but there's always the near future. Universal's sci-fi alien adventure "Battleship" reunites Kitsch with Peter Berg, and it's followed by Oliver Stone's July thriller, "Savages."
Kitsch credits much of his success to Berg, who cast him in "Friday Night Lights" and directed the TV pilot. According to the actor, Berg has "the sense of empowering us actors to keep taking risks and keep growing through that experience. He planted all those kinds of seeds. That's why, to be blunt, I did 'Battleship.' "We're very close friends and to re-engage with Pete and to work with him again every day was a ride."
In "Savages" Kitsch plays a pot grower battling a Mexican drug cartel. "He was also one of the funnest characters I ever played in my life," says the thesp. "The challenge was how intense I could go and really there was no box Oliver would put me in. I would do takes that I thought were just crazy – only Oliver Stone would come out from behind (the camera) and be loving what you're doing when it's that intense. I love that about him. He demands a lot, but you don't demand more than you do of yourself, so we worked well together."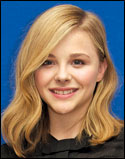 Chloe Grace Moretz
Female Star of Tomorrow
Mind blowing" is how Chloe Grace Moretz describes her recent cinematic trajectory. "To go from Martin Scorsese to Tim Burton, my favorite directors of all time, that's something," says Moretz, age 15 and already a veteran. "You can't dream that."
She didn't, of course. She did it, making "Hugo" and now "Dark Shadows," where in Burton's ensemble she is Carolyn Stoddard, a descendant of Johnny Depp's Barnabas Collins. "I can't say much but she's a hippie, a '70s girl. In her mind she is the most normal, and in reality has the darkest shadows and is probably the strangest," the thesp reveals.
Moretz began acting as a precocious five-year-old in her native Atlanta. "It was no one's idea to have me be an actor. I would start memorizing these monologues my brother did. No one told me to do that. I did it for everyone around me — my mom, my teachers, my friends," she recalls. Then she asked her mother if she could do more. "My mom said, 'OK, we'll go after one thing' — and one thing became two things and here I am."
"Dark Shadows" marks a milestone for Moretz in that Burton wanted her without the bother of meetings or readings. "Tim gets someone in his head and he can't think of someone else for the part. I wasn't told anything about it. My mom and my brother Trevor wanted to keep it a secret because he was my favorite," she adds.
As her plane landed in New York for a photoshoot, "Trevor turned to me and said, 'Chloe, don't freak out but you've got 'Dark Shadows.' I was so excited I left my iPad on the plane."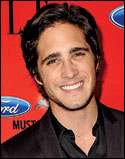 Diego Boneta
Rising Star
Mexico's Diego Boneta started at the top with his film debut, the starry "Rock of Ages," a musical that pairs him as the lead opposite Julianne Hough and features Tom Cruise, Alec Baldwin and Russell Brand.
At 21, the showbiz veteran ("It's been nonstop for 10 years") is trying to stay focused amid the noise that his career's about to change.
"There's a lot of people telling me that and I try not to think about it too much. It is a little scary," the singer turned actor admits.
"I've dealt with fame on a different scale in Latin America. Since I was 12 I couldn't walk the streets of any Spanish-speaking country because it was very intense. But this is completely different. I just hope people have as much fun as I did shooting the movie. That's all I want. I'm not trying to think what's going to change or not change."
Four years ago, Boneta relocated to the United States and generated heat on TV's "Pretty Little Liars" and "90210."
With "Rock" ready to roll out nationwide, "I'm working on my third album, my first single is launching soon and I shoot a show in Chicago, 'Underemployed' for MTV."
"Rock of Ages," he adds, "opened a lot of doors."
Related Links:
• Pics' grownup pains