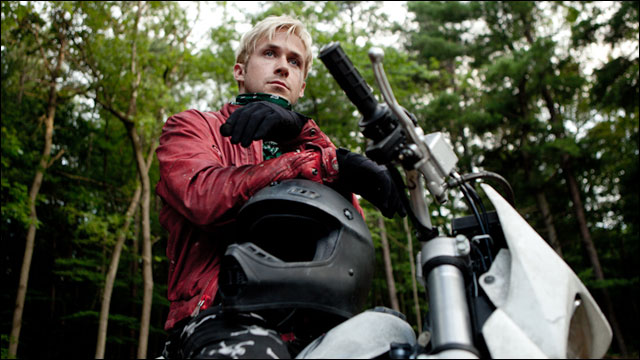 Above: Derek Cianfrance's 'The Place Beyond the Pines,' starring Ryan Gosling, is among the Toronto buzz titles for sale.
A rising optimism pervades the opening of the 37th Toronto Intl. Film Festival, where — with the major studios still distracted by tentpole-franchise strategies — mid-sized buyers are looking to snap up a wide array of commercial titles.
With an especially robust menu, acquisitions execs will have plenty of excuses to beat the heat in Toronto's air-conditioned theaters.
"One of the great things about Toronto is that you can see so many movies so fast," said FilmDistrict CEO Peter Schlessel. "We've got several on our hot list and more on our simmering list."
In all, Toronto will screen 289 features from a record 72 nations (65 last year). WME Global head Graham Taylor — whose recent sales include "Act of Valor," "Beasts of the Southern Wild" and "Arbitrage" — predicts a dealmaking uptick over last year's TIFF, when the biggest deal was CBS Films $5 million purchase of "Salmon Fishing in the Yemen."
"There are a lot of very good movies for sale," he said. "It helps that there are also great movies with distribution — a la "Looper," "Argo," and "The Master" — as part of the lineup. As we saw with all of the activity at Sundance and Cannes, this year has been especially strong for independent film."
Taylor noted the overall tenor of the market is aided by independently financed films landing No. 1 openings at the box office: "Act of Valor," "The Grey," "The Woman in Black," for example.
"These are commercially viable films," Taylor said. "As studios become more focused on tentpoles, it is an ideal time for independent film as it creates an opportunity for the $10 milion to $60 million film."
Among the buzz titles for sale: Neil Jordan's "Byzantium"; John Carney's "Can a Song Save Your Life"; Noah Baumbach's "Frances Ha"; Sally Potter's "Gimger and Rosa"; Ariel Vromen's "The Iceman"; Shari Springer Berman and Robert Pulcini's "Imogene"; Derek Cianfrance's "The Place Beyond the Pines"; Mira Nair's "The Reluctant Fundamentalist," which opened Venice; and Stuart Blumberg's "Thanks for Sharing."
Micah Green, co-head of the CAA Film Finance Group, noted that key Toronto titles represent a significant assortment of indie-financed films that have the look and feel of studio fare — among them Rian Johnson's "Looper," Paul Anderson's "The Master," David Ayers' "End of Watch" and Pete Travis' "Dredd."
"These represent a high-water mark for high-caliber commercial films out of the indie sector," Green said. "A few years ago, independent films were skewed much more toward arthouse films, which had limited theaterical potential. Part of what is driving the boom in commercial independent films is the increased availablity of talent. Beyond that is the increased availability of distribution for commercial independent films. In addition, there is a maturing class of financiers who have the ambition and the means to finance and release these films."
The indie sector has seen plenty of pop in recent weeks from a variety of announcements, all signaling a robust market at Toronto:
•Scott Steindorff's Scott Pictures launched a joint venture international sales company with Exclusive Media and unveiled plans to finance three to five features per year, starting with Natalie Portman actioner "Jane Got a Gun."
•Aiming to make a splash prior to the Toronto Film Festival, newly minted A24 acquired all U.S. rights to Roman Coppola's "A Glimpse Inside the Mind of Charles Swan III" and plans a February theatrical release for the Charlie Sheen vehicle. A24 was founded this summer by film execs Daniel Katz, John Hodges and David Fenkel and plans to distribute eight to 10 titles per year.
•Megan Ellison's Annapurna Pictures purchased U.S distribution rights to Harmony Korine's "Spring Breakers," starring James Franco, on Tuesday, three days before the North American premiere at TIFF. Annapurna does not yet have a distribution arm and said in the announcement that details about distribution would be disclosed later.
•DreamWorks Studios signed an agency deal for David Garrett's three-month-old Mister Smith Entertainment to take over for The Walt Disney Co. in handling the licensing and servicing of DreamWorks Studios product in Europe, the Middle East and Africa. The first covered includes Ken Scott's untitled remake of his hit French-Canadian comedy "Starbuck" and Scott Waugh's racing pic "Need for Speed,"
"The deal really has been dominating my time since Cannes," Garrett said. "I think we've really hit the ground running. And it shows growing significance of the indie sector and the fact that despite economic problems, the market is very healthy."
In short, Toronto represents a clear opportunity as studios focus more of their resources on tentpoles and more viable buyers have emerged for independent midlevel-budget projects. Besides the traditional names (TWC, Fox Searchlight, Focus, Sony Classics, Summit and Lionsgate), FilmDistrict, CBS Films, Open Road, Relativity and Millenium are in the mix.
Open Road's Ben Cotner said that the year-old shingle — backed by AMC and Regal — will launch "End of Watch" soon after it premieres at TIFF and is looking for more films. "We're going into Toronto full force," he said.
Arianna Bocco, head of IFC's acquisitions team, believes that buyers and sellers are on a tear following active markets at Cannes, Berlin, AFM and last year's TIFF.
"You have to be bullish," Bocco said, "just because there's so much competition."