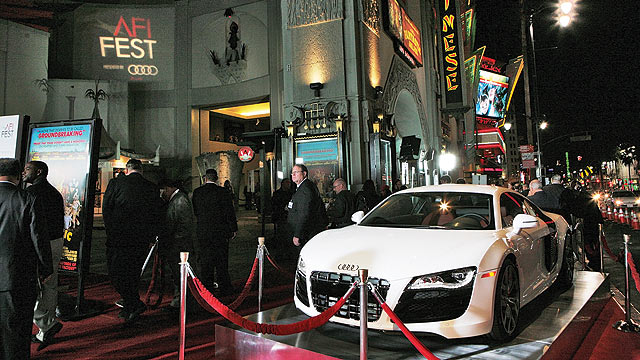 As the fall film festival season kicks into gear, the entertainment industry is focused on Toronto. But marketers are also descending onto the circuit in droves to promote their upscale brands in front of a captive audience of wealthy, well-educated individuals with a penchant for luxury goods.
Few public events, outside of the growing crop of food festivals, have succeeded in attracting that highly sought-after but often hard-to-reach demo with deep pockets. So brands have increasingly worked the higher-profile sprocket operas into their long-term marketing plans with multiyear commitments. But in doing so, these sponsors have also gone beyond slapping their logos on programs, and are making a deeper connection with audiences through creative promotions — such as creating awards, film competitions, or even producing their own films.
Marketers have gotten savvy to the promotional power of the events, after airlines, automakers, hotel chains and credit card companies learned they may not find a more captive audience to court than the one sitting in a movie theater staring up at their logo.
And that's proved hard to ignore for brands — to the point where many are regulars at events like Los Angeles' AFI Fest and New York City's Tribeca Film Festival.
Audi of America has backed the American Film Institute's fall event for nine years, while American Express helped launch Tribeca in 2002. The company inked a five-year sponsorship pact in 2008, and is likely to re-up again once that deal wraps next year.
The continued support, in part, is out of fear that a rival could step in and steal the spotlight. Plus, marketers don't want to lose something that leads to a boost in buzz and sales.
Festivals typically charge around $250,000 to $500,000 for premium sponsorship packages, which buys exposure on the red carpet, inside theaters and lounges, and naming rights to awards handed out to festival winners. Brands pony up additional coin, sometimes equal to the sponsorship fees or higher, to give away tickets, chauffeur filmmakers and celebs to events, integrate their product at screenings, host parties or put up attendees at hotels, for example.
For festival organizers, sponsors have always been a lynchpin in being able to pay for the production of their events, and underwriting any free screenings, panels or other fest functions.
American Express played a key role in the birth of the Tribeca Film Festival, designed to help revitalize Manhattan's downtown after 9/11. The credit card company saw the festival as a way to connect creatively with its many members who are passionate about film.
We're fortunate to have a good number of sponsors for the film festivals," says Jon Patricof, president and chief operating officer of Tribeca Enterprises, who adds that, on average, most of the sponsors have supported Tribeca for more than four years.
Patricof uses the term "fortunate" because the recession affected the festival, along with most other major festivals. "We had one particularly tough year (in 2008). That was a tough moment for everyone. The last couple (years) have shown a solid rebound. "
Tribeca's focus has been on attracting companies with a big New York presence like American Express, JetBlue and Time Warner Cable.
Toronto's organizers, meanwhile, like to keep its sponsors Canadian, with local brands like telecommunications company Bell as lead sponsor, its name emblazoned on the Lightbox & Festival Tower, the 46-story hub of TIFF since 2009. Audi of Canada replaces Cadillac as its official auto partner this year.
Yet while a growing number of brands are starting to flock to festivals — Hilton's higher-end Conrad hotel chain was a newcomer at Tribeca this year — organizers are careful to avoid mistakes made by other events in the past.
The Sundance Film Festival has been criticized for attracting too many marketers, to the point where it was being compared to a shopping mall, or a NASCAR race. At one point, Volkswagen, a previous Sundance auto partner, wound up being overshadowed by General Motors when the U.S. automaker's SUVs were seen shuttling celebs around Park City, stealing Volkswagen's promotional thunder.
"When you don't have an exclusive deal in place, you're wasting your sponsorship dollars," says one marketing maven.
With so many logos competing for attention, marketers are getting more creative in how they speak to film festival audiences.
Increasingly, that's taking place online, through film competitions like Emirates Airline' "You Film Festival" alongside YouTube and Scott Free Prods., whose first winner was announced at the Venice Film Festival this month.
This summer, gin maker Bombay Sapphire launched the short film-focused "Imagination Series" with Tribeca and director Geoffrey Fletcher; and in August, announced it would back a new transmedia prize at the 2013 fest. This year, it funded an app with Foursquare that listed events, show times and area eateries. In the past, American Express produced the "My Movie Pitch" competition as part of its Tribeca pair-up.
Other brands have decided to go off on their own to establish movie tie-ins, and skip the festival circuit entirely.
After previously sponsoring Tribeca, Starwood's W Hotels launched its first screenplay competition, "Four Stories," with Intel Corp. and Roman Coppola, which will result in the production of four scripts to be lensed at various W properties around the world.
The move online or onto other platforms is meant to not only expand the exposure of a brand's association with a festival or with the movies, but to give a company content it can exploit on its website as it tries to connect with a younger online community of filmmakers and cinephiles.
One benefit to tying the knot with a national sponsor is the ability to help fests grow their presence outside of their home markets. While the Conrad's newest property, just steps away from Tribeca's screenings in lower Manhattan, housed attendees and hosted the event's award's ceremony, the chain will also promote Tribeca at its various properties around the world.
"We've been focused on attracting national and global companies that are(not only) excited about interacting with audiences at the festival but also (can promote) the film festival experience outside of New York," through efforts that distribute festival content on a hotel's in-room entertainment channel or online on a company's website, Patricof says.
Still the sole purpose of sponsoring a film festival is to promote a brand's products.
When Richard Branson's three Virgin airlines — Virgin America, Virgin Atlantic and Virgin Australia — were going to merge their loyalty programs earlier this year, the marketing team at the U.S. carrier came up with the idea to produce "Departure Date" — a romantic comedy that stars Nicky Whelan and features Janeane Garofalo, Luis Guzman and Philip Baker Hall, and was lensed on each brand's planes. The pic premiered in April at the Los Angeles Film Festival, where Virgin also sponsored the opening night screening of Woody Allen's "To Rome with Love."
"We didn't want to just sponsor a film festival but wanted to create the first movie filmed in the sky," says Luanne Calvert, VP of marketing for Virgin America, which also has sponsored the Palm Springs Film Festival.
"Departure Date" was envisioned as a way for Virgin to show off its inflight experience while being "innovative and creative" with its marketing budget. "We always look at how we can do film festivals in an innovative way that will generate a story for us," Calvert says. "We want to keep away from just planting a logo on a screen."
For Virgin, film festivals "are a way for us to find new guests," Calvert says, but also "promote our inflight entertainment experience," along with Branson's film shingle Virgin Produced ("Immortals," "Limitless" and "Machine Gun Preacher"). "When we talk to potential gu
ests, we put a lot of effort into what makes our airline different. Film, music, technology — all of those things are important for us.
"We like the audience (at film festivals)," Calvert says. "They like entertainment. The demographic is similar to ours — an educated, urban, usually younger audience like our audience tends to be. It's a good fit from a behavioral standpoint."
Audi of America started backing the AFI Fest just as the German automaker was looking to boost its profile in the U.S. with a series of redesigned cars and SUVs around 2005.
The level of sophistication and the affluence of the AFI audience were core reasons Audi signed on to support the event, according to Loren Angelo, general manager of brand marketing for Audi of America. (The automaker decided to turn film into a marketing tool in the U.S. beginning with high-profile product placement deals in films like "I, Robot" and "Iron Man.") But AFI also offered Audi a chance to rev up interest in the brand in car-obsessed Los Angeles, especially among celebrities and the kind of wealthy 25- 54-year-olds that attend the event's screenings."Being involved with that partnership certainly put Audi on the reference map for consumers to say Audi is a premium brand and that we're delivering a premium product," Angelo says. "It allowed us to start new conversations from a brand image standpoint.
And Audi is considering ways to increase its presence at AFI. In the past, that's involved producing its own feature-length documentaries, like "Truth in 24," about the grueling race in Le Mans, France. Its cars are now also parked on the red carpet, and it has branded the VIP Sky Lounge at the Roosevelt Hotel in Hollywood, while increasing its social media presence during the event.
"Every year we look for more ways to build recognition," especially by making sure attendees have the chance to get inside the cars at the events, Angelo says.
With sales growing by double digits each year, the company has become a fixture at Hollywood premieres, as well as the Emmys and Golden Globes, hosting celeb-filled parties. Reps are already looking at how to increase their presence at the Toronto festival next year.
It's that kind of advanced planning that festival organizers have had to get used to when working closely with sponsors.
"The discussions we're having are all about how we can do more together and deepen relationships further," Patricof says. "We start those conversations right after the festival ends, because of the complexity of the partnerships. They now involve not just marketing teams, but PR and digital teams and social media agencies.
Patricof pointed out Bombay Sapphire's August announcement of the transmedia award for next year's event as indicative of how far ahead organizers need to be thinking.
"These partnerships take time to really reach their potential," he says. "You now spend more time planning and working on the integrations. That's the key to making (them) successful."
Related Story: Marketers cook up fresh tie-ins