After revitalizing the struggling Sydney Film Festival, Clare Stewart is facing a very different challenge in taking over the British Film Institute's buoyant London Film Festival from much-loved former artistic director Sandra Hebron.
"It's the delicious conundrum of great success," says Stewart, a confident and outgoing Australian who moved to the U.K. last year to take up the expanded role as the BFI's head of exhibition.
"I fully accept that I've come into a very successful festival, a festival that to all intents and purposes has reached its capacity, and the challenge is how to continue the growth."
Stewart certainly hasn't been afraid to make major changes, importing several innovations that she pioneered in Sydney.
She has cut the length of this 56th edition from 16 days to 12. It opens on its usual Wednesday (Oct. 10) with Tim Burton's "Frankenweenie," but now closes on a Sunday (Oct. 21) with Mike Newell's "Great Expectations."
However, she has increased the spread of venues, expanding from the traditional BFI Southbank and Leicester Square core to farther-flung arthouses, including the Hackney Picturehouse, the Screen on the Green in Islington, the Renoir in Bloomsbury and the Rich Mix in Shoreditch.
As a result, the capacity of the festival has actually risen 18%, including a 40% jump in evening and weekend screenings that are more likely to sell out.
"In a metropolitan festival, it's different from Park City or the Lido or Cannes, where you have a very controlled geographical space, and the festival is all that's going on," Stewart says. "London is a very big cultural marketplace, and one way to ensure awareness of the film festival across the city is actually to expand your physical presence."
Stewart's other eye-catching innovation is to do away with sections defined by geographical origin, and replace them with "pathways" according to theme, each with its own flagship gala. There's Love, Debate, Dare, Laugh, Thrill, Cult, Journey, Sonic and Family, along with Experimenta, Treasures and Shorts.
"We looked very carefully at data to try and see what are the factors that inform audience choice, and right at the top was what a film is about — the genre — ahead of the star, word-of-mouth or reviews," Stewart says. "A program of 200-plus films can be very daunting, even for the most profoundly tuned cinephile, so we wanted to create a pathway into things people might like."
The aim is to be "quite surprising and textured" within each strand, she adds.
"For example, Love can be something as broad as romantic love, or the love between family, or a much more challenging notion. We can include (Michael) Haneke's 'Amour,' highly anticipated by the London audience because of its Cannes win, alongside a terrific American indie film like 'Gimme the Loot,' Xavier Dolan's 'Laurence Anyways,' which is more confrontational in its approach, and the documentary 'Love, Marilyn.'"
Stewart has also gathered the fest's existing prizes — film, first feature and documentary — into formal sections.
"Having a competition section does a lot for the international positioning," she argues. "It plays to strength of the festival's position in awards season and gives distributors a stronger capacity to use the awards in their post-festival marketing."
The films chosen for the official competition "are really pushing creative boundaries and are taking a creative leap that I believe they pull off," Stewart says. They include Michael Winterbottom's "Everyday," Sally Potter's "Ginger & Rosa," Deepa Mehta's "Midnight's Children," Martin McDonagh's "Seven Psychopaths," Michel Franco's "After Lucia," David Ayer's "End of Watch," Rama Burshtein's "Fill the Void," Daniele Cipri's "It Was the Son," Francois Ozon's "In the House," Cate Shortland's "Lore," Pablo Larrain's "No" and Jacques Audiard's "Rust and Bone."
The gala films tend to have a broader audience appeal, she adds. These include Dustin Hoffman's "Quartet," Paul Andrew Williams' "Song for Marion," Roger Michell's "Hyde Park on Hudson," Australian musical "The Sapphires," Ben Affleck's "Argo" and Ben Lewin's "The Sessions."
True Brit films for global aud
As an Aussie, London Film Fest exec director Clare Stewart is keen to underline the British identity of her first slate, represented by its three tentpoles — the opener "Frankenweenie," the closer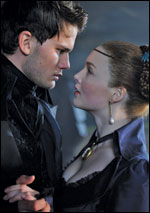 "Great Expectations" and the midpoint world premiere of "Crossfire Hurricane."
"I'm mindful that we are telling a very British story," Stewart says. " 'Frankenweenie' is a glorious cinematic experience, set in America but made here in London by 200 British craftspeople. 'Great Expectations' links into the bicentennial celebration of Dickens. 'Crossfire Hurricane' is an extraordinary piece of documentary making that tells the story of 50 years of the Rolling Stones and how they impacted on popular culture.
"You could put it down to my excitement at engaging with my new culture, though I was always very involved with British filmmaking in Sydney," she adds. "If there's anything to say for the outside perspective, it's that there's such a great success going on here to be celebrating."
Other British highlights include Sally El Hosaini's "My Brother the Devil," Tom Shkolnik's "The Comedians" and Scott Graham's "Shell," all in the first feature competition.